Publisher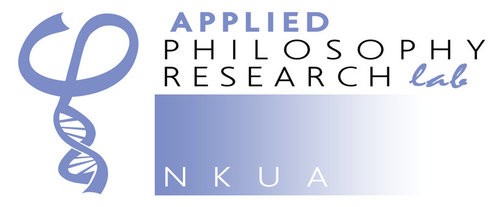 The NKUA Applied Philosophy Research Laboratory
The NKUA Applied Philosophy Research Laboratory was established in 1999 as an autonomous unit attached to the Department of Philosophy of the National and Kapodistrian University of Athens. The initial purpose of the Lab's establishment was to facilitate research in the area of applied philosophy and provide teaching support to students and faculty members in both graduate and post-graduate level of studies. The Lab is also committed to conduct empirical and/or theoretical research in all areas of philosophy, with particular focus on Ethics, Meta-ethics and Applied Ethics. To this purpose the Lab seeks to foster collaborations with other Laboratories, Research Centers or Units, as well as with international organizations and societies. The Lab seeks to further and convey knowledge on areas of philosophical research by means of hosting post-graduate programs of study, publishing works of original philosophical research as well as journals, and organizing conferences.


E-publisher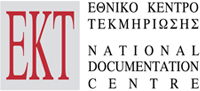 The National Documentation Centre (www.ekt.gr) is a national infrastructure. Since 1980, it actively engages in the collection, organization and dissemination of scientific and technological information in Greece and internationally. EKT's strategic priority is the aggregation, organized online dissemination and preservation of quality-assured scholarly and educational content in a single research infrastructure.
EKT's vision is "Access to Knowledge". To this end it implements Open Access policies in research, supports the transfer and dissemination of scientific knowledge, collaborates with research, education and cultural institutions for the aggregation, organization and dissemination of digital content and provides innovative services in scientific information.
EKT provides reliable ePublishing services as part of its scholarly content aggregation and dissemination activities . Its integrated online ePublishing environment is developed with open-source interoperable technology. This affords the incorporation of EKT's infrastructures into the continuously developing international infrastructure environment.
EKT's ePublishing services (http://epublishing.ekt.gr/) are directed to public and extended public institution publishers of accredited scholarly journals. They include, most significantly, the organization, documentation and organized dissemination of metadata and content of scholarly journals, the training and consulting services on issues such as intellectual property, the standardization of editorial processes according to internationally accepted standards, the inclusion of content and metadata in international content indexers and harvesters via interoperable systems.