Η Δημοτική Πρόνοια στην Ελλάδα του 19ου αιώνα
---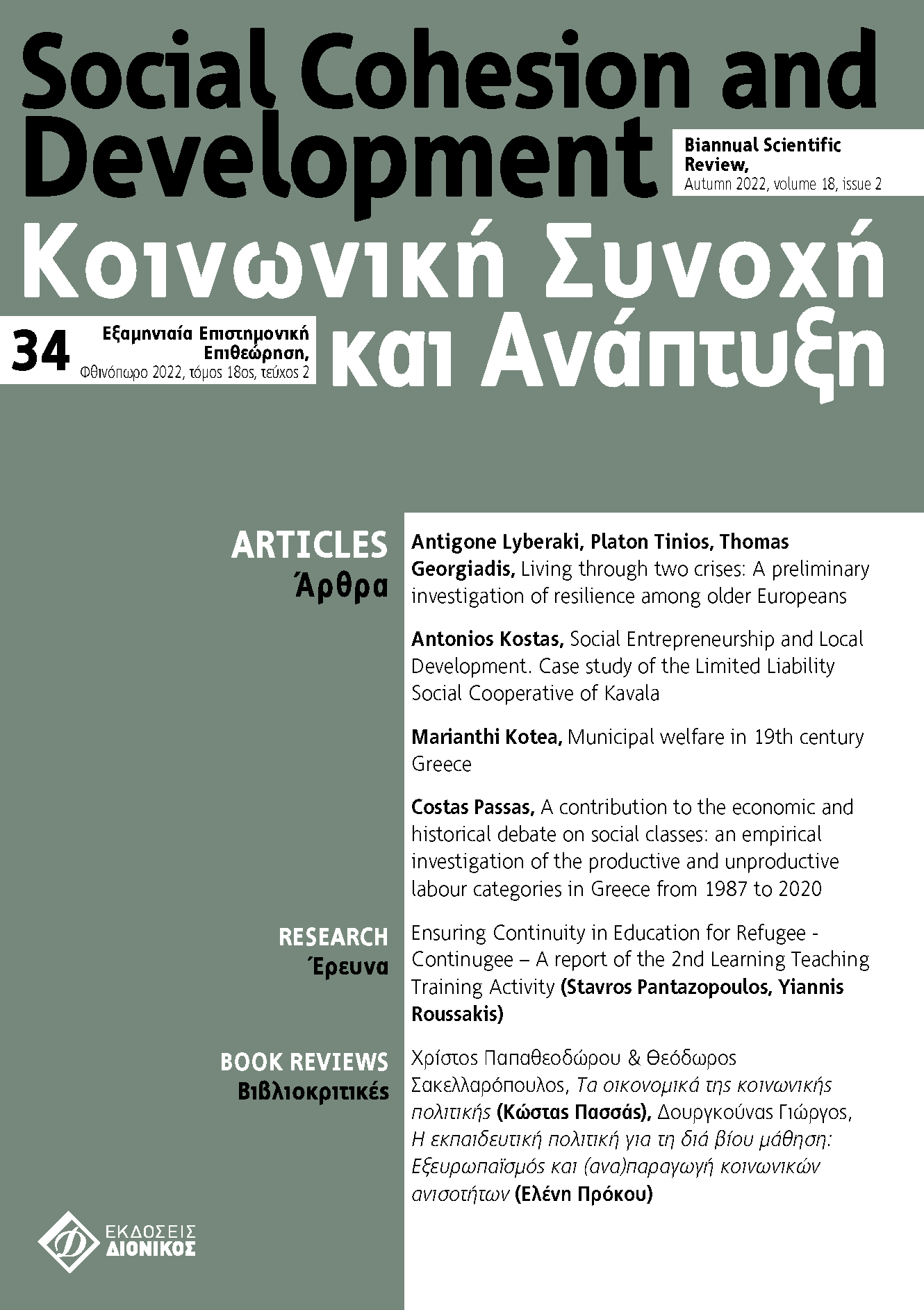 Veröffentlicht: Σεπ 1, 2022
Schlagworte:
Κοινωνικός ρόλος, δημοτική πρόνοια, δημωφελής, διαπύλια τέλη, αναδιανομή εισοδήματος.
Abstract
Μολονότι κατά τη διάρκεια του 19ου αιώνα το
ελληνικό κράτος δεν οργάνωσε την κοινωνική πο-
λιτική του, ανέθεσε την κοινωνική πρόνοια στους
δήμους, οι οποίοι ήταν υπεύθυνοι για τα σχολεία
της πρωτοβάθμιας εκπαίδευσης και τα φιλανθρω-
πικά ιδρύματα της περιφέρειάς τους. Ωστόσο, οι
περισσότεροι δήμοι απέτυχαν να εκπληρώσουν τον
κοινωνικό τους ρόλο. Το άρθρο αυτό αναφέρεται
στη νομοθεσία που αφορούσε τη δημοτική πολι-
τική πρόνοιας, στην έννοια της πόλης πρόνοιας και
στη χρήση του όρου δημωφελής αντί κοινωφελής
στα δημοτικά έργα. Επίσης παρουσιάζει τους στό-
χους της δημοτικής κοινωνικής πολιτικής και τους
λόγους για τους οποίους οι περισσότεροι δήμοι
απέτυχαν να προσφέρουν υπηρεσίες πρόνοιας.
Article Details
Zitationsvorschlag

Kotea, M. (2022). Η Δημοτική Πρόνοια στην Ελλάδα του 19ου αιώνα. Social Cohesion and Development, 17(2), 135–148. Abgerufen von https://ejournals.epublishing.ekt.gr/index.php/SCAD/article/view/32249
Dieses Werk steht unter der
Lizenz Creative Commons Namensnennung - Nicht-kommerziell - Weitergabe unter gleichen Bedingungen 4.0 International
.
Authors who publish with this journal agree to the following terms:
Authors retain copyright and grant the journal right of first publication with the work simultaneously licensed under a Creative Commons Attribution Non-Commercial License that allows others to share the work with an acknowledgement of the work's authorship and initial publication in this journal.
Authors are able to enter into separate, additional contractual arrangements for the non-exclusive distribution of the journal's published version of the work (e.g. post it to an institutional repository or publish it in a book), with an acknowledgement of its initial publication in this journal.
Authors are permitted and encouraged to post their work online (preferably in institutional repositories or on their website) prior to and during the submission process, as it can lead to productive exchanges, as well as earlier and greater citation of published work (See The Effect of Open Access).
Downloads
Keine Nutzungsdaten vorhanden.
Literaturhinweise
Argyropoulos, P. (1843). Municipal Administration in Greece. Athens: Filolaos' printing house.
Argyropoulos, P. (1859). Municipal Administration in Greece. 2nd edn, vol. I-II. Athens:Mavromatis' printing house.
Dendias, M. (1948). Local government finances and municipal taxation of excise duties (diapylia teli) in Greece and elsewhere. Athens.
Diligiannis, Th. & Zinopoulos, G. (1861). Greek Legislation from 1833 to 1860. Athens: I.Angelopoulos' printing house.
Filimon, T. (1893). The mayor according to the Greek legislation. Athens: Sakellarios' Printing house.
Green, A. (2010), Education and state formation: The rise of education systems in England, France and the USA. Athens: Gutenberg.
Kokkinakis, G. (1999). 'Charity, technical education and work accidents in Piraeus in the last quarter of the 19th century', Mnimon, (21), p. 85-108.
Kontogiorgis, G. (1982). Social dynamics and political self-government: Τhe Greek communities of the Turkish occupation. Athens: Nea Sinora.
Korasidou, M. (2000). The Misérables of Athens and their healers: Poverty and charity in the Greek capital in the 19th century. Athens: Tipothito-Giorgos Dardanos.
Kotea, M. (2007). Local government and urbanization: the modernization of municipal administration in Greece in the 19th century. Athens: Dionikos.
Kotea, M. (2014). Municipal reform and political modernization, 1912-1936. Athens: Dionikos.
Koulouri, C. (1988). History and geography in "Hellinika" schools. Athens: Historical archive of Greek youth - General secretariat of the new generation.
Sapounaki-Dracaki, L. (2005). Economic development and social protection: The nascence of health services in Piraeus and the Tzanio hospital. Athens: Dionikos.
Tsoukalas, K. (1985). Dependence and reproduction: The social role of educational mechanisms in Greece 1830-1922. Athens: Themelio.