Εννοιολογική και κριτική ανάλυση των μεταφορών για τον κορονοϊό στον δημόσιο διαδικτυακό λόγο
---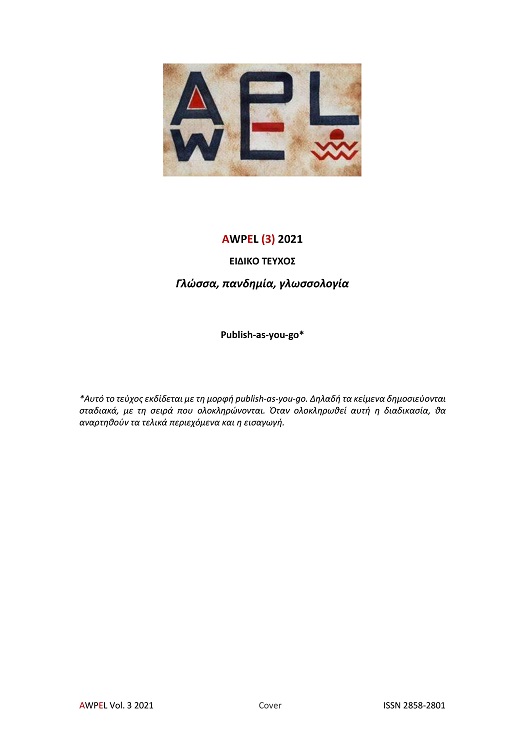 Abstract
The COVID-19 outbreak has given rise to numerous metaphorical conceptualizations that appear to be universal. This work addresses COVID-19 metaphors in Greek public discourse as reflected in the media headlines from March 2020 up to May 2021. First, the metaphorical expressions collected are categorized according to their conceptual structures as suggested by the Extended Metaphor Theory. The most salient frame that surfaces is the COVID-19 IS WAR frame, as it does in numerous other relevant works across the world. However, the chronological analysis we attempt shows that, as time pases by, the WAR-metaphor seems to extend its scope, changing into COVID-19 WAR IS A WAR BETWEEN POLITICIANS (AND MEDICAL EXPERTS), and TRYING TO FIND THE VACCINE FOR COVID-19 IS A WAR BETWEEN NATIONS. Moreover, several other interesting mappings surface, i.e., COVID-19 IS A RACE/AN UNWELCOME GUEST/A WILD ANIMAL/A PLANET SAVIOR. Second, the Critical Metaphor Analysis employed highlights the encoders' identities and the sociopolitical motivation of metaphor use pointing to a rhetoric of restriction and moral framing. Finally, the results underscore the urgent need to become critically aware of the persuasive power of metaphor in naturally occurring public discourse.
Article Details
How to Cite

Γαβριηλίδου Ζ., & Μητσιάκη Μ. (2022). Εννοιολογική και κριτική ανάλυση των μεταφορών για τον κορονοϊό στον δημόσιο διαδικτυακό λόγο. Aegean Working Papers in Ethnographic Linguistics, 3, 202–229. Retrieved from https://ejournals.epublishing.ekt.gr/index.php/awpel/article/view/29956
This work is licensed under a Creative Commons Attribution 4.0 International License.
Authors who publish with this journal agree to the following terms:
Authors retain copyright and grant the journal right of first publication with the work simultaneously licensed under a Creative Commons Attribution licence that allows others to share the work with an acknowledgement of the work's authorship and initial publication in this journal.
Authors are able to enter into separate, additional contractual arrangements for the non-exclusive distribution of the journal's published version of the work (e.g. post it to an institutional repository or publish it in a book), with an acknowledgement of its initial publication in this journal.
Authors are permitted and encouraged to post their work online (preferably in institutional repositories or on their website) prior to and during the submission process, as it can lead to productive exchanges, as well as earlier and greater citation of published work (See The Effect of Open Access).
Downloads
Download data is not yet available.