Publisher
The Hellenic National Bioethics Commission is an independent advisory body of experts addressed to public authorities either by its own initiative or upon request. Its mission is to highlight the interaction of life sciences and contemporary social values. In particular, the Commission
(a) investigates the ethical, social and legal aspects that arise from scientific advances in biology, biotechnology, medicine and genetics,
(b) outlines, in collaboration with the respective ministries, proposals of general policy and provides specific recommendations on related issues,
(c) collaborates with international organizations and related bodies and represents Greece to international fora, and
(d) informs the public on issues related to biotechnological advances and the impact of their applications promoting public awareness and dialogue.

The Commission has also the responsibility to co-ordinate other relevant committees at a national level. More details can be found in the Commission's founding law (2667 ΦΕΚ Α' 281/18.12.1998) and the rules of procedure. The General Secretariat of the Government supports the Commission on a financial and administrative level.
Hellenic National Bioethics Commission (Εθνική Επιτροπή Βιοηθικής)
E-publisher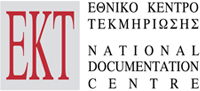 The National Documentation Centre (www.ekt.gr) is a national infrastructure. Since 1980, it actively engages in the collection, organization and dissemination of scientific and technological information in Greece and internationally. EKT's strategic priority is the aggregation, organized online dissemination and preservation of quality-assured scholarly and educational content in a single research infrastructure.
EKT's vision is "Access to Knowledge". To this end it implements Open Access policies in research, supports the transfer and dissemination of scientific knowledge, collaborates with research, education and cultural institutions for the aggregation, organization and dissemination of digital content and provides innovative services in scientific information.
EKT provides reliable ePublishing services as part of its scholarly content aggregation and dissemination activities . Its integrated online ePublishing environment is developed with open-source interoperable technology. This affords the incorporation of EKT's infrastructures into the continuously developing international infrastructure environment.
EKT's ePublishing services (http://epublishing.ekt.gr/) are directed to public and extended public institution publishers of accredited scholarly journals. They include, most significantly, the organization, documentation and organized dissemination of metadata and content of scholarly journals, the training and consulting services on issues such as intellectual property, the standardization of editorial processes according to internationally accepted standards, the inclusion of content and metadata in international content indexers and harvesters via interoperable systems.