Publisher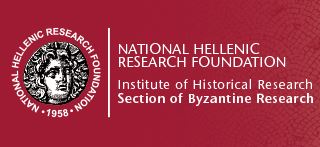 The Centre for Byzantine Research -now Section of Byzantine Research of the Institute of Historical Research/HNRF -was established in 1960 for the purpose of promoting the study of Byzantine history and civilization. The Section's research activities are organised in programmes which cover a wide range of research fields and expertise. Individual and collective studies are based on written sources, literary and archival, works of art and archaeological findings. The programmes also investigate relations between Byzantium and medieval Europe, the Balkans and the eastern Mediterranean.
The Section participates in the international community of Byzantine studies with its long-term programmes, its scholarly publications and the staff's systematic participation in international conferences in Greece and abroad.
The Section hosts international conferences and colloquia which explore topics relevant to the scientific activities of its Programs. Academics and visiting researchers from Greece and abroad are invited to give lectures and seminars which are attended by the IHR staff and postgraduate students.
Ινστιτούτο Ιστορικών Ερευνών (ΙΙΕ/ΕΙΕ) / Institute of Historical Research (IHR/NHRF)
E-publisher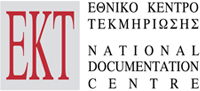 The National Documentation Centre (www.ekt.gr) is a national infrastructure in the National Hellenic Research Foundation. Since 1980, it actively engages in the collection, organization and dissemination of scientific and technological information in Greece and internationally. EKT's strategic priority is the aggregation, organized online dissemination and preservation of quality-assured scholarly and educational content in a single research infrastructure.
EKT's vision is "Access to Knowledge". To this end it implements Open Access policies in research, supports the transfer and dissemination of scientific knowledge, collaborates with research, education and cultural institutions for the aggregation, organization and dissemination of digital content and provides innovative services in scientific information.
EKT provides reliable ePublishing services as part of its scholarly content aggregation and dissemination activities . Its integrated online ePublishing environment is developed with open-source interoperable technology. This affords the incorporation of EKT's infrastructures into the continuously developing international infrastructure environment.
EKT's ePublishing services (http://epublishing.ekt.gr/) are directed to public and extended public institution publishers of accredited scholarly journals. They include, most significantly, the organization, documentation and organized dissemination of metadata and content of scholarly journals, the training and consulting services on issues such as intellectual property, the standardization of editorial processes according to internationally accepted standards, the inclusion of content and metadata in international content indexers and harvesters via interoperable systems.