Publisher
The Greek Society for Eighteenth-Century Studies is an academic association which was established in 1962 at the initiative of C. Th. Dimaras. The Society aims to promote the research on the Neohellenic Enlightenment, an offspring of the European Enlightenment, publish the relevant research and organize academic conferences and international meetings on the subject.
Only a few months after its establishment, the Society launched the publication of the academic journal The Gleaner, which focuses in the reception of the European 18th century ideas in the Greek space and generally in South-East Europe, where the Greek language acted as an assimilative, binding element and became the language of culture. Further, it focuses in comparative studies of literary issues dating especially from the 18th and 19th centuries. In 1963 the Society also launched the series "Neohellenic Texts", in which important documentary sources for the Neohellenic Enlightenment have been published.
The Society constitutes the Greek "national association" which participated in the establishment of the International Society for Eighteenth-Century Studies, an international forum to whose administration the Secretary General of the Greek Society plays an active part.
Όμιλος Μελέτης του Ελληνικού Διαφωτισμού / Greek Society for Eighteenth-Century Studies
E-publisher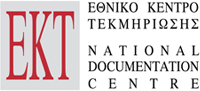 The National Documentation Centre (www.ekt.gr) is a national infrastructure. Since 1980, it actively engages in the collection, organization and dissemination of scientific and technological information in Greece and internationally. EKT's strategic priority is the aggregation, organized online dissemination and preservation of quality-assured scholarly and educational content in a single research infrastructure.
EKT's vision is "Access to Knowledge". To this end it implements Open Access policies in research, supports the transfer and dissemination of scientific knowledge, collaborates with research, education and cultural institutions for the aggregation, organization and dissemination of digital content and provides innovative services in scientific information.
EKT provides reliable ePublishing services as part of its scholarly content aggregation and dissemination activities. Its integrated online ePublishing environment is developed with open-source interoperable technology. This affords the incorporation of EKT's infrastructures into the continuously developing international infrastructure environment.
EKT's ePublishing services (http://www.ekt.gr/epublishing) are directed to public and extended public institution publishers of accredited scholarly journals. They include, most significantly, the organization, documentation and organized dissemination of metadata and content of scholarly journals, the training and consulting services on issues such as intellectual property, the standardization of editorial processes according to internationally accepted standards, the inclusion of content and metadata in international content indexers and harvesters via interoperable systems.