TO ΕΡΓΟ ΤΟΥ ΜΕΘΟΔΙΟΥ ΑΝΘΡΑΚΙΤΗ ΚΑΙ ΤΑ ΠΟΛΙΤΙΚΟΕΚΚΛΗΣΙΑΣΤΙΚΑ ΣΧΕΔΙΑ ΤΟΥ ΜΕΛΕΤΙΟΥ ΤΥΠΑΛΔΟΥ
---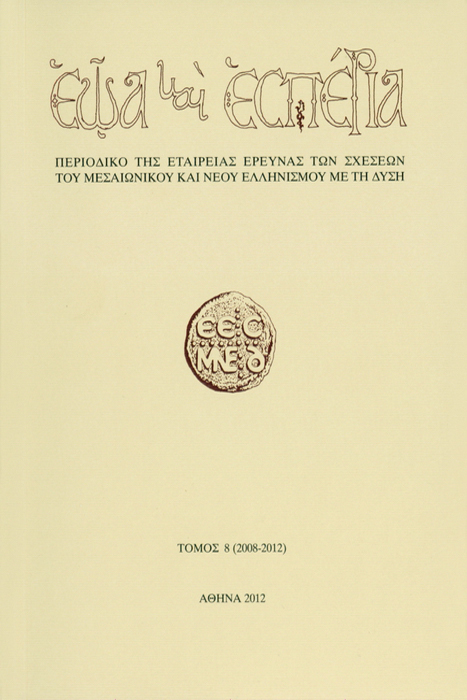 Abstract
The three pastoral manuals authored by Methodios Anthrakites, Θεωρίαι Χριστιανικαί, Ἐπίσκεψις Πνευματικοῦ πρὸς ἀσθενῆ and Βοσκὸς λογικῶν προβάτων, that draw heavily on the works of the Jesuit preacher P. Segneri and other Italian sources, and directly connected to the current developments in the Greek Orthodox community of Venice in the late seventeenth c. The communty's metropolitan bishop Meletios Typaldos pursued the ambitious goal of uniting all orthodox communities in Venetian territory under his own See, ascending to the ecumenical throne of Constantinople and, finally, subduing all orthodox churches to the Vatican. Part of this complex plan was also the broad diffusion of manuals of pastoral theology, intended both to advertise Typaldos' active care for his fold and set a limit to the arbitrariness of the localclergy. Anthrakites, a close collaborator of Typaldos, was fully qualified to undertake writing these manuals. A close comparison between a memorandum on the state of the Greek Church under Venetian dominion, written by Typaldos for the Provveditore of Peloponnesos, Polo Nani, and the three aforementioned manuals, demonstrates their close interrelationship and sheds light on the different ambitions pursued by bishop Meletios and by Methodios Anthrakites.
Article Details
How to Cite

ΤΣΑΚΙΡΗΣ Β. (2013). TO ΕΡΓΟ ΤΟΥ ΜΕΘΟΔΙΟΥ ΑΝΘΡΑΚΙΤΗ ΚΑΙ ΤΑ ΠΟΛΙΤΙΚΟΕΚΚΛΗΣΙΑΣΤΙΚΑ ΣΧΕΔΙΑ ΤΟΥ ΜΕΛΕΤΙΟΥ ΤΥΠΑΛΔΟΥ. Eoa Kai Esperia, 8, 9–26. https://doi.org/10.12681/eoaesperia.8
Authors who publish with this journal agree to the following terms:
Authors retain copyright and grant the journal right of first publication with the work simultaneously licensed under a Creative Commons Attribution Non-Commercial License that allows others to share the work with an acknowledgement of the work's authorship and initial publication in this journal.
Authors are able to enter into separate, additional contractual arrangements for the non-exclusive distribution of the journal's published version of the work (e.g. post it to an institutional repository or publish it in a book), with an acknowledgement of its initial publication in this journal.
Authors are permitted and encouraged to post their work online (preferably in institutional repositories or on their website) prior to and during the submission process, as it can lead to productive exchanges, as well as earlier and greater citation of published work (See The Effect of Open Access).
Downloads
Download data is not yet available.