Ο ΝΑΟΣ ΤΟΥ ΑΓΙΟΥ ΛΑΖΑΡΟΥ ΠΟΛΕΩΣ ΚΕΡΚΥΡΑΣ ΚΑΙ Η ΚΟΙΝΟΤΗΤΑ ΤΩΝ «ΑΔΥΝΑΤΩΝ»
---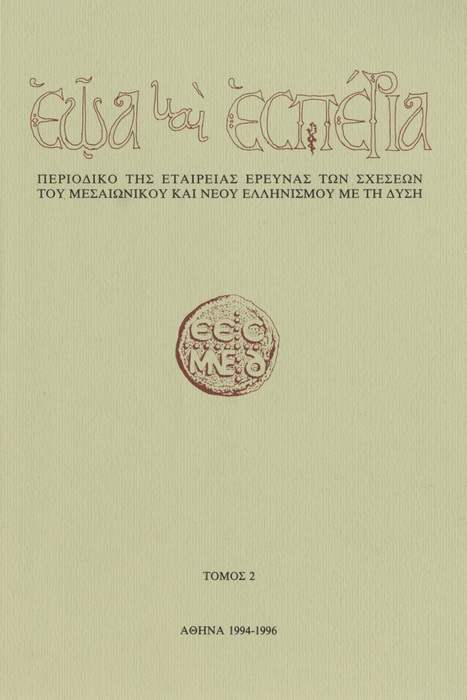 Abstract
La chiesa di San Lazzaro sorgeva nel borgo di San Rocco della città diCorfù. Essa viene citata nei documenti sin dall' anno 1469. Dopo il 1577 lachiesa appare congiunta von quella di San Nicolò degli Albanesi.Come si deduce da documenti tratti dall' Archivio Storico di Corfù questachiesa apparteneva alla Comunità di Corfù e, almeno fino Γ anno 1551, venivaamministrata dai Sindici annuali della città, mentre dal 1568 in poi nella suaamministrazione appare immischiata una confraternita composta di parrocchiani.Vicino alla chiesa era stabilita una comunità di "infermi" (αδύνατοι), cioèdi malati di lebbra, i quali abitavano nelle celle circostanti. La comunità,organizzata secondo il modello monastico, seguiva gli ordini di un' abbate concarica vitalizia, il quale gestiva anche le rendite della chiesa. Nella comunitàvenivano ammesse persone affette da lebbra senza nessuna distinzione di sesso,provenienza, titolo ο condizione di famiglia.
Article Details
How to Cite

ΚΑΡΥΔΗΣ Σ., & ΤΖΙΒΑΡΑ Π. (1996). Ο ΝΑΟΣ ΤΟΥ ΑΓΙΟΥ ΛΑΖΑΡΟΥ ΠΟΛΕΩΣ ΚΕΡΚΥΡΑΣ ΚΑΙ Η ΚΟΙΝΟΤΗΤΑ ΤΩΝ «ΑΔΥΝΑΤΩΝ». Eoa Kai Esperia, 2, 83–109. https://doi.org/10.12681/eoaesperia.31
Authors who publish with this journal agree to the following terms:
Authors retain copyright and grant the journal right of first publication with the work simultaneously licensed under a Creative Commons Attribution Non-Commercial License that allows others to share the work with an acknowledgement of the work's authorship and initial publication in this journal.
Authors are able to enter into separate, additional contractual arrangements for the non-exclusive distribution of the journal's published version of the work (e.g. post it to an institutional repository or publish it in a book), with an acknowledgement of its initial publication in this journal.
Authors are permitted and encouraged to post their work online (preferably in institutional repositories or on their website) prior to and during the submission process, as it can lead to productive exchanges, as well as earlier and greater citation of published work (See The Effect of Open Access).
Downloads
Download data is not yet available.