New Mediterranean Biodiversity Records (December 2012)
---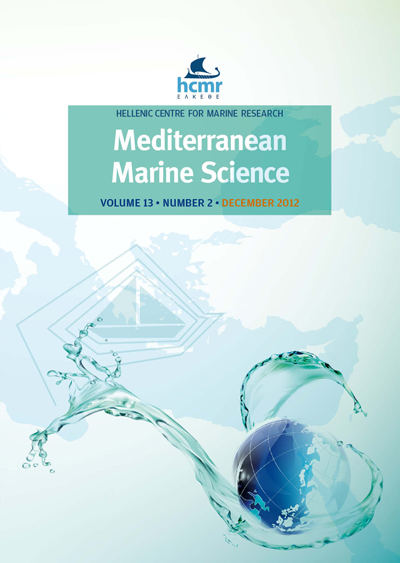 Abstract
This paper presents records extending or confirming the distribution of Mediterranean species. Three alien algae are included, namely Codium taylorii reported for the first time from the Aegean and Turkey (Izmir Gulf), Caulerpa racemosa var. cylindracea (Karpathos and Chalki Isl., Aegean Sea) and Ganonema farinosum (Karpathos Isl., Aegean Sea). As far as animals are concerned, Litarachna divergens (Acari: Hydrachnidia) was recorded (Side, Eastern Mediterranean) and represents a new amendment at genus level for Turkish fauna. Other invertebrates include alien species such as the crabs Dyspanopeus sayi (Lago Fusaro, SW Italy), Percnon gibbesi (Larnaca, Cyprus; Karpathos and Chalki Isl., Aegean Sea) and Callinectes sapidus (Voda estuary, NW Greece), the nudibranch Aplysia dactylomela (Boka Kotorska Bay, Montenegro), the gastropod Conomurex persicus (Karpathos and Chalki
Isl., Aegean Sea) and the bryozoan Electra tenella (Livorno harbour and Messina Straits area). The alien fish Siganus luridus, Siganus rivulatus, Fistularia commersonii, Sphyraena chrysotaenia and Sargocentron rubrum are also reported from the islands of Karpathos and Chalki, and Pteragogus pelycus from Heraklion Bay, Crete. In addition, new localities for four rare Mediterranean inhabitants are given: the cephalopod Thysanoteuthis rhombus (NW Sardinia) and the fish: Lampris guttatus (Calabria, S Italy), Petromyzon marinus (Gokova Bay) and Remora australis (Saronikos Gulf), while the opisthobranch gastropod Cerberilla bernadettae is reported for the first time from the E Mediterranean (Cyprus). Finally, three species of the Aegean ascidiofauna are recorded for the first time: Lissoclinum perforatum, Ciona roulei and Ecteinascidia turbinata. Furthermore, it was established that Phallusia nigra has extended its distributional range to the north of the Aegean Sea.
Article Details
How to Cite

THESSALOU-LEGAKI, M., AYDOGAN, O., BEKAS, P., BILGE, G., BOYACI, Y., BRUNELLI, E., CIRCOSTA, V., CROCETTA, F., DURUCAN, F., ERDEM, M., ERGOLAVOU, A., FILIZ, H., FOIS, F., GOUVA, E., KAPIRIS, K., KATSANEVAKIS, S., KLJAJIC, Z., KONSTANTINIDIS, E., KONSTANTINOU, G., KOUTSOGIANNOPOULOS, D., LAMON, S., MACIC, V., MAZZETTE, R., MELONI, D., MUREDDU, A., PASCHOS, I., PERDIKARIS, C., PIRAS, F., POURSANIDIS, D., RAMOS-ESPLA, A., ROSSO, A., SORDINO, P., SPERONE, E., STERIOTI, A., TASKIN, E., TOSCANO, F., TRIPEPI, S., TSIAKKIROS, L., & ZENETOS, A. (2012). New Mediterranean Biodiversity Records (December 2012). Mediterranean Marine Science, 13(2), 312–327. https://doi.org/10.12681/mms.313
Authors who publish with this journal agree to the following terms:
Authors retain copyright and grant the journal right of first publication with the work simultaneously licensed under a Creative Commons

Attribution Non-Commercial

License that allows others to share the work with an acknowledgement of the work's authorship and initial publication in this journal.
Authors are able to enter into separate, additional contractual arrangements for the non-exclusive distribution of the journal's published version of the work (e.g. post it to an institutional repository or publish it in a book), with an acknowledgement of its initial publication in this journal.
Authors are permitted and encouraged to post their work online (preferably in institutional repositories or on their website) prior to and during the submission process, as it can lead to productive exchanges, as well as earlier and greater citation of published work (See The Effect of Open Access).
Downloads
Download data is not yet available.