Alien species in the Mediterranean Sea by 2012. A contribution to the application of European Union's Marine Strategy Framework Directive (MSFD). Part 2. Introduction trends and pathways
---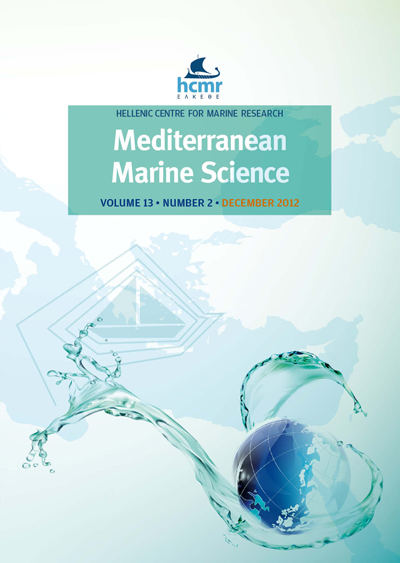 Published: Dec 30, 2012
Keywords:
Biological invasions marine aliens biogeography trends pathways Mediterranean Sea.
Abstract
More than 60 marine non-indigenous species (NIS) have been removed from previous lists and 84 species have been added, bringing the total to 986 alien species in the Mediterranean [775 in the eastern Mediterranean (EMED), 249 in the central Mediterranean (CMED), 190 in the Adriatic Sea (ADRIA) and 308 in the western Mediterranean (WMED)]. There were 48 new entries since 2011 which can be interpreted as approximately one new entry every two weeks. The number of alien species continues to increase, by 2-3 species per year for macrophytes, molluscs and polychaetes, 3-4 species per year for crustaceans, and 6 species per year for fish. The dominant group among alien species is molluscs (with 215 species), followed by crustaceans (159) and polychaetes (132). Macrophytes are the leading group of NIS in the ADRIA and the WMED, reaching 26-30% of all aliens, whereas in the EMED they barely constitute 10% of the introductions. In the EMED, molluscs are the most species-rich group, followed by crustaceans, fish and polychaetes. More than half (54%) of the marine alien species in the Mediterranean were probably introduced by corridors (mainly Suez). Shipping is blamed directly for the introduction of only 12 species, whereas it is assumed to be the most likely pathway of introduction (via ballasts or fouling) of another 300 species. For approximately 100 species shipping is a probable pathway along with the Suez Canal and/or aquaculture. Approximately 20 species have been introduced with certainty via aquaculture, while >50 species (mostly macroalgae), occurring in the vicinity of oyster farms, are assumed to be introduced accidentally as contaminants of imported species. A total of 18 species are assumed to have been introduced by the aquarium trade. Lessepsian species decline westwards, while the reverse pattern is evident for ship-mediated species and for those introduced with aquaculture. There is an increasing trend in new introductions via the Suez Canal and via shipping.
Article Details
How to Cite

ZENETOS Α., GOFAS, S., MORRI, C., ROSSO, A., VIOLANTI, D., GARCIA RASO, J., CINAR, M., ALMOGI-LABIN, A., ATES, A., AZZURRO, E., BALLESTEROS, E., BIANCHI, C., BILECENOGLU, M., GAMBI, M., GIANGRANDE, A., GRAVILI, C., HYAMS-KAPHZAN, O., KARACHLE, P. K., KATSANEVAKIS, S., LIPEJ, L., MASTROTOTARO, F., MINEUR, F., PANCUCCI-PAPADOPOULOU, M., RAMOS ESPLA, A., SALAS, C., SAN MARTIN, G., SFRISO, A., STREFTARIS, N., & VERLAQUE, M. (2012). Alien species in the Mediterranean Sea by 2012. A contribution to the application of European Union's Marine Strategy Framework Directive (MSFD). Part 2. Introduction trends and pathways. Mediterranean Marine Science, 13(2), 328–352. https://doi.org/10.12681/mms.327
Authors who publish with this journal agree to the following terms:
Authors retain copyright and grant the journal right of first publication with the work simultaneously licensed under a Creative Commons

Attribution Non-Commercial

License that allows others to share the work with an acknowledgement of the work's authorship and initial publication in this journal.
Authors are able to enter into separate, additional contractual arrangements for the non-exclusive distribution of the journal's published version of the work (e.g. post it to an institutional repository or publish it in a book), with an acknowledgement of its initial publication in this journal.
Authors are permitted and encouraged to post their work online (preferably in institutional repositories or on their website) prior to and during the submission process, as it can lead to productive exchanges, as well as earlier and greater citation of published work (See The Effect of Open Access).
Downloads
Download data is not yet available.