"New Mediterranean Biodiversity Records" (March 2017)
---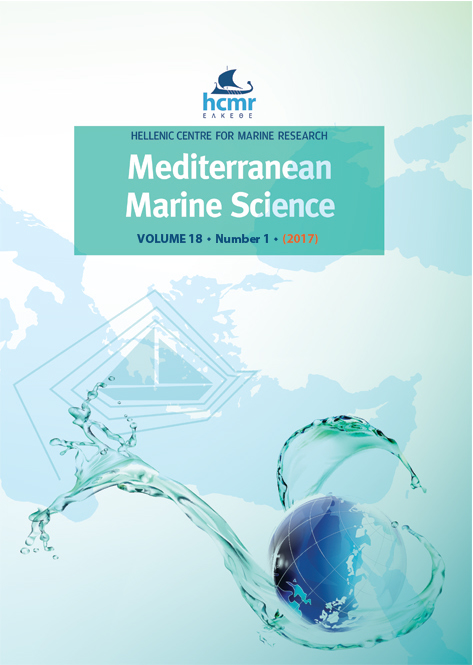 Abstract
This Collective Article presents information on 22 species belonging to 5 Phyla, arranged geographically from from west to east. The new records were found in 8 countries as follows: Spain: first record of the two scarcely known nemerteans Baseodiscus delineatus and Notospermus geniculatus in Formentera; Malta: second record of the alien fish Lagocephalus sceleratus; Italy: the alien polychaete Syllis pectinans and the isopod Paranthura japonica, as well as the cryptogenic opisthobranch Anteaeolidiella lurana, were found in the fouling assemblages along the docks of the port of Livorno. New decapod records are reported from Sicily (the alien Callinectes sapidus and the native Pachygrapsus maurus) and Apulia (Percnon gibbosus and Procambarus clarkii); the lesser amberjack Seriola fasciata extended its geographical range to the Egadi Isands and Siganus luridus was documented for the first time along the Ionian coasts of Apulia and Calabria. Slovenia: the first record of the alien bivalve Brachidontes pharaonis is reported, together with a survey of up to date Adriatic records. Greece: the first record of the gastropod Rhinoclavis kochi is reported from Gavdos island. In addition, two records of endangered and rare cartilaginous fish were reported, namely, the shark Hexanchus griseus and the ray Leucoraja fullonica, as well as additional records of Siganus luridus for Lesvos and Malleus regula and Fulvia fragilis from Astypalaia. Turkey: the black wing flyingfish Hirundichthys rondeletii is reported for the very first time from the Black Sea. Egypt: the Indo-Pacific crab Halimede ochtodes is reported as established in Port Said. In addition, biometric parameters and meristic counts are reported for Anthias anthias in Damietta. Cyprus: the alien opisthobranch gastropod Bursatella leachii is reported for first time.
Article Details
How to Cite

LIPEJ, L., ACEVEDO, I., AKEL, E., ANASTASOPOULOU, A., ANGELIDIS, A., AZZURRO, E., CASTRIOTA, L., ÇELIK, M., CILENTI, L., CROCETTA, F., DEIDUN, A., DOGRAMMATZI, A., FALAUTANO, M., FERNÁNDEZ-ÁLVAREZ, F., GENNAIO, R., INSACCO, G., KATSANEVAKIS, S., LANGENECK, J., LOMBARDO, B., MANCINELLI, G., MYTILINEOU, C., PAPA, L., PITACCO, V., PONTES, M., POURSANIDIS, D., PRATO, E., RIZKALLA, S., RODRÍGUEZ-FLORES, P., STAMOULI, C., TEMPESTI, J., TIRALONGO, F., TIRNETTΑ S., TSIRINTANIS, K., TURAN, C., YAGLIOGLU, D., ZAMINOS, G., & ZAVA, B. (2018). "New Mediterranean Biodiversity Records" (March 2017). Mediterranean Marine Science, 18(1), 179–201. https://doi.org/10.12681/mms.2068
Section
Collective Article A
Authors who publish with this journal agree to the following terms:
Authors retain copyright and grant the journal right of first publication with the work simultaneously licensed under a Creative Commons

Attribution Non-Commercial

License that allows others to share the work with an acknowledgement of the work's authorship and initial publication in this journal.
Authors are able to enter into separate, additional contractual arrangements for the non-exclusive distribution of the journal's published version of the work (e.g. post it to an institutional repository or publish it in a book), with an acknowledgement of its initial publication in this journal.
Authors are permitted and encouraged to post their work online (preferably in institutional repositories or on their website) prior to and during the submission process, as it can lead to productive exchanges, as well as earlier and greater citation of published work (See The Effect of Open Access).
Downloads
Download data is not yet available.