New Mediterranean Biodiversity Records (July, 2017)
---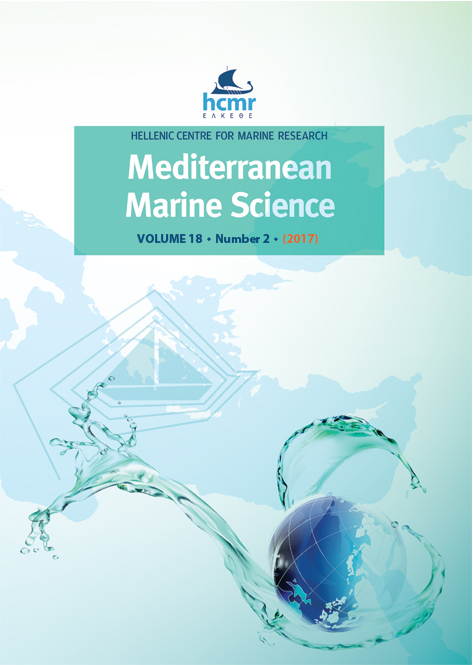 Abstract
This Collective Article presents information on 37 taxa belonging to 6 Phyla and extending from the western Mediterranean to the Levantine Sea. The new records were found in 10 countries as follows: Algeria: first reports on the presence of the fish species Lesueurigobius sanzi, L. friesii, L. suerii and Luvarus imperiali; France: first record of the alien nudibranch Godiva quadricolor; Italy: first record of an adult-sized red emperor snapper Lutjanus sebae from the southern Tyrrhenian Sea; first record of the pantropical rhodophyte Chondria curvilineata and the Lessepsian fish Siganus luridus from southern Sicily; record of a large pregnant female Dusky shark Carcharhinus obscurus off Sicily; Albania: first record of the fish Ruvettus pretiosus, new records of the alien molluscs Conomurex persicus, Bursatella leachii, Dendostrea cf. folium, Fulvia fragilis and Ruditapes philippinarum and additional report of the alien bivalve Pinctada imbricata radiata; Montenegro: first record of the sea slug Thecacera pennigera in the Adriatic Sea; Greece: first record of the invasive calcarean sponge Paraleucilla magna in Greek waters; occupancy estimation of the established cryptogenic rhodophyte Ganonema farinosum, the alien crustacean Percnon gibbesi and the alien fish species Fistularia commersonii, Siganus luridus, and S. rivulatus along the Cretan coastline; first record of the alien mollusc Sticteulima lentiginosa in Greek waters suggesting a westward unintentional expansion of this species; Turkey: photographic evidence of interactions of the monk seal Monachus monachus with sea-cage farms in the Turkish Aegean Sea and first record of the yellow boxfish Ostracion cubicus in the Turkish Mediterranean; Cyprus: first records of the rare speleophilic fish Thorogobius ephippiatus and Grammonus ater in Cyprus, extending the known distribution of the latter Mediterranean endemic species eastwards; first records of the alien fish Kyphosus vaigiensis and the alien crustacean species Macrophthalmus indicus and Carupa tenuipes as well as additional records of the alien echinoderm Diadema setosum and the alien ascidian Symplegma brakenhielmi in the country; Lebanon: first report on the presence of the four alien fish species Cephalopholis taeniops, Equulites popei, Pseudupeneus prayensis and Sphoeroides pachygaster; Egypt: first record of the Lessepsian fish Synchiropus sechellensis in the Egyptian Mediterranean waters.
Article Details
How to Cite

GEROVASILEIOU, V., AKEL, E., AKYOL, O., ALONGI, G., AZEVEDO, F., BABALI, N., BAKIU, R., BARICHE, M., BENNOUI, A., CASTRIOTA, L., CHINTIROGLOU, C., CROCETTA, F., DEIDUN Α., GALINOU-MITSOUDI, S., GIOVOS Ι., GÖKOĞLU, M., GOLEMAJ Α., HADJIOANNOU, L., HARTINGEROVA, J., INSACCO, G., KATSANEVAKIS, S., KLEITOU, P., KORUN, J., LIPEJ, L., MICHAILIDIS, N., MOUZAI TIFOURA, A., OVALIS, P., PETOVIĆ, S., PIRAINO, S., RIZKALLA, S., ROUSOU, M., SAVVA, I., ŞEN, H., SPINELLI, A., VOUGIOUKALOU, K., XHARAHI, E., ZAVA, B., & ZENETOS, A. (2017). New Mediterranean Biodiversity Records (July, 2017). Mediterranean Marine Science, 18(2), 355–384. https://doi.org/10.12681/mms.13771
Section
Collective Article A
Authors who publish with this journal agree to the following terms:
Authors retain copyright and grant the journal right of first publication with the work simultaneously licensed under a Creative Commons

Attribution Non-Commercial

License that allows others to share the work with an acknowledgement of the work's authorship and initial publication in this journal.
Authors are able to enter into separate, additional contractual arrangements for the non-exclusive distribution of the journal's published version of the work (e.g. post it to an institutional repository or publish it in a book), with an acknowledgement of its initial publication in this journal.
Authors are permitted and encouraged to post their work online (preferably in institutional repositories or on their website) prior to and during the submission process, as it can lead to productive exchanges, as well as earlier and greater citation of published work (See The Effect of Open Access).
Downloads
Download data is not yet available.