Publisher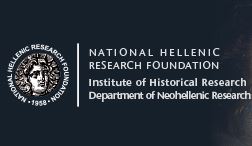 The Department of Neohellenic Research of the Institute of Historical Research (IHR / NHRF) was established in 1960, as Center for Neohellenic Research (KNE) with the purpose of studying Modern Greek culture and society in all its aspects, from the fifteenth century to the present time.
The Department's Research Projects are arranged in three sections:
Cultural History (Literary History, Historiography, History of Science, Geographical Culture and History of Cartography, Religious Art, Institutions and Ideology in Modern Greek Society)
Economic and Social History (History of Enterprises and Industrial Archaeology, Historical Study of Settlements inGreece, Ottoman Studies, Travel Networks, Diplomatic and Consular Networks)
Contemporary Political History (Documenting the Political and Social History of the 20th Century, History of Political Ideas, The Greek Press, Historical Archive of Greek Youth)
Through its research activities, the Department of Neohellenic Research aims at producing fresh historical perspectives based on critically assessed sources; at promoting national and international collaborations; at supplying the academic community with reliable research infrastructure.
Through its training activities the Department of Neohellenic Research trains young researchers through post-graduate and graduate seminars in collaboration with university faculties and other research institutes.
E-publisher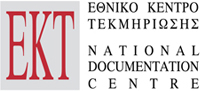 The National Documentation Centre (www.ekt.gr) is a national infrastructure in the National Hellenic Research Foundation. Since 1980, it actively engages in the collection, organization and dissemination of scientific and technological information in Greece and internationally. EKT's strategic priority is the aggregation, organized online dissemination and preservation of quality-assured scholarly and educational content in a single research infrastructure.
EKT's vision is "Access to Knowledge".  To this end it implements Open Access policies in research, supports the transfer and dissemination of scientific knowledge, collaborates with research, education and cultural institutions for the aggregation, organization and dissemination of digital content and provides innovative services in scientific information.
EKT provides reliable ePublishing services as part of its scholarly content aggregation and dissemination activities. Its integrated online ePublishing environment is developed with open-source interoperable technology. This affords the incorporation of EKT's infrastructures into the continuously developing international infrastructure environment.
EKT's ePublishing services (http://www.ekt.gr/epublishing) are directed to public and extended public institution publishers of accredited scholarly journals. They include, most significantly, the organization, documentation and organized dissemination of metadata and content of scholarly journals, the training and consulting services on issues such as intellectual property, the standardization of editorial processes according to internationally accepted standards, the inclusion of content and metadata in international content indexers and harvesters via interoperable systems.