Publisher
The Laboratory of Virtual Reality, Internet Research and E-Learning (http://vrlab.panteion.gr) is a Greek academic Research Institute, operating under the auspices of the Department of Psychology of Panteion University of Social and Political Sciences. During the last years, the VR Lab has conducted scientific research on the socio-psychological dimensions of the internet, virtual life and reality, cyber-governance, virtual communities, and e-learning.
VR Laboratory's main expertise is the combination of the most up-to-date technological innovations and applications with the socio-psychological knowledge, developing a collaborative and symbiotic community in the academic culture. The VR Lab's academic team consists of Professors, Post-Doc Researchers and PhD candidates, from different scientific disciplines, such as Sociology, Psychology, Computer science, Education, Media, Law, providing a multidisciplinary approach on the phenomena under investigation.
The VR, Internet Research and E-Learning Laboratory, operated, in the past, under the auspices of the Department of Psychology, a 2-years MA program in "Virtual Communities: Socio-Psychological dimensions and technical applications", in collaboration with the Technological Education Institute of Messolonghi and the Computer Technology Institute of Patras.
During the past years, the Lab's team has organized and has taken part on scientific research programs, seminars and conferences, with other academic and research institutions in Greece and abroad. The VR Lab has also co-organized the 1st Web Science Conference (Athens, 2009) and has implemented mixed methods research, on offline and online socio-psychological phenomena, such as illegal immigration phenomenon, Greek virtual political communities, online tracking of illegal drugs etc. Lab's community has also a significant number of scholarly publications in peer-reviewed papers, books, and collective volumes.
On 2018 VR Lab launches Homo Virtualis, a new bilingual and open access academic journal aiming to contribute to the understanding complex phenomena on internet and cyberspace. Homo Virtualis journal is published twice a year. On the technological era human practices, methods and evolution are subjects of observation and research by social sciences, humanities, computer science. To this direction, the scope of Homo Virtualis is to enhance academic dialogue on theoretical, methodological aspects and empirical research through a multidisciplinary, interdisciplinary and transdisciplinary approach. The editorial team of the journal welcomes and invites any scholar studying and researching internet, cyberspace phenomena and socio-technological realities to participate and collaborate actively to this endeavor. The journal is open to any topic concerning virtual, net, augmented and artificial realities with a special, but not limited to, interest on: virtual presence, virtual communities, complexity theories, social platforms and social networking, e-learning environments, information and knowledge sharing, digital access, co-creative organizational structures, virtual economy.
E-publisher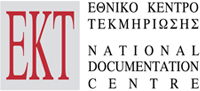 The National Documentation Centre (www.ekt.gr) is a national infrastructure in the National Hellenic Research Foundation. Since 1980, it actively engages in the collection, organization and dissemination of scientific and technological information in Greece and internationally. EKT's strategic priority is the aggregation, organized online dissemination and preservation of quality-assured scholarly and educational content in a single research infrastructure.
EKT's vision is "Access to Knowledge". To this end it implements Open Access policies in research, supports the transfer and dissemination of scientific knowledge, collaborates with research, education and cultural institutions for the aggregation, organization and dissemination of digital content and provides innovative services in scientific information.
EKT provides reliable ePublishing services as part of its scholarly content aggregation and dissemination activities . Its integrated online ePublishing environment is developed with open-source interoperable technology. This affords the incorporation of EKT's infrastructures into the continuously developing international infrastructure environment.
EKT's ePublishing services (http://epublishing.ekt.gr/) are directed to public and extended public institution publishers of accredited scholarly journals. They include, most significantly, the organization, documentation and organized dissemination of metadata and content of scholarly journals, the training and consulting services on issues such as intellectual property, the standardization of editorial processes according to internationally accepted standards, the inclusion of content and metadata in international content indexers and harvesters via interoperable systems.