Publisher

Institute of Historical Research (IHR) – Department of Greek and Roman Antiquity (KERA)
The Department of Greek and Roman Antiquity (KERA), originally the youngest of the National Research Foundation's (NHRF) humanistic institutes, has been incorporated in 2012 into the new Institute of Historical Research. KERA was founded in 1979 thanks to the initiative of the member of the Academy of Athens professor M. B. Sakellariou in order to foster systematic research on antiquity, especially in subjects and periods where scholarly neglect seemed to afford room for a Greek contribution at an international level. KERA's research projects today cover all aspects of Greek antiquity, from prehistory to the end of antiquity in the seventh century A.D. 
Εθνικό Ίδρυμα Ερευνών / National Hellenic Research Foundation
E-publisher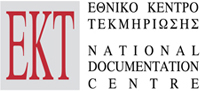 The National Documentation Centre (www.ekt.gr) is a national infrastructure in the National Hellenic Research Foundation. Since 1980, it actively engages in the collection, organization and dissemination of scientific and technological information in Greece and internationally. EKT's strategic priority is the aggregation, organized online dissemination and preservation of quality-assured scholarly and educational content in a single research infrastructure.
EKT's vision is "Access to Knowledge". To this end it implements Open Access policies in research, supports the transfer and dissemination of scientific knowledge, collaborates with research, education and cultural institutions for the aggregation, organization and dissemination of digital content and provides innovative services in scientific information.
EKT provides reliable ePublishing services as part of its scholarly content aggregation and dissemination activities. Its integrated online ePublishing environment is developed with open-source interoperable technology. This affords the incorporation of EKT's infrastructures into the continuously developing international infrastructure environment.
EKT's ePublishing services (http://www.ekt.gr/epublishing) are directed to public and extended public institution publishers of accredited scholarly journals. They include, most significantly, the organization, documentation and organized dissemination of metadata and content of scholarly journals, the training and consulting services on issues such as intellectual property, the standardization of editorial processes according to internationally accepted standards, the inclusion of content and metadata in international content indexers and harvesters via interoperable systems.