"The Declaration on the Common Language": A View from the Inside
---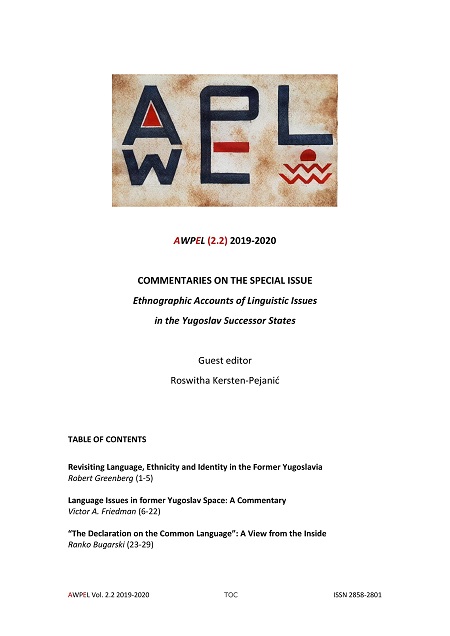 Abstract
The editor of the special issue of AWPEL on former Yugoslavia has kindly invited me to provide the journal's readership with more information on this document, evaluated in distinctly negative terms by Professor Christian Voß in his contribution to the present collection of articles. I will gladly do so, in my capacity as a native speaker of Serbo-Croatian, a consultant in the drafting process of the Declaration and one of its initial signatories and public supporters. [...]
Article Details
How to Cite

Bugarski, R. (2020). "The Declaration on the Common Language": A View from the Inside. Aegean Working Papers in Ethnographic Linguistics, 2(2), 23–29. https://doi.org/10.12681/awpel.22595
Authors who publish with this journal agree to the following terms:
Authors retain copyright and grant the journal right of first publication with the work simultaneously licensed under a Creative Commons Attribution licence that allows others to share the work with an acknowledgement of the work's authorship and initial publication in this journal.
Authors are able to enter into separate, additional contractual arrangements for the non-exclusive distribution of the journal's published version of the work (e.g. post it to an institutional repository or publish it in a book), with an acknowledgement of its initial publication in this journal.
Authors are permitted and encouraged to post their work online (preferably in institutional repositories or on their website) prior to and during the submission process, as it can lead to productive exchanges, as well as earlier and greater citation of published work (See The Effect of Open Access).
Downloads
Download data is not yet available.
References
Bugarski, R. 2018. Govorite li zajednički? Kako je nastala i kako je primljena Deklaracija o zajedničkom jeziku [Do you speak Common? The origin and reception of the Declaration on the common language]. Belgrade: Biblioteka XX vek.
Bugarski, R. (forthcoming 2019). "A lingua communis in the Western Balkans?" To appear in the proceedings of the conference "Koine, koines and the formation of Standard Modern Greek", Thessaloniki, 3-4 November 2017. Thessaloniki: Institute of Modern Greek Studies.
Bulić, R. 2017. "Zbilja, kako nam se zove zajednički jezik?" [Really, what do we call our common language?]. Stav 6.4.2017: 30-32.
Kordić, S. 2010. Jezik i nacionalizam [Language and nationalism]. Zagreb: Durieux.
Kordić, S. 2017. "Čitaj pažljivo, kako god zvao jezik" [Read carefully, whatever you call the language]. Problemi sa Delaracijom. Deutsche Welle-Pescanik net 7.4.2017.
Marković, A. (ed.). 1998. Slovo o srpskom jeziku [The Declaration on the Serbian Language] (in six languages). Beograd: Fond istine o Srbima.
Voß, C. 2017. "Četiri jezika" [Four languages]. Problemi sa Deklaracijom. Deutsche Welle-Pescanik net 7.4.2017.