The Battle of Kalavrye Revisited
---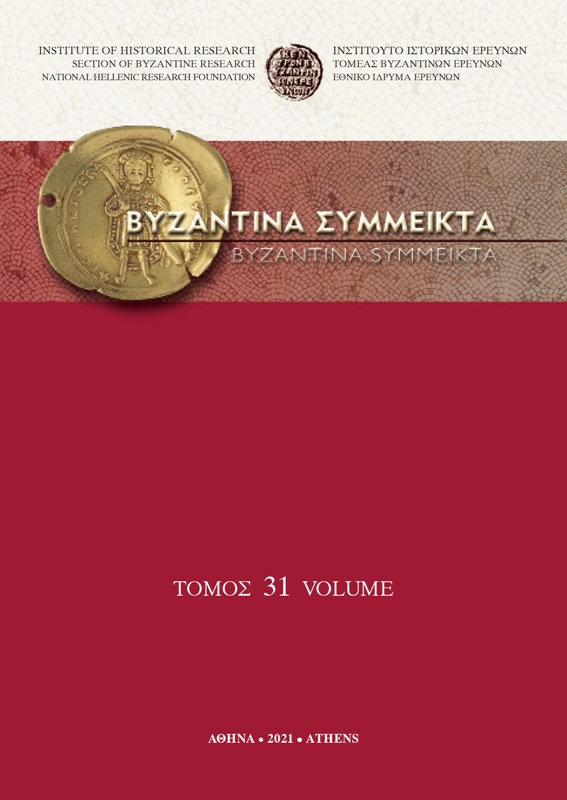 Published: Mar 3, 2021
Keywords:
Byzantine military; Civil War; Bryennios; Alexios I; Taktika
Abstract
Στο άρθρο επανεξετάζονται τα σχετικά με την μάχη της Καλαβρύης (1078), της κρίσιμης αυτής αντιπαράθεσης μεταξὺ Αλεξίου Κομνηνού και Νικηφόρου Βρυεννίου, και προτείνεται μία άλλη ερμηνεία για την εξέλιξή της. Η σύγχρονη βιβλιογραφία βασίζεται στην εξιστόρηση του νεωτέρου Νικηφόρου Βρυεννίου στην Ύλη Ιστορίας, με σύντομες αναφορές στα λίγα σημεία διαφοροποίησης που υπάρχουν στην αφήγηση της Άννας Κομνηνής στην Αλεξιάδα, και η ακρίβειά της θεωρείται δεδομένη. Έχει αγνοηθεί όμως σε μεγάλο βαθμό η λίγο παλαιότερη εκδοχή που παρουσιάζει ο Μιχαήλ Ατταλειάτης. Στο άρθρο επιχειρείται να αποδειχθεί ότι μία βασική λεπτομέρεια που αναφέρεται στην σύγχρονη βιβλιογραφία –η αιφνίδια άφιξη των Τούρκων μισθοφόρων που έγειρε την πλάστιγγα υπέρ του Αλεξίου– βασίζεται στην παράδοση της Ύλης Ιστοριών και της Αλεξιάδας, δεν επαληθεύεται όμως από την Ιστορία του Μιχαήλ Ατταλειάτη. Η αναφορά σε «αιφνίδια άφιξη» των Τούρκων μισθοφόρων οφείλεται σε παρερμηνεία της τακτικής του Αλεξίου: οι Τούρκοι ήσαν εξ αρχής παρόντες στο πεδίο της μάχης.
Article Details
How to Cite

GILMER, J. M. (2021). The Battle of Kalavrye Revisited. Byzantina Symmeikta, 31, 153–175. https://doi.org/10.12681/byzsym.21236
This work is licensed under a Creative Commons Attribution-NonCommercial-ShareAlike 4.0 International License.
Copyright: The copyright for articles in this journal is retained by the author(s), with first publication rights granted to the journal. By virtue of their appearance in this open access journal, articles are free to use (with the exception of the non-granted right to make derivative works) with proper attribution for non-commercial uses (licence Creative Commons 4.0). NHRF retains the worldwide right to reproduce, display, distribute, and use articles published in BYZANTINA SYMMEIKTA in all formats and media, either separately or as part of collective works for the full term of copyright. This includes but is not limited to the right to publish articles in an issue of the Journal, copy and distribute individual reprints of the articles, authorize reproduction of articles in their entirety in another NHRF publication, and authorize reproduction and distribution of articles or abstracts thereof by means of computerized retrieval systems.
Downloads
Download data is not yet available.
References
Michaelis Attaliatae Historia, ed. E. TSOLAKIS (CFHB 50), Athens 2011
Michael Attaleiates, History, Trans. A. KALDELLIS - D. KRALLIS, Washington D.C.: Dumbarton Oaks Research Library, 2012
E. TSOLAKIS, Ἡ Συνέχεια τῆς Χρονογραφίας τοῦ Ἰωάννου Σκυλίτση, Thessalonica 1968
Byzantium in the Time of Troubles: The Continuation of the Chronicle of John Skylitzes (1057 – 1079). Ιntroduction, translation and notes by E. MCGEER. Prosopographcal index and glossary of terms by J.W. NESBITT, Leiden: Brill, 2020
E. TSOLAKIS, Συνεχείας Συνέχεια, ByzSym 25 (2015), 115-142]
P. GAUTIER, Nicephori Bryennii, Historiarum Libri Quattuor (CFHB 9), Brussels 1975
Annae Comnenae, Alexias, ed. D. REINSCH –A. KAMBYLIS (CFHB 40), Berlin-New York 2000
E.R.A SEWTER (transl.), The Alexiad, London: Penguin Classics, 1969; revised edition 2009
J. BIRKENMEIER, The Development of the Komnenian Army: 1081 – 1180, Leiden: Brill, 2002
J. HALDON, The Byzantine Wars, Cheltenham: Tempus, 2001
L. NEVILLE, Heroes and Romans in Twelfth-Century Byzantium: The Materials for History of Nikephoros Bryennios, Cambridge: Cambridge University Press 2012
N. TOBIAS, The Tactics and Strategy of Alexius Comnenus at Calavrytae, 1078, Etudes Byzantines 6, Pts. 1-2 (1979), 193 – 211
T. G. KOLIAS, H πολεμική τακτική των Bυζαντινών: Θεωρία και πράξη, in: Tο εμπόλεμο Bυζάντιο (9ος-12ος αι.), [IBR/NHRF, International Symposium 4], Athens 1997
The Taktika of Leo the Wise. Greek text –english transl. G. T. DENNIS (CFHB 49), Washington 2010
G. T. DENNIS (ed.), German transl. E. GAMILLSCHEG (CFHB 17), Wien 1981
G. DENNIS (transl.), Maurice's Strategikon: Handbook of Byzantine Military Strategy, University of Pennsylvania Press, 1984.
De velitatione, ed. G.T. DENNIS, Three Byzantine Military Treatises [CFHB 25], Washington 2009
P. STEPHENSON, About the Emperor Nikephoros and How He Leaves His Bones in Bulgaria: A Context for the Controversial «Chronicle of 811», DOP 60 (2006), 87 – 109
G. LEVENIOTIS, To στασιαστικό κίνημα του Ουρσελίου (Ursel de Bailleul) στην Μικρά Ασία (1073-1076), Thessalonica 2004
F. TROMBLEY, The Taktika of Nikephoros Ouranos and Military Encyclopaedism, in Pre-modern Encyclopaedic Texts: Proceedings of the Second COMERS Congress, Groningen, 1-4 July (1996), 261-274