Ἡ Ἁγία Εὐφημία στὶς σχέσεις παπῶν καὶ αὐτοκρατόρων
---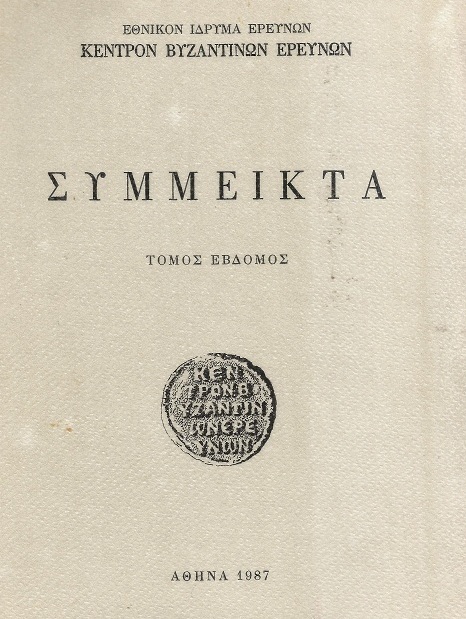 Published: Sep 29, 1987
Keywords:
Εκκλησιαστική διοίκηση Πολιτική θεωρία Αυτοκρατορία και Παπωσύνη Άγιοι Συμβολισμός Λατρεία Εικονομαχία
Abstract
Eléonora S. Countoura-Galaki
 Sainte  Euphémie dans le contexte des relations entre papes et empereurs byzantins
Dans le cadre de ses persécutions, Constantin V a essayé de faire disparaître le culte de sainte Euphémie, en jetant ses reliques à la mer; ce geste du second empereur iconoclaste n'avait pas tant à faire avec la fureur iconoclaste que lui attribuent les sources; il était au contraire un geste purement politique.
Sainte Euphémie qui avait abrité dans sa basilique à Chalcédoine le IVe Concile Oecuménique, en 451, symbolisait les canons de ce concile, qui stipulaient l'Orthodoxie oecuménique et la concorde entre les papes et les empereurs byzantins. Antérieurement au VIIIème siècle, trois papes (Gélase, Donus, Serge 1er) qui étaient entrés en conflit avec les empereurs Anastase 1er, Constant II et Justinien II respectivement, avaient dédié dés basiliques en l'honneur de Sainte Euphémie en insinuant de cette façon que les empereurs contre lesquels ils s'étaient heurtés, n'avaient pas respecté les canons de Chalcédoine.
Au VIIIème siècle, lorsque la Papauté rejete la souveraineté byzantine et sont posées les bases de l'état pontifical. Sainte Euphémie perd de son importance antérieure et est remplacée, pour ainsi dire, du côté des papes, par Saint Silvestre, qui représente la nouvelle réalité: l'indépendance de l'Occident de la souveraineté byzantine. En brisant, de son côté, le symbolisme pontifical de Sainte Euphémie, Constantin V manifestait son intention de soumettre le clergé supérieur universel à l'institution impériale byzantine.
Article Details
How to Cite

ΚΟΥΝΤΟΥΡΑ-ΓΑΛΑΚΗ Ε. Σ. (1987). Ἡ Ἁγία Εὐφημία στὶς σχέσεις παπῶν καὶ αὐτοκρατόρων. Byzantina Symmeikta, 7, 59–75. https://doi.org/10.12681/byzsym.710
Copyright: The copyright for articles in this journal is retained by the author(s), with first publication rights granted to the journal. By virtue of their appearance in this open access journal, articles are free to use (with the exception of the non-granted right to make derivative works) with proper attribution for non-commercial uses (licence Creative Commons 4.0). NHRF retains the worldwide right to reproduce, display, distribute, and use articles published in BYZANTINA SYMMEIKTA in all formats and media, either separately or as part of collective works for the full term of copyright. This includes but is not limited to the right to publish articles in an issue of the Journal, copy and distribute individual reprints of the articles, authorize reproduction of articles in their entirety in another NHRF publication, and authorize reproduction and distribution of articles or abstracts thereof by means of computerized retrieval systems.
Downloads
Download data is not yet available.