First record of Lilioceris lilii in Greece
---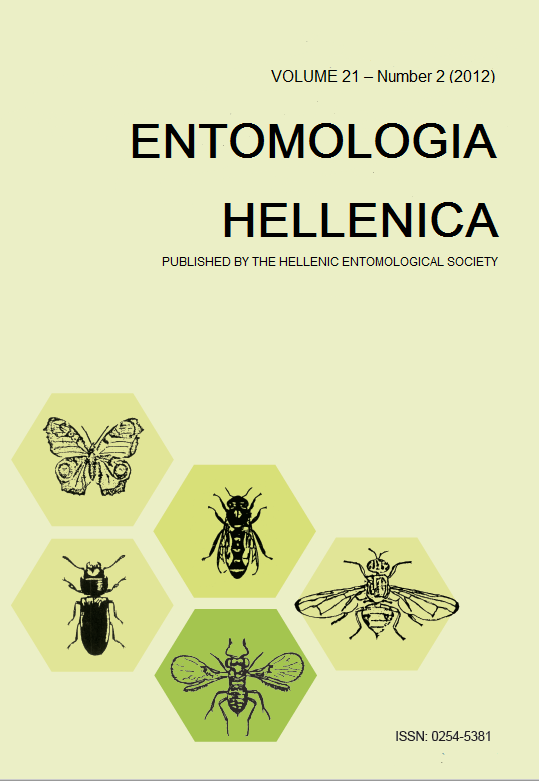 Published: Jan 8, 2012
Keywords:
beetle first record Lilium chalcedonicum L. martagon Lily
Abstract
On May 2007, the lily beetle Lilioceris lilii (Scopoli) (Coleoptera: Chrysomelidae) was recorded for the first time in Greece. Its occurrence was observed on scarlet martagon lily and martagon lily plants at Fylaktí, Karditsa. Information on its morphology, biology and distribution is presented.
Article Details
How to Cite

Papadoulis, G. T., & Tsagkarakis, A. E. (2012). First record of Lilioceris lilii in Greece. ENTOMOLOGIA HELLENICA, 21(2), 69–73. https://doi.org/10.12681/eh.11519
This work is licensed under a Creative Commons Attribution-NonCommercial-ShareAlike 4.0 International License.
Authors who publish with this journal agree to the following terms:
Authors retain copyright and grant the journal right of first publication with the work simultaneously licensed under a Creative Commons 4.0 license.
Authors are able to enter into separate, additional contractual arrangements for the non-exclusive distribution of the journal's published version of the work (e.g. post it to an institutional repository or publish it in a book), with an acknowledgement of its initial publication in this journal. Authors are permitted and encouraged to post their work online (preferably in institutional repositories or on their website) prior to and during the submission process, as it can lead to productive exchanges, as well as earlier and greater citation of published work.
Downloads
Download data is not yet available.
References
Brzica, M. 2011. Bio-Ecological research of Lily Leaf Beetle Lilioceris lilii Scopoli (Coleoptera: Chrysomelidae) in Bosnia and Herzegovina. Entomol. Hell. 20: 55-67.
CABI/EPPO. 2012. Lilioceris lilii: Invasive species compendium. Available from
http://www.cabi.org/isc/
Wallingford, UK.
Cox, M. L. 2001. The status of the lily beetle Lilioceris lilii (Scopoli, 1763) in Britain (Chrysomelidae: Criocerinae). Coleopter. 10: 5-20.
Ernst, C., N. Cappuccino and J.T. Arnason. 2007. Potential novel hosts for the lily leaf beetle Lilioceris lilii Scopoli (Coleoptera: Chrysomelidae) in eastern North America. Ecol. Entomol. 32: 45-52.
Haye, T. and M. Kenis. 2004. Biology of Lilioceris spp. (Coleoptera: Chrysomeli-dae) and their parasitoids in Europe. Biol. Control 29: 399-408.
Kenis, M., T. Haye, R.A. Casagrande, S.M. Gold and L.A. Tewksbury. 2003. Selection and importation of European parasitoids for the biological control of the lily leaf beetle in North America, and prospects for control in Europe. Proceedings of First International Symposium of Biological Control of Arthropods (ISBCA) January 14-18, 2002, Honolulu, Hawaii. USDA Forest Service, FHTET-03-05.
Lesage, L. 1983. Note sur la distribution présente et future du criocère du lys, Lilioceris lilii (Scopoli) (Coleoptera: Chrysomelidae) dans l'est du Canada. Naturaliste Canadien (Revue d'Ecoligie et Systématique) 110: 95-97.
Livingston, S.B. 1996. Biology, control, and host range of Lilioceris lilii: a new ornamental pest in the USA. MS thesis. University of Rhode Island, Kingston, Rhode Island, USA.
Majka, C.G. and C. Kirby. 2011. Lily leaf beetle, Lilioceris lilii (Coleoptera: Chrysomelidae), in Maine and the Maritime Provinces: the continuing dispersal of an invasive species. J. Acad. Entomol. Soc. 7: 70-74.
Tewksbury, L., M.S. Gold, R.S. Casagrande and M. Kenis. 2005. Establishment in North America of Tetrastichus setifer Thomson (Hymenoptera: Eulophidae), a parasitoid of Lilioceris lilii (Coleoptera: Chrysomelidae). Second International Symposium on Biological Control of A thropods, Volume I, Davos, Switzerland - September 12-16, 2005, 142-143.
Tutin, T.G., V.H. Heywood, N.A. Burges, D.M. Moore, D.H. Valentine, S.M. Walters and D.A. Webb. 1991. Flora Europaea. Cambridge University Press, Cambridge, UK.
Yu, P., Lu, W. and R. Casagrande. 2001. Lilioceris lilii (Scopoli) occurs in China (Coleoptera: Chrysomelidae). Coleopter. Bull. 55: 65–66.