The families Malachiidae and Dasytidae in the collections of the Goulandris Natural History Museum, Athens, Greece
---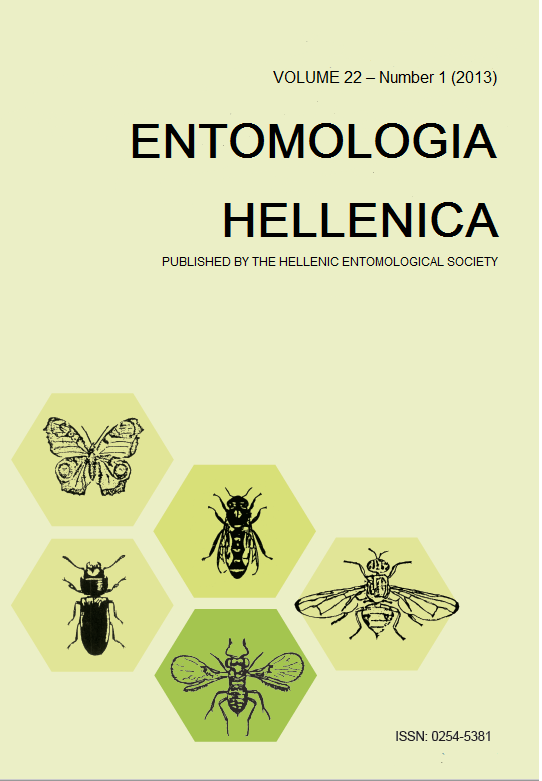 Published: Jan 8, 2013
Keywords:
Coleoptera Dasytidae distribution fauna Malachiidae museum collection
Abstract
Entomological collections of the Goulandris Natural History Museum in Athens were reviewed. Eleven species of the family Malachiidae and six species of the family Dasytidae (Insecta: Coleoptera) were identified in the collections of the museum. A species list is provided, where the locations and dates of findings, as well as the distribution of each species and short comments are given.
Article Details
How to Cite

Mirutenko, V. V. (2013). The families Malachiidae and Dasytidae in the collections of the Goulandris Natural History Museum, Athens, Greece. ENTOMOLOGIA HELLENICA, 22(1), 1–6. https://doi.org/10.12681/eh.11521
This work is licensed under a Creative Commons Attribution-NonCommercial-ShareAlike 4.0 International License.
Authors who publish with this journal agree to the following terms:
Authors retain copyright and grant the journal right of first publication with the work simultaneously licensed under a Creative Commons 4.0 license.
Authors are able to enter into separate, additional contractual arrangements for the non-exclusive distribution of the journal's published version of the work (e.g. post it to an institutional repository or publish it in a book), with an acknowledgement of its initial publication in this journal. Authors are permitted and encouraged to post their work online (preferably in institutional repositories or on their website) prior to and during the submission process, as it can lead to productive exchanges, as well as earlier and greater citation of published work.
Downloads
Download data is not yet available.
References
Angelov, P. 1989. Beitrag zur Kenntnis der Familien Melyridae (Coleoptera) Bulgariens. Université de Plovdiv "Paissi Hilendarski", Travaux scientifiques 27: 107-110.
Arefnia, A. and S. Tshernyshev. 2004. First record of Laius venustus Erichson, 1840 (Coleoptera, Malachiidae) in Iran. Euroasian Entomol. J. 3: 32.
Chikatunov, V., T. Pavlicek and E. Nevo. 1999. Coleoptera of "Evolution Canyon", Lower Nahal Oren, Mount Carmel, Israel. Part I. Families: Buprestidae, Carabidae, Cerambycidae, Glaphyridae, Hybosoridae, Hydrophilidae, Lucanidae, Scarabaeidae, Tenebrionidae, and Trogidae. Pensoft Publishers, Sofia-Moscow. 174 pp.
Kolibáč, J., K. Majer and V. Švihla. 2005. Beetles of the superfamily Cleroidea in the Czech and Slovak Republics and neighbouring areas. Clarion Production, Prague. 186 pp.
Legakis, A. 1990. The Zoological Museum of the University of Athens. 4. The collection of Coleoptera from Greece. Part II. Biol. Gallo-hellenica 17: 59-96.
Mayor, A. 2007. Family Dasytidae, Malachiidae. In: Catalogue of Palaearctic Coleoptera, V. 4, ed. by Löbl I. and A. Smetana. Apollo Books, Stenstrup: 388-455.
Mirutenko, V. 1998. The ecological-faunistic review of malachiid-beetles (Coleoptera) of Ukrainian Carpathians. The Proceedings of the Kharkov Entomological Society 7: 45-52.
Mirutenko, V. 2004. A features of trophicity of insects of family Malachiidae (Coleoptera). The Scientific Bulletin of Uzhhorod University. The Biology Series 14: 162-164.
Mirutenko, V. 2008. The coleopterous insects of the families Malachiidae and Dasytidae in the collections of the Zoological Museum and the Department of Entomology and Biodiversity Preservation of Uzhgorod University. The Scientific Bulletin of Uzhgorod University, The Biology Series 23: 209-219.
Plata-Negrache, P. 2012. Estudio de la Subfamilia Malachiinae Fleming (Coleoptera: Cleroidea: Melyridae) en Andalucía. Fotocopias Campus, Domingo Pérez Batista, La Laguna. 203 pp.