First record of the bougainvillea mealybug Phenacoccus peruvianus in Greece
---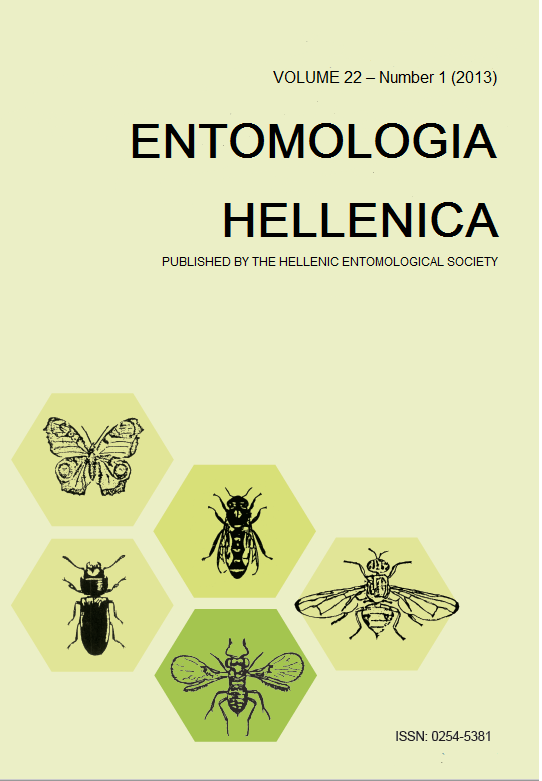 Published: Jan 8, 2013
Keywords:
bougainvillea invasive mealybugs parasitoid
Abstract
This is the first record of the Boungainvillea mealybug Phenacoccus peruvianus in Greece. The mealybug originates from South America and in the last decade has invaded Europe and particularly the Mediterranean basin. It has become a major pest for various ornamental plant species. In Spain, it is found to be parasitized by the parasitoid Acerophagus n. sp. near coccois.
Article Details
How to Cite

Gkounti, V., & Milonas, P. (2013). First record of the bougainvillea mealybug Phenacoccus peruvianus in Greece. ENTOMOLOGIA HELLENICA, 22(1), 16–18. https://doi.org/10.12681/eh.11523
This work is licensed under a Creative Commons Attribution-NonCommercial-ShareAlike 4.0 International License.
Authors who publish with this journal agree to the following terms:
Authors retain copyright and grant the journal right of first publication with the work simultaneously licensed under a Creative Commons 4.0 license.
Authors are able to enter into separate, additional contractual arrangements for the non-exclusive distribution of the journal's published version of the work (e.g. post it to an institutional repository or publish it in a book), with an acknowledgement of its initial publication in this journal. Authors are permitted and encouraged to post their work online (preferably in institutional repositories or on their website) prior to and during the submission process, as it can lead to productive exchanges, as well as earlier and greater citation of published work.
Downloads
Download data is not yet available.
References
Beltra, A., A. Soto, J.-F. Germain, D. Matile- Ferrero, G. Mazzeo, G. Pellizzari, A. Russo, J.C. Franco and D.J. Williams. 2010. The Bougainvillea mealybug Phenacoccus peruvianus, a rapid invader from South America to Europe. Entomol. Hell. 19: 137-143.
Beltra, A., A. Tena and A. Soto. 2013. Fortuitous biological control of the invasive mealybug Phenacoccus peruvianus in Southern Europe. BioControl 58: 309-317.
Benavent, F.A. 2012. Ciclo de vida del cotonet de la buganvilla Phenacoccus peruvianus (Hemiptera: Pseudococcidae). Master Thesis, Universitat Polytechnico de Valencia.
Granara de Willink, M.C. and C. Szumik. 2007. Phenacoccinae de centro y Sudamerica (Hemiptera: Cocoidea: Pseudococcidae): Sistematica y filogenia. Rev. Soc. Entomol. Argen. 66: 29-129.
Pellizzari, G. and J.-F. Germain. 2010. Scales (Hemiptera, Superfamily Coccoidea) Chapter 9.3. BioRisk 4(1): 475–510.