First record of Tabanus lunatus from Iran
---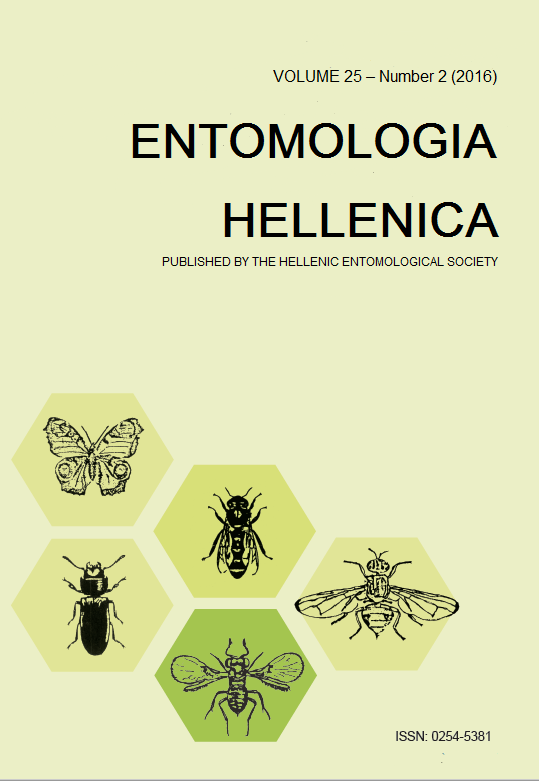 Published: Nov 8, 2016
Keywords:
Iran new record Tabanidae Tabanus lunatus
Abstract
In August 2015, the species Tabanus lunatus Fabricius, 1794 (Diptera: Tabanidae) was recorded for the first time from Iran. Two females were collected in Nazlo area near Urmia. Information on its morphology and distribution is given
Article Details
How to Cite

Samiei, A., Tavassoli, M., & Moradi, S. (2016). First record of Tabanus lunatus from Iran. ENTOMOLOGIA HELLENICA, 25(2), 39–41. https://doi.org/10.12681/eh.11550
This work is licensed under a Creative Commons Attribution-NonCommercial-ShareAlike 4.0 International License.
Authors who publish with this journal agree to the following terms:
Authors retain copyright and grant the journal right of first publication with the work simultaneously licensed under a Creative Commons 4.0 license.
Authors are able to enter into separate, additional contractual arrangements for the non-exclusive distribution of the journal's published version of the work (e.g. post it to an institutional repository or publish it in a book), with an acknowledgement of its initial publication in this journal. Authors are permitted and encouraged to post their work online (preferably in institutional repositories or on their website) prior to and during the submission process, as it can lead to productive exchanges, as well as earlier and greater citation of published work.
Downloads
Download data is not yet available.
References
Al-Talafha, H., Z.S. Amr, M.A. Baker and A.K. Bader. 2005. Systematics and distribution of horse flies (Diptera: Tabanidae) of Jordan. J. Vector Ecol. 30: 49-61.
Altunsoy, F. and A. Kılıç. 2010. New faunistic record of horse flies (Diptera: Tabanidae) in Turkey. Entomol. Res. Soc. 12: 109-112.
Chvala, M., L. Lynborg and J. Moucha. 1972. The Horse Flies of Europe. Entomological Society of Copenhagen. Copenhagen, 498 pp.
Chvala, M. 1988. Family Tabanidae. In: A. Soos and L. Papp. (eds.). Catalogue of Athericidae-Asilidae. Akademiai Kiado. Palaearctic Diptera, Vol. 5, Budapest, pp. 87-171.
Dousti, A., M. Gheibi and Z. Baziar. 2011. Preliminary investigation of the genus Tabanus (Diptera: Tabanidae) in Shiraz region. Plant Prot. J. 3: 85 - 95.
Abu El-Hassan, G.M.M., H.B.M. Badrawy, H.H. Fadal and S.K. Mohammad. 2013. A review of the genus Tabanus Linnaeus, 1758 (Diptera: Tabanidae) from Egypt. Zootaxa 3691: 559-576.