Typhlodromus erymanthii, a new species of the family Phytoseiidae (Αcari: Mesostigmata) from Greece
---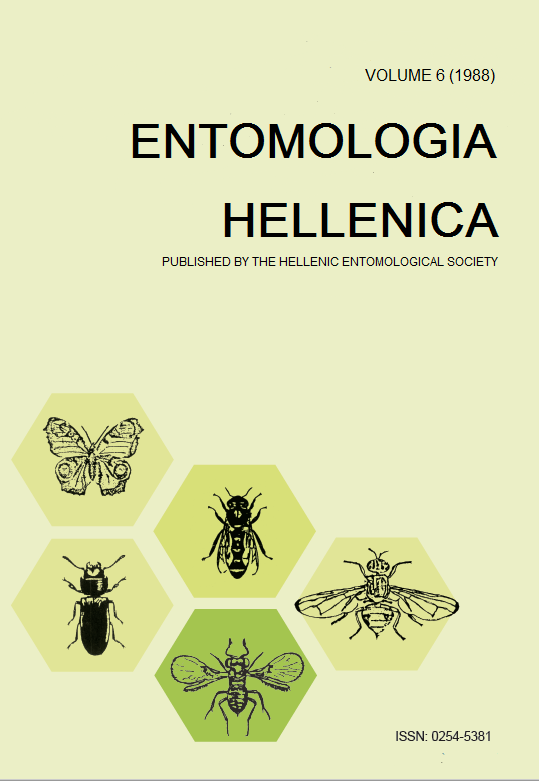 Published: Jan 8, 1988
Keywords:
Acari Typhlodromus erymanthii spec nov. Phytoseiidae Quercus coccifera L. simplex species group Erinea
Abstract
The adult female of Typhlodromus erymanthii, which belongs to the simplex species – group, is described and illustrated. It was collected from Quercus coccifera L. leaf erinea, and its association with other mites there is discussed. The dorsal setae, shield and leg setae were covered by a (waxy?) material.
Article Details
How to Cite

Papadoulis Τ., & Emmanouel Ν. G. (1988). Typhlodromus erymanthii, a new species of the family Phytoseiidae (Αcari: Mesostigmata) from Greece. ENTOMOLOGIA HELLENICA, 6, 3–6. https://doi.org/10.12681/eh.13952
Authors who publish with this journal agree to the following terms:
Authors retain copyright and grant the journal right of first publication with the work simultaneously licensed under a Creative Commons 4.0 license.
Authors are able to enter into separate, additional contractual arrangements for the non-exclusive distribution of the journal's published version of the work (e.g. post it to an institutional repository or publish it in a book), with an acknowledgement of its initial publication in this journal. Authors are permitted and encouraged to post their work online (preferably in institutional repositories or on their website) prior to and during the submission process, as it can lead to productive exchanges, as well as earlier and greater citation of published work.
Downloads
Download data is not yet available.
References
Athias - Henriot, C. 1975. Nouvelles notes sur les Amblyseiini II - Le releve organotaxique de la face dorsal adulte (Gamasides Protoadeniques, Phytoseiidae). Acarologia 17(1): 20-29.
Athias - Henriot, C. 1977. Nouvelles notes sur les Amblyseiini III - Sur le genre Cydnodromus: Redefinition, composition (Parasitiformes, Phytoseiidae). Entomophaga 22(1): 61-73.
Chant, D.A. and E. Yoshida - Shaul. 1983. A world review ofthesimplex species group in the genus Typhlodromus Scheuten (Acarina: Phytoseiidae). Can. J. Zool. 61: 1142-1151.
Lindquist, E.E. 1986. The world genera of Tarsonemidae (Acari: HeteroStigmata). A morphological, phylogenctic and systematic revision, with a reclassification of family - group taxa in the Heterostigmata. Mem. Entomol. Soc. Can. No 136.
Ragusa, S. and E. Swirski. 1981. A new species of the genus Seiulus (Acarina: Phytoseiidae) from Italy. Redia 64: 269-276.
Rowell, H.J., D.A. Chant and R.I.C. Hansel. 1978. The determination of setal homologies and setal patterns on the dorsal shield in the family Phytoseiidae(Acarina:
Mesostigmata). Can. Entomol. 110: 859-876.
Wainstein. B.A. 1973. On the structure of some organs of Phytoseiidae (Parasitiformes) important for taxonomy. Zool. Zh. 52: 1871-1872 (in Russian).