First record of wormlion Vermileo vermileo (Diptera: Vermileonidae) from Greece
---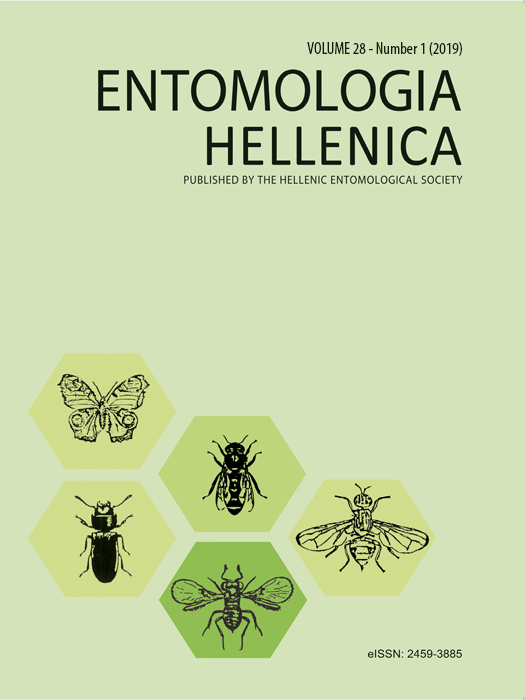 Published: Jan 11, 2019
Keywords:
Vermileonidae Myrmeleon inconspicuous antlion Thasos pits
Abstract
In this work, we present the first record of the species Vermileo vermileo from Greece. The larvae and pupae of Vermileo vermileo (Linnaeus, 1758) (Diptera, Vermileonidae) and Myrmeleon inconspicuus Rambur, 1842 (Neuroptera, Myrmeleontidae) species were collected from pits on a dry soil surface, in well-protected from rain places, from the Greek island of Thasos during the summer of 2017, in close proximity to Potos and Skala Potamias resort areas. The individuals were further kept under laboratory conditions for definite identification. According to available literature, the dipteran species V. vermileo is new for the Greek fauna.
Article Details
How to Cite

PAPP, Z., & SOLTÉSZ, Z. (2019). First record of wormlion Vermileo vermileo (Diptera: Vermileonidae) from Greece. ENTOMOLOGIA HELLENICA, 28(1), 5–10. https://doi.org/10.12681/eh.19679
This work is licensed under a Creative Commons Attribution-NonCommercial-ShareAlike 4.0 International License.
Authors who publish with this journal agree to the following terms:
Authors retain copyright and grant the journal right of first publication with the work simultaneously licensed under a Creative Commons 4.0 license.
Authors are able to enter into separate, additional contractual arrangements for the non-exclusive distribution of the journal's published version of the work (e.g. post it to an institutional repository or publish it in a book), with an acknowledgement of its initial publication in this journal. Authors are permitted and encouraged to post their work online (preferably in institutional repositories or on their website) prior to and during the submission process, as it can lead to productive exchanges, as well as earlier and greater citation of published work.
Downloads
Download data is not yet available.
References
Aspöck, H., Aspöck, U. and H. Hölzel. 1980. Die Neuropteren Europas. Eine zusammenfassende Darstellung der Systematik, Ökologie und Chorologie der Neuropteroidea (Megaloptera, Raphidioptera, Planipennia) Europas. 2 vols, 495 & 355 pp. Goecke & Evers, Krefeld, Germany.
Badano, D. and R.A. Pantaleoni. 2014. The larvae of European Myrmeleontidae (Neuroptera). Zootaxa 3762(1): 1–71.
Devetak, D. 2008a. Substrate particle size- preference of wormlion V ermileo vermileo (Diptera: Vermileonidae) larvae and their interaction with antlions. Eur. J. Entomol. 105: 631–635.
Devetak, D. 2008b. Wormlion Vermileo vermileo (L.) (Diptera: Vermileonidae) in Slovenia and Croatia. Ann. Ser. Hist. Nat. 18: 283–286.
Ebejer, M.J. 1995. Notes and new records of the larger Brachycera (Diptera) of Malta. Cent. Medit. Naturalist 2: 86–96.
Fauna Europaea. 2019. V ermileo vermileo (Linnaeus, 1758): Distribution Europe and wordwide. Available at: https://fauna- eu.org/cdm_dataportal/taxon/23285b3e- 4ac0-4a84-8f6a-92b62cf5299d (Accessed at January 2019).
Gepp, J. and H. Hölzel. 1989. Ameisenlöwen und Ameisenjungfern. Die Neue Brehm Bücherei, Band 589, A. Ziemsen Verlag, Wittemberg. 108 pp.
Hafez, M. and A.A. El-Moursy. 1956a. Studies on Desert Insects in Egypt. I. Field and Laboratory investigations on the wormlion, V ermileo vermileo L. Bull. Soc. Entomol. Egypte 40: 279–299.
Hafez, M. and A.A. El-Moursy. 1956b. Studies on Desert Insects in Egypt. II. On the general biology of Vermileo vermileo L. Bull. Soc. Entomol. Egypte 40: 333–348.
Lackinger, H. 1973. Unterschiede im Verhalten zwischen Larven einiger Ameisenlöwenarten einschließlich des Wurmlöwen (Vermileo vermileo) beim Sandfallenbau. Z. Arbgem. Oesterr. Entomol. 24: 66–72.
Le Faucheux, M. 1961. Contribution à l'étude du cycle biologique de Vermileo Degeeri Macquart (Diptère: Rhagionidae): Ponte et éclosion des jeunes larves. Bull. de la Soc. Scien. Bretagne 36: 133–141.
Nagatomi, A. and K. Iwata. 1976. Female terminalia of lower Brachycera-I (Diptera). Beitr. Entomol. 26: 5–47.
Nagatomi, A. 1997. Family Vermileonidae. In: Papp, L. and L. Darvas (Eds). Manual of Palearctic Diptera. Vol. 2. Nematocera and Lower Brachycera. Science Heraid. pp. 447–458.
Santos, C.M.D. 2008. Geographical distribution of Tabanomorpha (Diptera, Brachycera): Athericidae, Austroleptidae, Oreoleptidae, Rhagionidae, and Vermileonidae. EntomoBrasilis 1: 43–50.
Séguy, E. 1926. Faune de France. 13. Diptères, Brachycères. Paul
Lechevalier, Paris. 308 pp.
Séméria, Y. 2006. État des connaissances sur une larve remarquable de Diptère: le ver-lion V ermileo vermileo (Linné, 1758) avec quelques considerations inedites (Diptera: Vermileonidae: Vermileoninae). Biocosme Mésogéen 23: 67–84.
Stuckenberg, B.R. 1965. Notes on palearctic species of Vermileo, with the description of a new species from Crete (Diptera: Rhagionidae). Ann. Mag. Nat. Hist. 8: 495–500.
Stuckenberg, B.R. 1998. A revision of the Palaearctic species of Lampromyia Macquart (Diptera, Vermileonidae) with the description of a new Iberian species and a cladogram for the genus. Bonn. Zool. Beitr. 48: 67–96.
Wheeler, W.M. 1930. Demons of the dust. London. 378 pp.