Review of the occurrence of the oriental hornet Vespa orientalis Linnaeus, 1771 in the islands of Greece (Hymenoptera: Vespidae: Vespinae)
---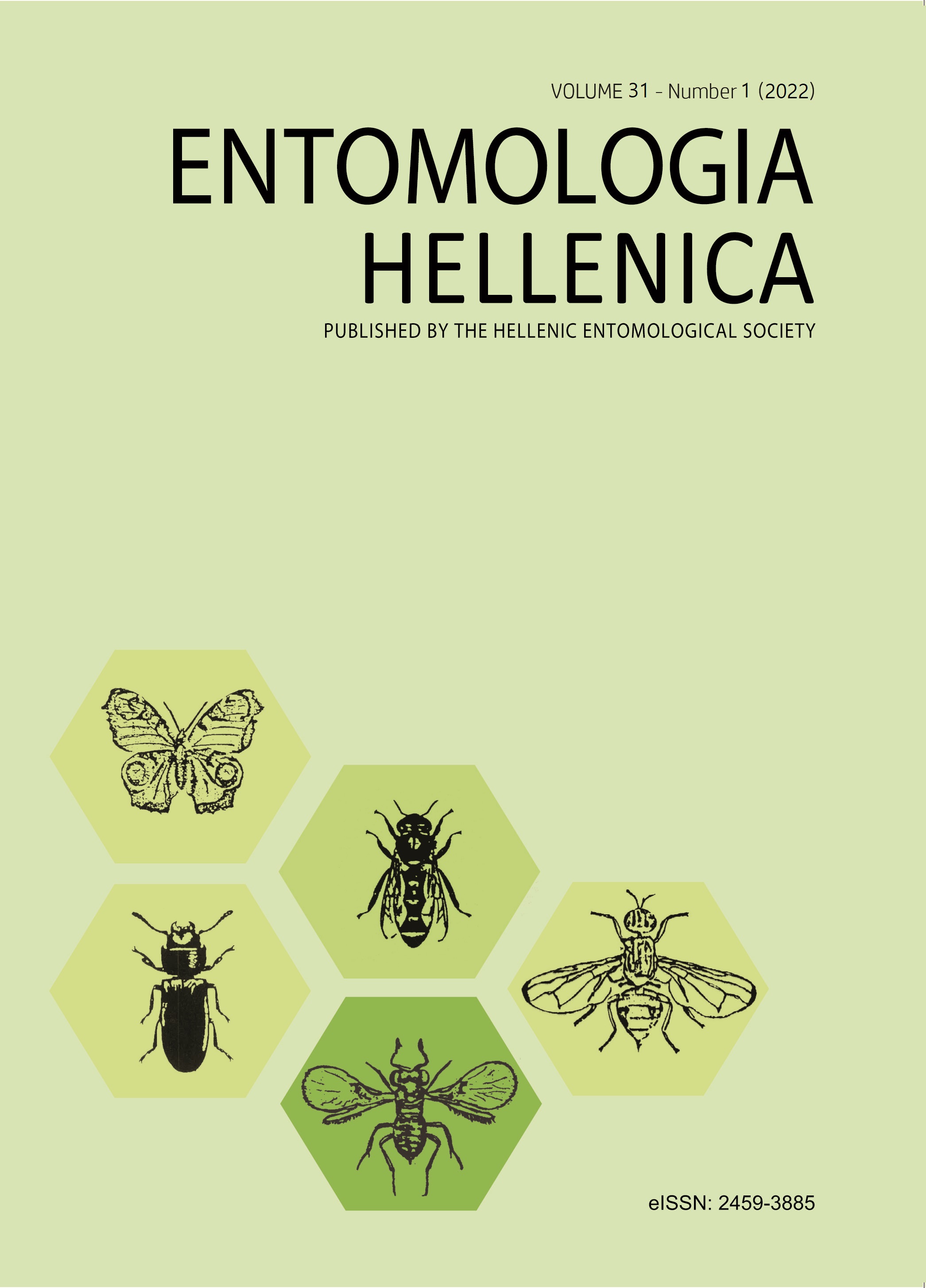 Published: May 31, 2022
Keywords:
distribution faunistics Greek islands wasp
Abstract
Records of Vespa orientalis Linnaeus, 1771 for 28 islands of Greece are given: in 18 islands (Agistri, Euboea, Folegandros, Kalamos, Kalymnos, Karpathos, Kos, Leros, Lefkada, Naxos, Nisyros, Paros, Patmos, Pserimos, Telendos, Tilos, Tinos, Sifnos), these occurrences are the first record of the species for them. The total number of Greek islands in which V. orientalis is known becomes 33.
Article Details
How to Cite

Ceccolini, F. (2022). Review of the occurrence of the oriental hornet Vespa orientalis Linnaeus, 1771 in the islands of Greece (Hymenoptera: Vespidae: Vespinae). ENTOMOLOGIA HELLENICA, 31(1), 41–49. https://doi.org/10.12681/eh.28762
This work is licensed under a Creative Commons Attribution-NonCommercial-ShareAlike 4.0 International License.
Authors who publish with this journal agree to the following terms:
Authors retain copyright and grant the journal right of first publication with the work simultaneously licensed under a Creative Commons 4.0 license.
Authors are able to enter into separate, additional contractual arrangements for the non-exclusive distribution of the journal's published version of the work (e.g. post it to an institutional repository or publish it in a book), with an acknowledgement of its initial publication in this journal. Authors are permitted and encouraged to post their work online (preferably in institutional repositories or on their website) prior to and during the submission process, as it can lead to productive exchanges, as well as earlier and greater citation of published work.
Downloads
Download data is not yet available.
References
Alfken, J. D., H. Bischoff, F. Maidl and S. Zimmermann. 1934. III. Hymenopteren. In: Werner, F. (Ed.). Ergebnisse einer zoologischen Studien- und Sammelreise nach Griechenland, namentlich nach den Inseln des Ägäischen Meeres. Sitzungsberichte der Akademie der Wissenschaften in Wien – mathematisch-naturwissenschaftliche Klasse, Abteilung I. 143(1-2): 61-69 + 3 pls.
Archer, M.E. 2012. Vespine Wasps of the world. Behaviour, Ecology & Taxonomy of the Vespinae. Siri Scientific Press, Manchester. 352 pp.
Atanassov, N. 1942. Prinos k'm izuchavane na osite (Vespidae, Hymenop.) v B'lgariya. (Beitrag zum Studium der Faltenwespen Bulgariens (Vespidae, Hymenop.). Izvestiya na B'lgarsko Entomologichesko Druzhestvo 12: 215-233 [in Bulgarian with German summary].
Blothgen, P. and J. Gusenleitner. 1970. Faltenvespen aus Griechland (Hym. Diploptera). Mitteilungen aus dem Zoologischen Museum in Berlin 46(2): 277-298.
Carpenter, J.M. and J. Kojima. 1997. Checklist of the species in the subfamily Vespinae (Insecta: Hymenoptera: Vespidae). Natural History Bulletin of Ibaraki University 1: 51-92.
Castro, L. 2019. Una nueva introducción accidental en el género Vespa Linnaeus, 1758: Vespa bicolor Fabricius, 1787 en la provincia de Málaga (España). Revista gaditana de Entomología 10(1): 47-56.
Ceccolini, F. 2021. More records of Vespa orientalis Linnaeus, 1771 in the south of the Iberian Peninsula (Hymenoptera: Vespidae: Vespinae). Arquivos Entomolóxicos 24: 335-338.
Ćetković, A. 2003. A review of the European distribution of the oriental hornet (Hymenoptera, Vespidae: Vespa orientalis L.). Ekologija 37(1–2)(2002): 1-22.
Erlandsson, S. 1974. Hymenoptera aculeata from the European parts of the Mediterranean countries. Eos 48: 11-93.
Gereys, B., A. Coache and G. Filippi. 2021. Présence en France métropolitaine d'un frelon allochtone: Vespa orientalis Linnaeus, 1771 (Le Frelon oriental) (Hymenoptera, Vespidae, Vespinae). Faunitaxys 9(32): 1-5.
Giordani Soika, A. 1953. Vespidi transadriatici. Memorie di Biogeografia Adriatica 2(1951): 33-42.
Gusenleitner, J. 2013. Fauna Europaea: Vespidae. In: Mitroiu, M-D. (Ed.). Fauna Europaea: Hymenoptera. Fauna Europaea version 2017.06. Online at
https://fauna-eu.org
Laurino, D., S. Lioy, L. Carisio, A. Manino and M. Porporato. 2019. Vespa velutina: an alien driver of honey bee colony losses. Diversity 12 (2020): 5. Doi: 10.3390/d12010005 [15 pp.] [First published online on 20 December 2019]
Perrard, A., K.M. Pickett, C. Villemant, J. Kojima and J. Carpenter. 2013. Phylogeny of hornets: a total evidence approach (Hymenoptera, Vespidae, Vespinae, Vespa). Journal of Hymenoptera Research 32: 1-15. Doi: 10.3897/jhr.32.4685
Smith-Pardo, A.H., J.M. Carpenter and L. Kimsey. 2020. The diversity of Hornets in the Genus Vespa (Hymenoptera: Vespidae; Vespinae), their importance and interceptions in the United States. Insect Systematics and Diversity 4(3): 2. doi: 10.1093/isd/ixaa006 [27 pp.] [+ corrigendum in Insect Systematics and Diversity (2020) 4(5): 1 [1 p.]].
Wieczorek, J., Q. Guo and R.J. Hijmans. 2004. The point-radius method for georeferencing locality descriptions and calculating associated uncertainty. International Journal of Geographical Information Science 18(8): 745-767.
Zachi, M. and A. Ruicănescu. 2021. Vespa orientalis, a new alien species in Romania. Travaux du Muséum National d'Histoire Naturelle "Grigore Antipa" 64(1): 67-72. doi: 10.3897/travaux.64.e61954