On Some Motifs in Poetics
---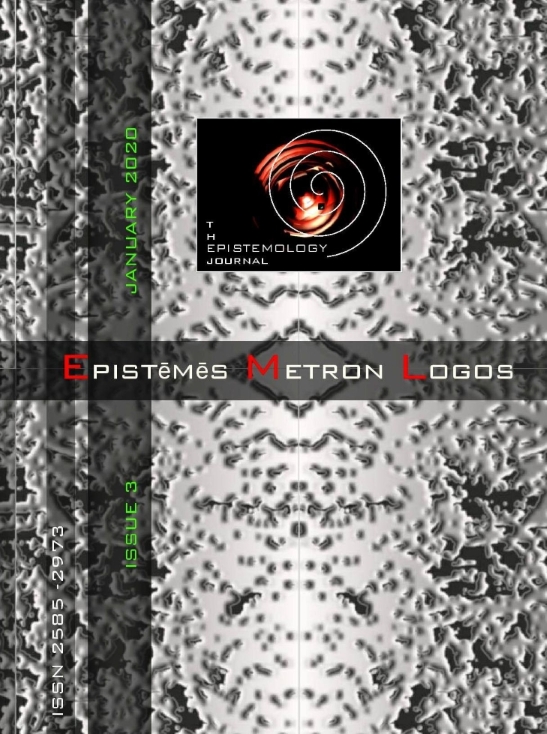 Published: Jan 11, 2020
Keywords:
Philosophy painting poetry Koutougkos motifs
Abstract
This text is dedicated to the Emeritus Professor of Analytical Philosophy and Poet, Aristophanes (Αris) Koutougos. From his prolific poetry (published, or under publication), emerges a dialectic of a characteristic poetic idiom, his own "Aristophanean-poetry". Its main element is the delimitation of the poetic shape in the breadth of the surface of artistic creation within philosophical depth in general. Ηis poetic discourse super-vises time reflections on the structural rivalries of its declarative propositions which, eventually, reshape the complexity and purify the uncontrolled outbursts or "sharp remainders" of the dramatized (comic-tragic) event. A.K. approaches poetry and philosophy by opening a new discussion about the idea of an aesthetic dialectic with painting, music and song, mostly in natural everyday language as philosophically influenced.
Article Details
How to Cite

Mermigki, D. (2020). On Some Motifs in Poetics. Epistēmēs Metron Logos, (3), 93–112. https://doi.org/10.12681/eml.22109
Section
Publishing partner
Authors who publish with this journal agree to the following terms:
Authors retain copyright and grant the journal right of first publication with the work simultaneously licensed under a Creative Commons Attribution Non-Commercial License that allows others to share the work with an acknowledgement of the work's authorship and initial publication in this journal.
Authors are able to enter into separate, additional contractual arrangements for the non-exclusive distribution of the journal's published version of the work (e.g. post it to an institutional repository or publish it in a book), with an acknowledgement of its initial publication in this journal.
Authors are permitted and encouraged to post their work online (preferably in institutional repositories or on their website) prior to and during the submission process, as it can lead to productive exchanges, as well as earlier and greater citation of published work.
Downloads
Download data is not yet available.
References
Αγγελάτος, Δ. (2017). Λογοτεχνία και Ζωγραφική, Αθήνα: Gutenberg.
Arendt, H. (1968). Introduction, Illuminations: Essays and Reflections, New York: Schocken Books. Αριστοτέλης. Ποιητική, ΙΙ48a, VI50a, XXV26–28.
Αριστοτέλους, (1937). Περί Ποιητικής, Μτφρ. Σ. Μέναρδος, Εισαγ., κείμ., ερμηνεία, Ι. Συκουτρής, Αθήνα: Ι.Δ. Κολλάρος και Σία.
Benjamin, W. (1994). Σαρλ Μπωντλαίρ, Ένας Λυρικός στην Ακμή του Καπιταλισμού, Λιβιεράτος Κώστας, επιμ., Αναγνώστου Λ., Μτφρ. Γκουζούλης Γ., Αθήνα: Αλεξάνδρεια.
- (1939). On Some Motifs in Baudelaire, transl. H. Zohn, Illuminations: Essays Reflections, ed. H. Arendt, New York: Schocken.
Burnet J. (1978). H αυγή της Ελληνικής Φιλοσοφίας. Αθήνα: Αναγνωστίδης.
Deleuze, J. (1994). Difference and Repetition, Continuum.Devlin, Keith. (1994). Mathematics: The science of Patterns. New York: W. H. Freeman.
Genette, G. (1972). Critique et poétique: Figures III, Paris: Seuil, σελ. 9-12 Κουτούγκος, Ά. (2016). Περίπατοι στην γκαλερί, Αθήνα: Γαβριηλίδης.
- (2014). Καλοκαίρια τρόπος του λέγειν, Αθήνα: Γαβριηλίδης,
- (2012α). Σονάτες για βροχή και πιάνο, Αθήνα: Γαβριηλίδης.
- (2012β). Περί φιλοσοφικής μεθόδου, Αθήνα: Πεδίο.
Lesky A. (1988). Ιστορία της αρχαίας ελληνικής λογοτεχνίας, ((5η έκδοση), Θεσσαλονίκη: Αδελφοί Κυριακίδη
Μάντζιος, Θ. Π. (2013). Ποίηση και ζωγραφική στους Έλληνες μεταπολεμικούς υπερρεαλιστές, κεφ. Σχέσεις Ποίησης ζωγραφικής, Διδ. διατρ., Παν/μιο Ιωαννίνων.Πλάτωνας. Πολιτεία, 597.
Ηρόδοτος, (1994). Ιστορία 2 Ευτέρπη, Αθήνα: Κάκτος, σελ. 165-75.
Ηοrace, (1970). Satires, Epistles, Ars Poetica (361-365), ed. Rushton Fairclough, London: Ηeinemann, p.480. [Dorsch, T.S., (1965). Classical Literary Criticism, trans., T.S., Dorsch, Harmondsworth: Penguin, pp.91-2]
Hobsbawm, E., Ranger T. (2004). Η επινόηση της Παράδοσης, μτφρ. Θ. Αθανασίου, Αθήνα: Θεμέλιο
Kierkegaard, S. (1974). Η έννοια της αγωνίας, μτφρ. Γ. Τζαβάρας, Αθήνα: Δωδώνη.
Kroh P. (1996). Λεξικό αρχαίων συγγραφέων, Ελλήνων και Λατίνων
Liddel & Scott, (2007). Λεξικό της Αρχαίας Ελληνικής Γλώσσας. Επιτομή του Μεγάλου Λεξικού, Aθήνα: Πελεκάνος
Farduzzi, M.,, Hunter, R. (2002). Ο Ελικώνας και το Μουσείο - Η ελληνιστική ποίηση από την εποχή του Μεγάλου Αλεξάνδρου έως την εποχή του Αυγούστου, μτφρ. Δ. Κουκουζίκα, Μ. Νούσια, επιμ. Θ. Παπαγγελής, Α. Ρεγκάκος, Αθήνα: Πατάκη. (1968, 155-200).
Hopkinson N. (2005). Ανθολογία ελληνιστικής ποίησης, Αθήνα: Μεταίχμιο.
Συλλογικό, (2008). Ελληνιστική Μούσα - Συνέχεια και νεωτερισμός στην ελληνιστική ποίηση
επιμ. Φλ. Π. Μανακίδου, Κ. Σπανουδάκης, Αθήνα: Gutenberg.
Poetics today (Autumn, 1979) Vol. 1, No. 1/2, Duke University Press
Κουτούγκος Αρ., Περιστέρης, Φ. Το βάθος της επιφάνειας, Immanent Realism, Aθήνα: Ζεύξις, 2013.
- Ματιές πάνω από το πέλαγος, Aθήνα: Ζεύξις, 2018.