Κοραής και Michaelis: Η δημοκρατία της γλώσσας
---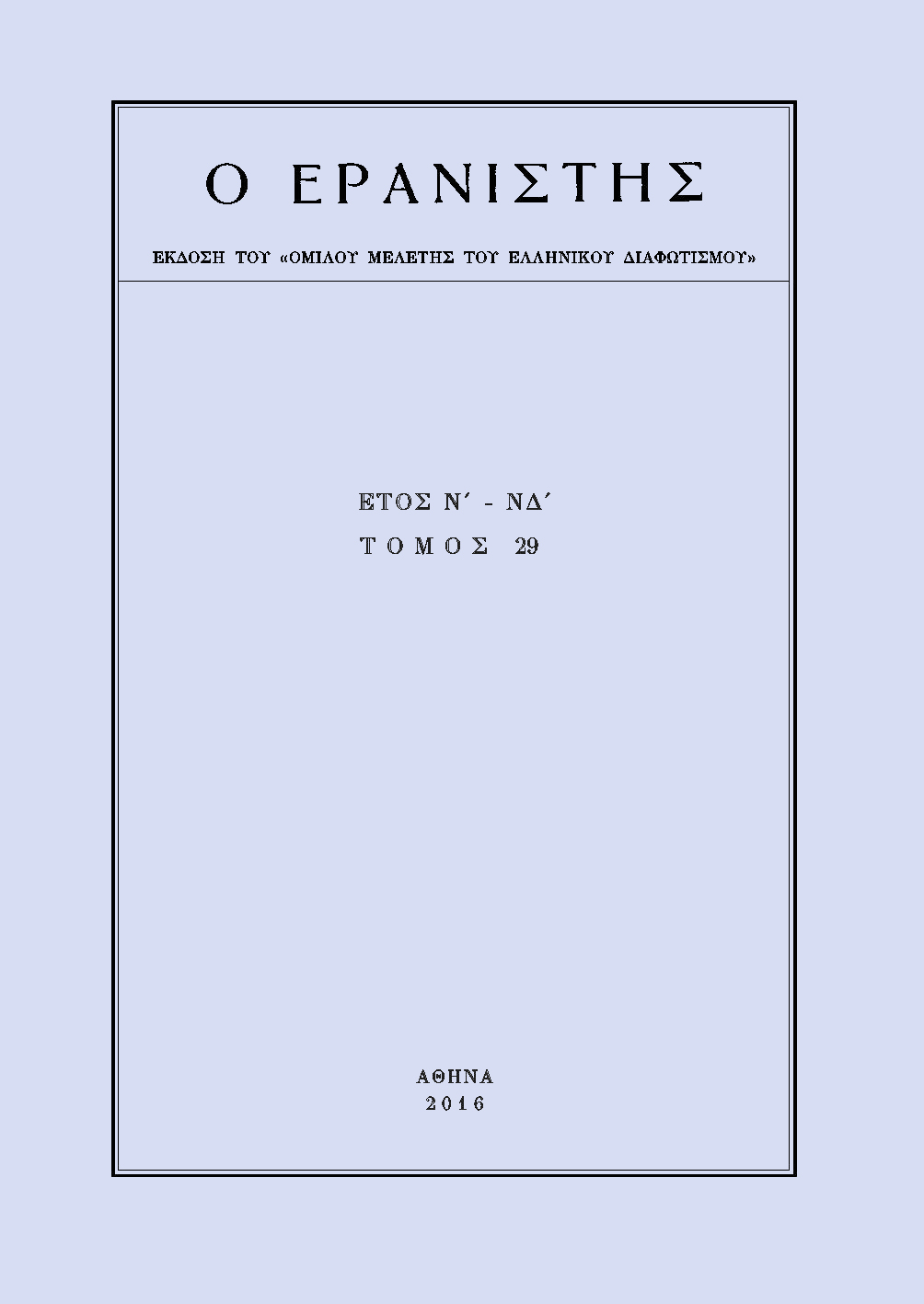 Published: Sep 30, 2019
Keywords:
Adamantios Coray Johann David Michaelis idées sur la langue
Abstract
CORAY ET MICHAELIS: LA DÉMOCRATIE DE LA LANGUE
 L'article présente tout d'abord l'ouvrage de l'érudit allemand Johann David Michaelis Beantwortung der Frage der von dem Einfluss Meinungen eines Volkes en Seine Sprache, und der Sprache in die Meinungen (Berlin 1760), qui puise ses idées dans les théories des philosophes traitant la question de la genèse et de l'évolution de la langue (Wolf, Leibniz et Condillac). Ensuite, est exposée sa réception par Coray, telle qu'elle apparaît dans le Prologue de la quatrième partie de l'édition de Plutarque (1812), où sont insérés en notes neuf extraits de la traduction française de l'essai de Michaelis, dont le titre est indiqué mais pas le nom de l'auteur. Coray emprunte à Michaelis l'idée centrale que les érudits ne peuvent être haussés au rang de législateurs de la langue que par la décision de la nation tout entière, parce que la langue est un "État démocratique". Enfin, on examine les idées sur la langue de Coray par rapport à celles des Idéologues et des autres savants grecs, ainsi que le concept de la "voie du milieu" qu'il défendait.
 Alexandra Sfoini
Article Details
How to Cite

Σφοίνη Α. (2019). Κοραής και Michaelis: Η δημοκρατία της γλώσσας. The Gleaner, 29, 229–255. https://doi.org/10.12681/er.21066
This work is licensed under a Creative Commons Attribution-NonCommercial-ShareAlike 4.0 International License.
The copyright for articles in this journal is retained by the author(s), with first publication rights granted to the journal. By virtue of their appearance in this open access journal, articles are free to use (with the exception of the non-granted right to make derivative works) with proper attribution for non-commercial uses. The Greek Society for Eighteenth-Century Studies (ΟΜΕΔ) retains the worldwide right to reproduce, display, distribute, and use articles published in THE GLEANER in all formats and media, either separately or as part of collective works for the full term of copyright. This includes but is not limited to the right to publish articles in an issue of the Journal, copy and distribute individual reprints of the articles, authorize reproduction of articles in their entirety in another ΟΜΕΔ's publication, and authorize reproduction and distribution of articles or abstracts thereof by means of computerized retrieval systems
Downloads
Download data is not yet available.