MORPHOTECTONIC STUDY OF THE BROADER AREA OF THESSALONIKI FOR THE CARTOGRAPHY OF NEOTECTONIC FAULTS
---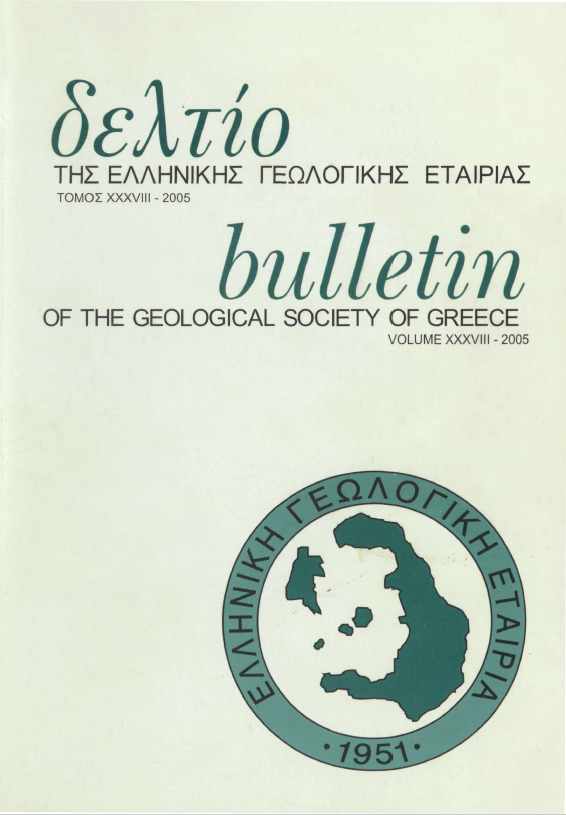 Abstract
At this paper studied the neotectonic active faults of the broader area of Thessaloniki with morphotectonic criteria. We have studied three main faults of Anthemounta, Asvestophori and Pylaia - Panorama with the contribution of cartography, digital elevation models, drainage patterns, and the morphotectonic indices like drainage basin asymmetry, mountain front sinuosity, knick points and stream length-gradient index. Those faults show elements of activity.
Article Details
How to Cite

ΖΕΡΒΟΠΟΥΛΟΥ Α., & ΠΑΥΛΙΔΗΣ Σ. (2005). MORPHOTECTONIC STUDY OF THE BROADER AREA OF THESSALONIKI FOR THE CARTOGRAPHY OF NEOTECTONIC FAULTS. Bulletin of the Geological Society of Greece, 38, 30–41. https://doi.org/10.12681/bgsg.18420
This work is licensed under a Creative Commons Attribution-NonCommercial 4.0 International License.
Authors who publish with this journal agree to the following terms:
Authors retain copyright and grant the journal right of first publication with the work simultaneously licensed under a Creative Commons Attribution Non-Commercial License that allows others to share the work with an acknowledgement of the work's authorship and initial publication in this journal.
Authors are able to enter into separate, additional contractual arrangements for the non-exclusive distribution of the journal's published version of the work (e.g. post it to an institutional repository or publish it in a book), with an acknowledgement of its initial publication in this journal. Authors are permitted and encouraged to post their work online (preferably in institutional repositories or on their website) prior to and during the submission process, as it can lead to productive exchanges, as well as earlier and greater citation of published work.
Downloads
Download data is not yet available.
References
Αποστολίδης Π.Ι. 2002. Προσδιορισμός της εδαφικής δομής με τη χρήση μικροθορύβου. Εφαρμογή στην εκτίμηση των δυναμικών ιδιοτήτων και της γεωμετρίας των εδαφικών σχηματισμών στη Θεσσαλονίκη. Ph.D. Α.Π.Θ. Πολυτεχνική Σχολή.
Αστάρας Θ.Α. 1980. Ποσοτική γεωμορφολογική μελέτη τμήματος των Δ. πλευρών του όρους Βερτίσκον (Κ. Μακεδονία). Διδ. Διατριβή, Α.Π.θ.
Γ.Υ.Σ. Φύλλα Χαρτών, Κλίμακας 1:50.000 (Θεσσαλονίκης, Θέρμης, Επανομής, Ζαγκλιβερίου, Πολυγύρου, Βασιλικών) και Κλίμακας 1:5.000.
Δημητριάδης Β. 1983. Τοπογραφία της Θεσσαλονίκης κατά την εποχή της Τουρκοκρατίας 1430-1912. Εταιρεία μακεδόνικων Σπουδών.
Θανάσουλας Κ. 1983. Γεωφυσική μελέτη περιοχής Ανθεμούντα (Γεωηλεκτρικά). ΙΓΜΕ.
Ι.Γ.Μ.Ε. Φύλλα Χαρτών, Κλίμακας 1:50.000, Θεσσαλονίκης, Θέρμης, Επανομής, Ζαγκλιβερίου, Πολυγύρου, Βασιλικών.
Λεβεντάκης Γ.-Α.Ν. 2003. Μικροζωνική μελέτη της πόλης της Θεσσαλονίκης. Διδ. Διατρ. Α.Π.Θ.
Μουντράκης Δ., Κίλιας Α., Παυλίδης Σ., Σωτηριάδης Λ., Ψιλοβίκος Α., Αστάρας θ., Βαβλιάκης Ε., Κουφός Γ., Δημόπουλος Γ., Σούλιος Γ., Χρηστάρας Β., Σκορδύλης Μ., Τρανός Μ., Σπυρόπουλος Μ., Πάτρας Δ., Συρίδης Γ., Λαμπρινός Ν., Λαγγάλη Θ. 1996. Νεοτεκτονικός Χάρτης της Ελλάδας. Κλίμακας 1:100.000, Φύλλα: Θεσσαλονίκη, Λαγκαδά. Ο.Α.Σ.Π.
Μουντράκης Δ., Συρίδης Γ., Πολυμενάκος Α., Παυλίδης Σ. 1993. Η νεοτεκτονική δομή του ανατολικού περιθωρίου του Βυθίσματος Αξιού - Θερμαϊκού στην περιοχή Δυτικής Χαλκιδικής (Κ. Μακεδονία). Bull. Geol. Soc. Greece, Vol.XXVIII/1, pp.379-395, Αθήνα.
Μουντράκης Δ.Μ. 1985. Γεωλογία της Ελλάδας. University Studio Press.
Μπλιώνης Γ. 1996. Τα ρέματα της Θεσσαλονίκης. Σύνδ. Ο.Τ.Α. Μειζ. Θεσ/νίκης-Οικ. Κίν. θεσ/νίκης.
Παυλίδης Σ.Β. 2003. Γεωλογία των Σεισμών, Εισαγωγή στην νεοτεκτονική, μορφοτεκτονική και παλαιοσεισμολογία. University Studio Press.
Ρόζος Δ., Αποστολίδης Ε., Χρηστάρας Β. 2000. Τεχνικογεωλογικός χάρτης της ευρύτερης περιοχής της πόλης της Θεσσαλονίκης. Θωράκιση της Θεσσαλονίκης από Φυσικές Καταστροφές. Ημερίδα 24-2-2002.
Ρόζος Δ., Χατζηνάκος Ι., Αποστολίδης Ε. 1998. Τεχνικογεωλογικός χάρτης ευρύτερης περιοχής πόλης Θεσσαλονίκης. Κλίμακας 1:25.000, /.Γ.Μ.Ε.
Στεφανίδης Π. 2000. Η αντιπλημμυρική προστασία του πολεοδομικού συγκροτήματος της Θεσσαλονίκης. Θωράκιση της Θεσσαλονίκης από Φυσικές Καταστροφές. Ημερίδα 24-2-2002.
Συρίδης Γ.Ε. 1990. Αιθοστρωματογραφική, βιοστρωματογραφική καιι παλαιογεωγραφική μελέτη των Νεογενών – Τεταρτογενών ιζηματογενών σχηματισμών της χερσονήσου Χαλκιδικής. Διδ. Διατριβή, Α.Π.Θ.
Τ.Ε.Ε. Τμ. Κεντρ. Μακεδονίας 1994. Γα Ρέματα του πολεοδομικού συγκροτήματος της Θεσσαλονίκης. Ημερίδα 15-12-1994, TEE.
Φουρνιάδης I. 2002. Γεωμορφολογική και περιβαλλοντική εξέλιξη της κοιλάδας του Ανθεμούντα, με τη χρήση μεθόδων GIS και τηλεπισκόπησης. Διατριβή Ειδίκευσης, ΑΠΘ, θεσσαλονίκη.
Burbank D.W., Anderson R.S. 2001. Tectonic Geomorphology. Blackwell Science USA.
Hare P.W., Gardner T.W. 1985. Geomorphic indicators of vertical neotectonism along converging plate margins. Tectonic Geomorphology: Proceedings 15th Annual Binghamton Geomorphology Symposium, Boston: Allen & Unwin, pp. 75-104.
Goldsworthy M., Jackson J. 2001. Migration of activity within normal fault systems: examples from the Quaternary of mainland Greece. Journal of Structural Geology 23 pp.489-506.
Goldsworthy M., Jackson J., Haines J. 2002. The continuity of active fault systems in Greece. Geophys. J. Int. 148, pp.596-618.
Keller E.A, Pinter N. 2002. Active Tectonics, Earthquakes, Uplift and Landscape. Second Edition, USA.
Massimo Vitti 1990. To πολεοδομικό σχέδιο της Αρχαίας Θεσσαλονίκης και η εξέλιξη του. Διδ. Διατριβή, Ρώμη - Θεσσαλονίκη.
Papazachos C, Soupios P., Savaidis Α., Roumelioti Ζ. 2000. Identification of smallscale active faults near metropolitan areas: An example from the Asvestochori fault near Thessaloniki. XXVII General Assembly of the European Seismological Commission (ESC) 10-15/9/2000.
Paradisopoulou P.M., Karakostas V.G., Papadimitriou E.E., Tranos M.D., Papazachos C.B., Karakaisis G.F. 2004. Microearthquake study of the broader Thessaloniki area", 5th Int. Symp. On Eastern Mediterranean Geology, Vol.2, pp. 623-626, Thessaloniki.
Sotiriadis L.D. 1974. Die Geomorphologie des Tales von Anthemous (Griechisch Makedonien). Ann. Mus. Goulandris 2:141-163.
Strahler Α. 1952. Hypsometric (area - altitude) analysis of erosional topography. Geol. Soc. Amer. Bull., 63, pp.1117-42.
Tranos M.D., Papadimitriou E.E., Kilias A.A. 2003. Thessaloniki-Gerakarou fault zone (TGFZ): the western extension of the 1978 Thessaloniki earthquake fault (northern Greece) and seismic hazard assessment. Journal of Structural Geology, 25, pp.2109-2123.
Vouvalidis K.G., Syrides G.E., Albanakis K.S. 2005. Holocene morphology of the Thessaloniki Bay: Impact of sea level rise. Z. Geomorph. N.F., Suppl.-Vol.137, pp.147-158.