The Return of the Jews: Jewish Owners of Amsterdam Real Estate and the Ground Rent, 1938–1949
---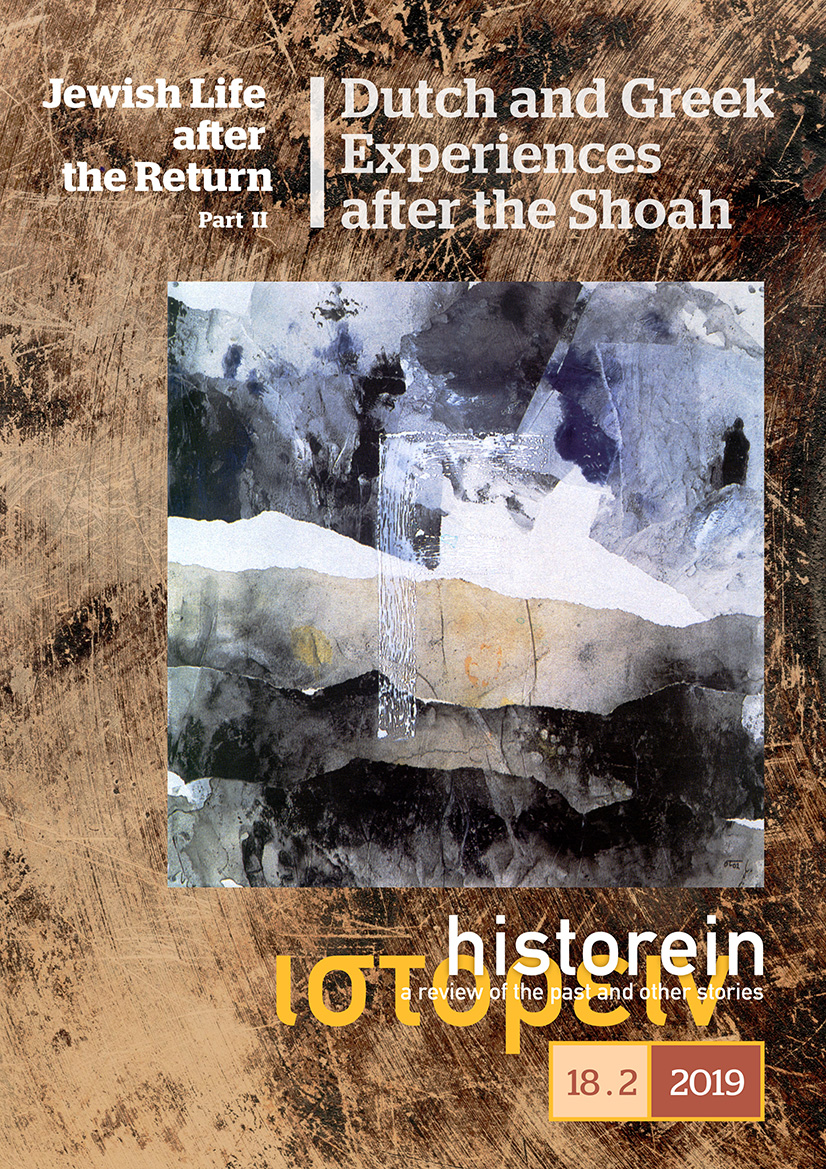 Published: giu 19, 2019
Keywords:
Holocaust Jews Holland Netherlands ground rent
Abstract
The most recent public discussion on the return of deported Jews to the Netherlands took place in April 2013. On 30 March of that year, the Amsterdam daily Het Parool broke the forgotten story of how Amsterdam municipality in 1947 had imposed a fine of 3 percent per year on Jewish leaseholders, upon their return from Nazi captivity or from hiding, on any ground rent arrears that had accrued in their absence. The two authors who have written most extensively on this topic, Hinke Piersma and Jeroen Kemperman, have wrongly interpreted this fine as a typical example of the lack of solidarity of the municipality with the persecuted Jews. My findings – based on the original documents – suggest pretty much the exact opposite: the decision by local Amsterdam politicians to reduce these fines from six to three percent for Jews in particular was in reaction to Jewish protests and intended as a symbolic gesture to acknowledge the plight of the persecuted and decimated Jews.
Article Details
How to Cite

Houwink ten Cate, J. (2019). The Return of the Jews: Jewish Owners of Amsterdam Real Estate and the Ground Rent, 1938–1949. Historein, 18(2). https://doi.org/10.12681/historein.14596
This work is licensed under a Creative Commons Attribution-NonCommercial-ShareAlike 4.0 International License.
The copyright for articles in this journal is retained by the author(s), with first publication rights granted to the journal. By virtue of their appearance in this open access journal, articles are free to use (with the exception of the non-granted right to make derivative works) with proper attribution for non-commercial uses (licence
Creative Commons 4.0
). EKT/NHRF retains the worldwide right to reproduce, display, distribute, and use articles published in
Historein
in all formats and media, either separately or as part of collective works for the full term of copyright. This includes but is not limited to the right to publish articles in an issue of the Journal, copy and distribute individual reprints of the articles, authorize reproduction of articles in their entirety in another EKT/NHRF publication, and authorize reproduction and distribution of articles or abstracts thereof by means of computerized retrieval systems.
Downloads
Download data is not yet available.
References
As, Frank van. "Judeo-socialisme? Een verkenning van de relatie tussen het Amsterdamse Joodse proletariaat en de sociaal-democratische beweging, ca. 1870–1940." Onvoltooid Verleden. Accessed 7 September 2018.
http://www.onvoltooidverleden.nl/index.php?id=444
.
Blom, J.C.H., and J.J. Cahen. "Joodse Nederlanders, Nederlandse joden en joden in Nederland (1870–1940)." In Geschiedenis van de Joden in Nederland, edited by Hans Blom, David Wertheim, Hetty Berg and Bart Wallet, 275–359. Amsterdam: Uitgeverij Balans, 2017.
Croes, Marnix, and Peter Tammes. "Gif laten wij niet voortbestaan": Een onderzoek naar de overlevingskansen van joden in de Nederlandse gemeenten, 1940–1945. Nijmegen: Uitgeverij Aksant, 2004.
Herzberg, Abel J. Kroniek der Jodenvervolging, 1940–1945. 1950; Amsterdam: Meulenhoff, 1985.
Huurcommissie. Honderd jaar in dienst van huurder en verhuurder. Den Haag: Huurcommissie, 2017.
Jong, Louis de. Het Koninkrijk der Nederlanden in de Tweede Wereldoorlog, vol. 12. Leiden: Martinus Nijhoff, 1988.
Klemann, Hein. Nederland, 1938–1948: Economie en samenleving in jaren van oorlog en bezetting. Amsterdam: Boom, 2002.
Krimp, Renske. De doden tellen: Slachtofferaantallen van de Tweede Wereldoorlog en sindsdien. Amsterdam: Nationaal Comité 4 en 5 mei, 2016.
Lagrou, Pieter. The Legacy of Nazi Occupation: Patriotic Memory and National Recovery in Western Europe, 1945–1965. Cambridge: Cambridge University Press, 2000.
Milward, Alan S. The Reconstruction of Western Europe, 1945–1951. Cambridge: University Press, 1984.
Piersma, Hinke. Bevochten Recht: Politieke besluitvorming rond de wetten voor oorlogsslachtoffers. Amsterdam: Boom, 2010.
Piersma, Hinke, and Jeroen Kemperman. Openstaande Rekeningen: De gemeente Amsterdam en de gevolgen van roof en rechtsherstel, 1940–1950. Amsterdam: Boom, 2015.
Piersma, Hinke, and Jeroen Kemperman. "The 'Aryanization' of Jewish Property in Amsterdam and Its Consequences After World War II." In The Holocaust and European Societies: Social Processes and Social Dynamics, edited by Frank Bajohr and Andrea Löw, 321–36. London: Palgrave Macmillan, 2016.
Roegholt, Richter. Amsterdam in de 20e eeuw: Deel 1 (1919/1945). Utrecht: Het Spectrum, 1976.
Schütz, Raymond. Kille Mist: Het Nederlandse notariaat en de erfenis van de oorlog. Amsterdam: Boom, 2016.
Veraart, Wouter. Ontrechting en rechtsherstel in Nederland en Frankrijk in de jaren van bezetting en wederopbouw. Rotterdam: Kluwer, 2005.
Wallet, Bart T. "Tussen marge en centrum: Joden in naoorlogs Nederland." In Geschiedenis van de Joden in Nederland, edited by Hans Blom, David Wertheim, Hetty Berg and Bart Wallet, 407–85. Amsterdam: Uitgeverij Balans, 2017.