Dimitra Vassiliadou, Στον τροπικό της γραφής: Οικογενειακοί δεσμοί και συναισθήματα στην αστική Ελλάδα, 1850–1930 [The tropic of writing family ties and emotions in modern Greece, 1850–1930]
---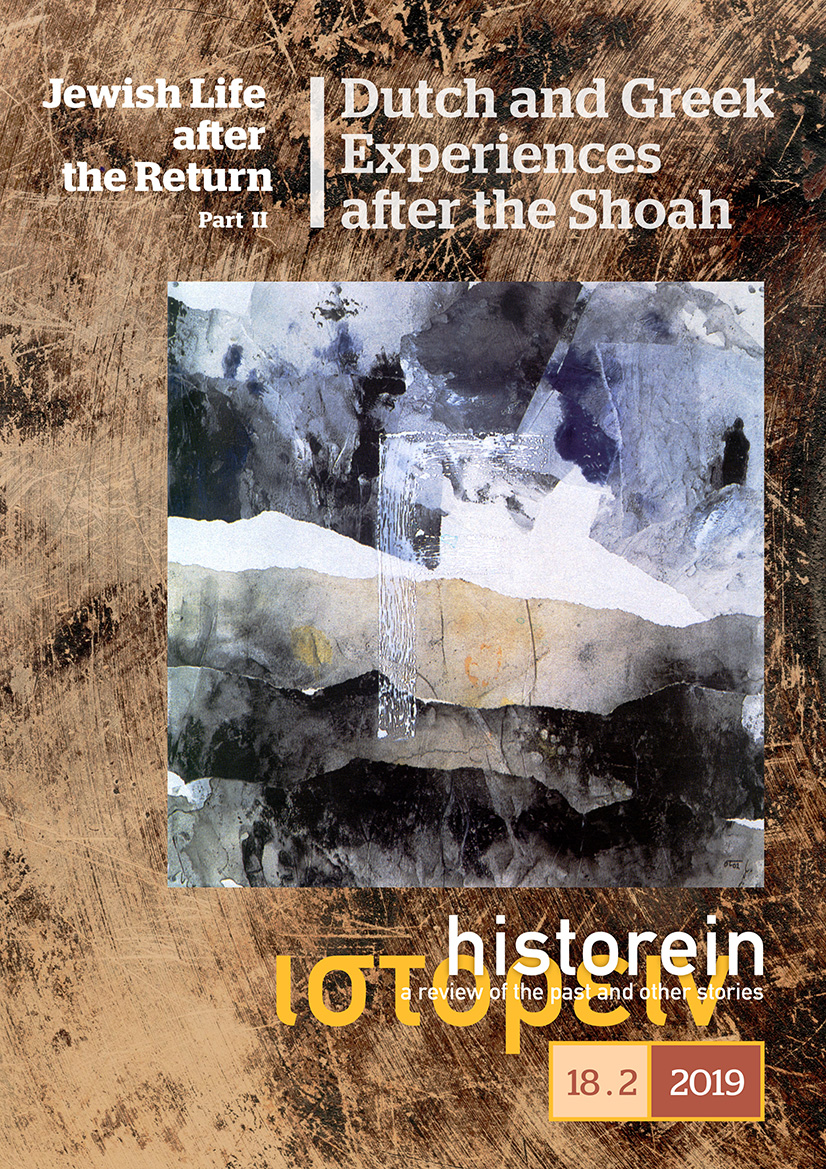 Published: Jun 19, 2019
Keywords:
Social history letter-writing Greece
Abstract
Review of Dimitra Vassiliadou. Στον τροπικό της γραφής: Οικογενειακοί δεσμοί και συναισθήματα στην αστική Ελλάδα, 1850–1930 [The tropic of writing family ties and emotions in modern Greece, 1850–1930]. Athens: Gutenberg, 2018. 292 pp.
Article Details
How to Cite

Matthaiou, A. (2019). Dimitra Vassiliadou, Στον τροπικό της γραφής: Οικογενειακοί δεσμοί και συναισθήματα στην αστική Ελλάδα, 1850–1930 [The tropic of writing family ties and emotions in modern Greece, 1850–1930]. Historein, 18(2). https://doi.org/10.12681/historein.18975
This work is licensed under a Creative Commons Attribution-NonCommercial-ShareAlike 4.0 International License.
The copyright for articles in this journal is retained by the author(s), with first publication rights granted to the journal. By virtue of their appearance in this open access journal, articles are free to use (with the exception of the non-granted right to make derivative works) with proper attribution for non-commercial uses (licence
Creative Commons 4.0
). EKT/NHRF retains the worldwide right to reproduce, display, distribute, and use articles published in
Historein
in all formats and media, either separately or as part of collective works for the full term of copyright. This includes but is not limited to the right to publish articles in an issue of the Journal, copy and distribute individual reprints of the articles, authorize reproduction of articles in their entirety in another EKT/NHRF publication, and authorize reproduction and distribution of articles or abstracts thereof by means of computerized retrieval systems.
Downloads
Download data is not yet available.
References
Goody, Jack. "Stolen Love: European Claims to the Emotions." The Theft of History. Cambridge: Cambridge University Press, 2006.
Moullas, Panayiotis. Ο λόγος της απουσίας. Δοκίμιο για την επιστολογραφία με σαράντα ανέκδοτα γράμματα του Φώτου Πολίτη (1908–1910) [The language of absence: essay on correspondence with forty anecdotal letters by Fotos Politis (1908–1910)]. Athens: Cultural Foundation of the National Bank of Greece, 1992.
Papatheodorou, Yiannis. "'Η ανάγνωσις των τερπνών γραμμάτων': Ρητορική τέχνη και αστική ηθική στο Επιστολάριον (1843) του Γρηγόριου Παλαιολόγου" [The reading of informal letters: The art of rhetoric and middle-class morality in Grigorios Paleologos' Epistolarion [Letter Writing] (1843)]." In Μεσαιωνικά και Νέα Ελληνικά [Medieval and Modern Greek], vol. 8, 181–95. Athens: Academy of Athens, 2006.
Politis, Alexis. "Επαναστάσεως αποτελέσματα στον έρωτα. Προκαταρκτικές σημειώσεις για την απεικόνιση του έρωτα σε λογοτεχνικά κείμενα του 19ου αιώνα [Effects of revolution on love: preliminary notes on depiction of love in literary texts of the 19th century]." In Ζητήματα νεοελληνικής φιλολογίας: μετρικά, υφολογικά, κριτικά, μεταφραστικά [Topics in modern Greek philology: metre, style, criticism, translation], ], ed. Ilia Papastathi, 161–69. Thessaloniki: Aristotle University of Thessaloniki, 2016.