Henriette-Rika Benveniste, Λούνα: Δοκίμιο ιστορικής βιογραφίας [Luna: an essay in historical biography]
---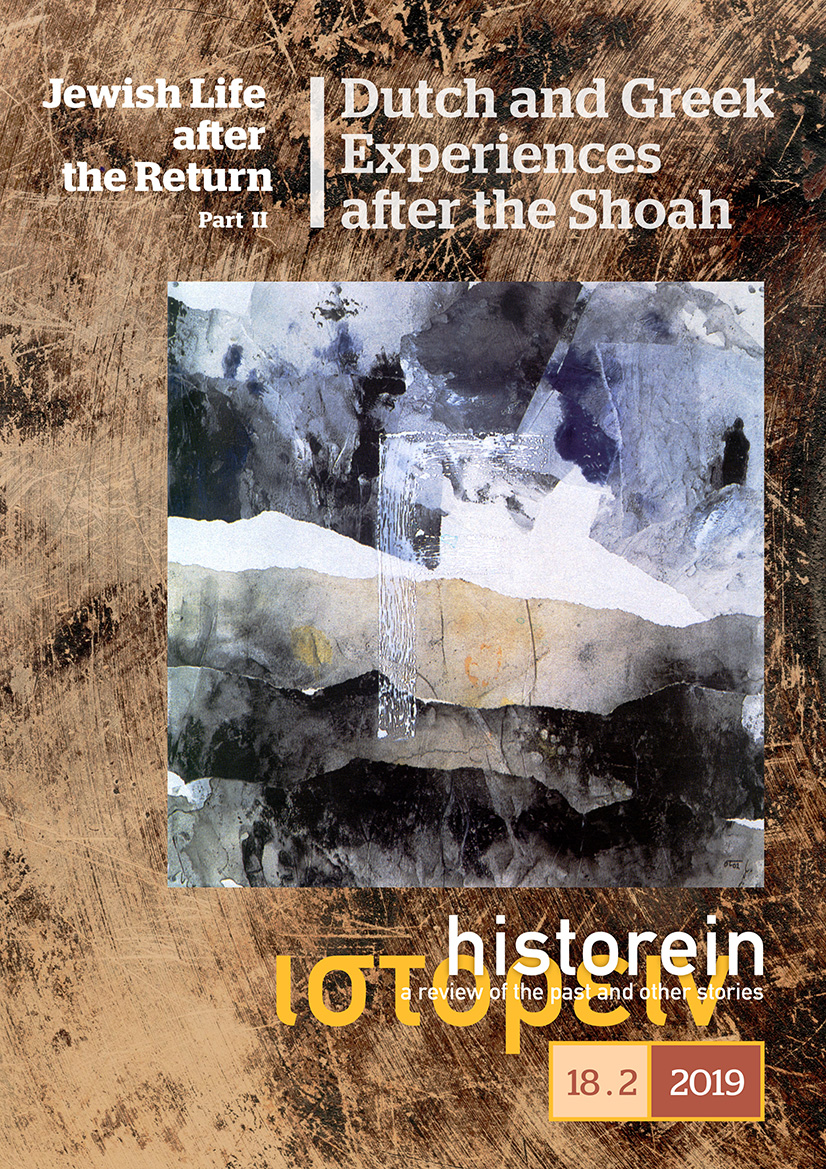 Published: Ιουν 19, 2019
Keywords:
Holocaust survivors Postwar Thessaloniki Jewish community of Thessaloniki
Abstract
Review of Henriette-Rika Benveniste. Λούνα: Δοκίμιο ιστορικής βιογραφίας [Luna: an essay in historical biography]. Athens: Polis, 2017. 222 pp.
Article Details
How to Cite

Kavala, M. (2019). Henriette-Rika Benveniste, Λούνα: Δοκίμιο ιστορικής βιογραφίας [Luna: an essay in historical biography]. Historein, 18(2). https://doi.org/10.12681/historein.19735
This work is licensed under a Creative Commons Attribution-NonCommercial-ShareAlike 4.0 International License.
The copyright for articles in this journal is retained by the author(s), with first publication rights granted to the journal. By virtue of their appearance in this open access journal, articles are free to use (with the exception of the non-granted right to make derivative works) with proper attribution for non-commercial uses (licence
Creative Commons 4.0
). EKT/NHRF retains the worldwide right to reproduce, display, distribute, and use articles published in
Historein
in all formats and media, either separately or as part of collective works for the full term of copyright. This includes but is not limited to the right to publish articles in an issue of the Journal, copy and distribute individual reprints of the articles, authorize reproduction of articles in their entirety in another EKT/NHRF publication, and authorize reproduction and distribution of articles or abstracts thereof by means of computerized retrieval systems.
Downloads
Download data is not yet available.
References
Benveniste, Rika. "Μετά τους Μάρτυρες: Τα αρχεία της μνήμης και η ιστοριογραφία της Shoah" [After the witnesses: the archives of memory and the historiography of the Shoah]. Ιn Νεότερος Ελληνικός Εβραϊσμός: Η δυναμική παρουσία, η οδυνηρή απουσία, το σήμερα [Modern Greek Jewry: the dynamic presence, the painful absence, today], edited by Maria Kavala. Thessaloniki: University Studio Press, 2019 (forthcoming).
Evans, Richard J. In Defense of History. New York: Norton, 1999.
Kavala, Maria, and Kostis Kornetis. "Ο ελληνικός κρατικός μηχανισμός και η διαχείριση των εβραϊκών περιουσιών της Θεσσαλονίκης" [The Greek state machinery and the management of Jewish properties in Thessaloniki]. Ιn Την επαύριον του Ολοκαυτώματος/The Day After the Holocaust, edited by Evanghelos Chekimoglou and Anna Maria Droumpouki, 125–39. Thessaloniki: Jewish Museum of Thessaloniki, 2017.
Levi, Giovanni. "A proposito di microstoria." In La storiografia contemporanea, edited by Peter Burke, translated by Giampiero Cara et al., 121–50. Laterza: Rome, 2007.
Mazower, Mark, ed. After the War Was Over. Reconstructing the Family, Nation and State in Greece, 1943–1960. Princeton: Princeton University Press, 2001.