Review of Paraskevi Golia's Υμνώντας το έθνος. Ο ρόλος των σχολικών γιορτών στην εθνική και πολιτική διαπαιδαγώγηση, 1924-2010 [Praising the nation: The role of national day school commemorations in national and political-education policy, 1924-2010]
---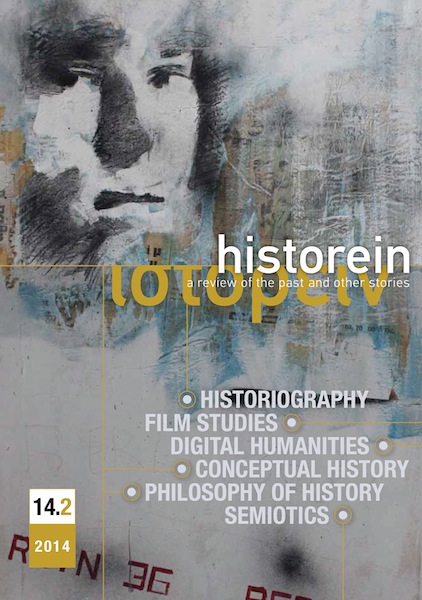 Abstract
Paraskevi Golia, Υμνώντας το έθνος. Ο ρόλος των σχολικών γιορτών στην εθνική και πολιτική διαπαιδαγώγηση 1924-2010 [Praising the nation: The role of national day school commemorations in national and political-education policy, 1924-2010], Thessaloniki: Epikentro, 2011, 445 pp
Article Details
How to Cite

Papandreou, Z. G. (2014). Review of Paraskevi Golia's Υμνώντας το έθνος. Ο ρόλος των σχολικών γιορτών στην εθνική και πολιτική διαπαιδαγώγηση, 1924-2010 [Praising the nation: The role of national day school commemorations in national and political-education policy, 1924-2010]. Historein, 14(2), 142–146. https://doi.org/10.12681/historein.246
This work is licensed under a Creative Commons Attribution-NonCommercial-ShareAlike 4.0 International License.
The copyright for articles in this journal is retained by the author(s), with first publication rights granted to the journal. By virtue of their appearance in this open access journal, articles are free to use (with the exception of the non-granted right to make derivative works) with proper attribution for non-commercial uses (licence
Creative Commons 4.0
). EKT/NHRF retains the worldwide right to reproduce, display, distribute, and use articles published in
Historein
in all formats and media, either separately or as part of collective works for the full term of copyright. This includes but is not limited to the right to publish articles in an issue of the Journal, copy and distribute individual reprints of the articles, authorize reproduction of articles in their entirety in another EKT/NHRF publication, and authorize reproduction and distribution of articles or abstracts thereof by means of computerized retrieval systems.
Downloads
Download data is not yet available.
References
Cohen, Louis, Lawrence Manion and Keith Morrison, Μεθοδολογία εκπαιδευτικής έρευνας [Educational Research Methodology]. Athens: Metaichmio, 2008.

Kimourtzis, Panagiotis, and Anna Mandylara, «Δημόσιες εορτές στην Ελλάδα, 1830-1860. Γένεση του κρατικού συμβολισμού» [Public festivities in Greece, 1830-1860. The genesis of state symbolism]. Dodoni: Scientific Annals of the Philosophy School of the University of Ioannina (forthcoming).

Kimourtzis, Panagiotis, and Anna Mandylara, «Εορτές και τελετές στο ελληνικό βασίλειο (1830-1862). Συμβολική εξουσία, συγκρότηση κράτους, εκπαιδευτικοί θεσμοί» [Feasts and rituals in the kingdom of Greek kingdom (1830-1862): Symbolic power, state-building, educational institutions]. In Για μια ποιητική του εκπαιδευτικού τοπίου. Δέκα χρόνια μετά…: Χαριστήριο στον Ιωσήφ Σολομών [For the poetry of the educational landscape. Ten years on…, Farewell to Iosif Solomon], vol. 1, edited by Yiorgos Stamelos. Athens: Alexandria, 2011.

Kokkinos, George, Sophia Vouri, Panagiotis Gatsotis, Petros Trantas and Efstathios Stefos, Ιστορική κουλτούρα και συνείδηση. Απόψεις και στάσεις μαθητών και εκπαιδευτικών της Πρωτοβάθμιας Εκπαίδευσης για την Ιστορία [Historical culture and consciousness: Opinions and attitudes of primary-level pupils and teachers on history]. Athens: Noogramma, 2005.