Review of Alexandros Nafpliotis's Britain and the Greek Colonels: Accommodating the Junta in the Cold War
---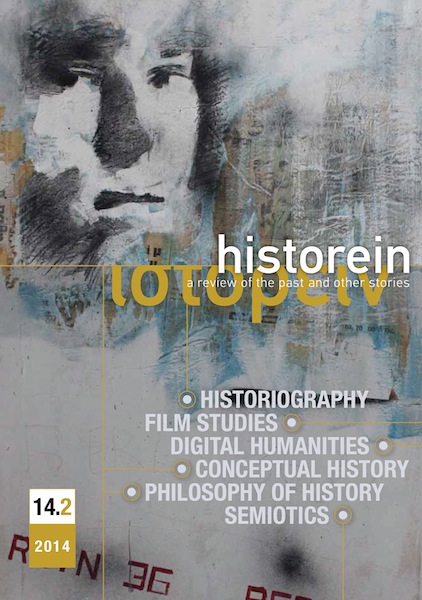 Published: Mar 15, 2014
Keywords:
Greece Britain Dictatorship Junta
Abstract
Review of Alexandros Nafpliotis, Britain and the Greek Colonels: Accommodating the Junta in the Cold War. London: IB Tauris, 2013. 307 pp.
Article Details
How to Cite

Skalidakis, Y. (2014). Review of Alexandros Nafpliotis's Britain and the Greek Colonels: Accommodating the Junta in the Cold War. Historein, 14(2), 154–157. https://doi.org/10.12681/historein.262
This work is licensed under a Creative Commons Attribution-NonCommercial-ShareAlike 4.0 International License.
The copyright for articles in this journal is retained by the author(s), with first publication rights granted to the journal. By virtue of their appearance in this open access journal, articles are free to use (with the exception of the non-granted right to make derivative works) with proper attribution for non-commercial uses (licence
Creative Commons 4.0
). EKT/NHRF retains the worldwide right to reproduce, display, distribute, and use articles published in
Historein
in all formats and media, either separately or as part of collective works for the full term of copyright. This includes but is not limited to the right to publish articles in an issue of the Journal, copy and distribute individual reprints of the articles, authorize reproduction of articles in their entirety in another EKT/NHRF publication, and authorize reproduction and distribution of articles or abstracts thereof by means of computerized retrieval systems.
Downloads
Download data is not yet available.
References
Holland, Robert, and Diana Markides. The British and the Hellenes: Struggles for Mastery in the Eastern Mediterranean, 1850-1960, Oxford: Oxford University Press, 2006.

Kornetis, Kostis. Children of the Dictatorship. Student Resistance, Cultural Politics, and the "long 1960s" in Greece, Oxford: Berghahn, 2013.

Papastratis, Procopis. British Policy towards Greece during the Second World War, 1941-1944. Cambridge: Cambridge University Press, 1984.

Richter, Heinz. British Intervention in Greece: From Varkiza to Civil War, February 1945 to August 1946. London, Merlin Press, 1986.

Rizas, Sotiris. Η ελληνική πολιτική μετά τον Εμφύλιο Πόλεμο: κοινοβουλευτισμός και δικτατορία [Greek politics after the Civil war: parliamentarism and dictatorship]. Athens: Kastaniotis, 2008,

Rizas, Sotiris. Οι Ηνωμένες Πολιτείες, η δικτατορία των συνταγματαρχών και το κυπριακό ζήτημα 1967-1974 [The United States, the Colonels' dictatorship and the Cyprus issue, 1967-1974]. Athens: Patakis, 2002.

Walden, Sotiris. Παράταιροι εταίροι: Ελληνική δικτατορία, κομμουνιστικά καθεστώτα και Βαλκάνια, 1967-1974 [Unseemly partners: The Greek dictatorship, communist regimes and the Balkans, 1967-1974]. Athens, Polis, 2009.