Review of Antonis Anastasopoulos (ed.), Political Initiatives 'From the Bottom Up' in the Ottoman Empire
---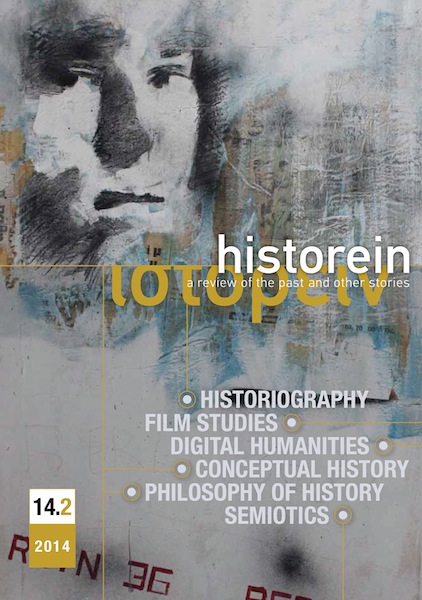 Abstract
Book review of Antonis Anastasopoulos, ed. Political Initiatives "From the Bottom Up" in the Ottoman Empire. Rethymno: Crete University Press, 2012.

Article Details
How to Cite

Aksan, V. (2014). Review of Antonis Anastasopoulos (ed.), Political Initiatives 'From the Bottom Up' in the Ottoman Empire. Historein, 14(2), 136–139. https://doi.org/10.12681/historein.270
This work is licensed under a Creative Commons Attribution-NonCommercial-ShareAlike 4.0 International License.
The copyright for articles in this journal is retained by the author(s), with first publication rights granted to the journal. By virtue of their appearance in this open access journal, articles are free to use (with the exception of the non-granted right to make derivative works) with proper attribution for non-commercial uses (licence
Creative Commons 4.0
). EKT/NHRF retains the worldwide right to reproduce, display, distribute, and use articles published in
Historein
in all formats and media, either separately or as part of collective works for the full term of copyright. This includes but is not limited to the right to publish articles in an issue of the Journal, copy and distribute individual reprints of the articles, authorize reproduction of articles in their entirety in another EKT/NHRF publication, and authorize reproduction and distribution of articles or abstracts thereof by means of computerized retrieval systems.
Downloads
Download data is not yet available.
References
Boeck, Peter. "When Peter I Was Forced to Settle for Less: Coerced Labor and Resistance in a Failed Russian Colony (1695–1711)." Journal of Modern History 80 (2008): 485–514.

Brummett, Palmira. "Placing the Ottomans in the Mediterranean World: The Question of Notables and Households." Journal of Ottoman Studies 36 (2010): 77–96.

Faroqhi, Suraiya. "Political Initiatives 'From the Bottom Up' in the Sixteenth- and Seventeenth-Century Ottoman Empire: Some Evidence for their Existence." In Osmanistische Studien zur Wirtschaft- und Sozialgeschichte: In Memoriam Vančo Boškov, edited by Hans Georg Majer, 24–33. Wiesbaden: Harrassowitz, 1986.

Ostapchuk, Victor, and Caroline Finkel. "Outpost of Empire: An Appraisal of Ottoman Building Registers as Sources for the Archaeology and Construction History of the Black Sea Fortress of Özi." Muqarnas: an Annual on the Visual Culture of the Islamic World 22 (2005): 150–188.

Ruff, Julius R. Violence in Early Modern Europe, 1500–1800. Cambridge: Cambridge University Press, 2001.

Tezcan, Baki. The Second Ottoman Empire: Political and Social Transformation in the Early Modern World. Cambridge: Cambridge University Press, 2012.