Local homelands and national projects: territorial representations in the Bulgarian press from the 1840s to the Russo-Turkish War (1877–1878)
---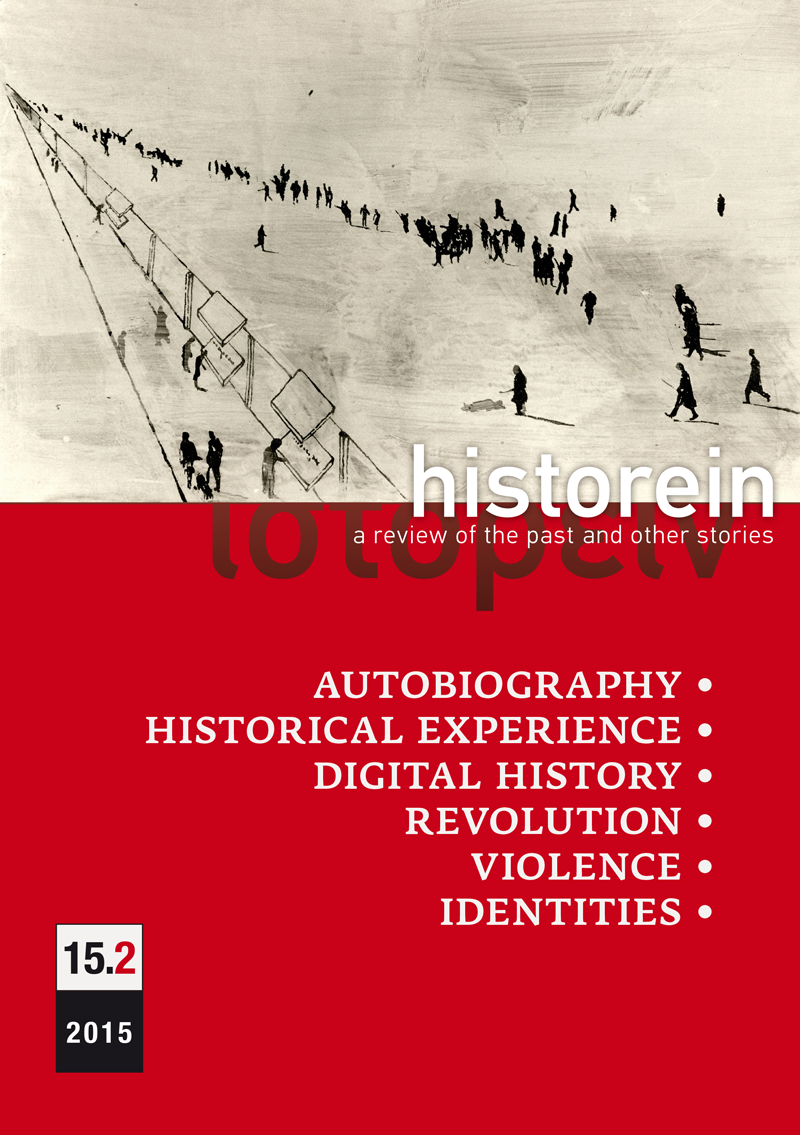 Published: Jul 17, 2016
Keywords:
territorial identity local national media representation Russo-Turkish War (1877–1878)
Abstract
This article analyses the representations of the local sense of place in the Bulgarian press from the 1840s to the end of the period of Ottoman rule (1878). Three major topics are outlined: the mediatisation of the local through the domestic news flow; the statistical quantification of the local sense of place by means of geographical descriptions; the local mobilisations during the Russo–Turkish War (1877–1878) which did not meet the expectations of national ideologists. The aim is not only to investigate the mechanisms of integrating the "little homelands" into the national project but to take into account the slow and difficult process of internalising the imagined Bulgarian homeland that took place in the microlaboratories of local communities.
Article Details
How to Cite

Lilova, D. (2016). Local homelands and national projects: territorial representations in the Bulgarian press from the 1840s to the Russo-Turkish War (1877–1878). Historein, 15(2), 41–55. https://doi.org/10.12681/historein.314
This work is licensed under a Creative Commons Attribution-NonCommercial-ShareAlike 4.0 International License.
The copyright for articles in this journal is retained by the author(s), with first publication rights granted to the journal. By virtue of their appearance in this open access journal, articles are free to use (with the exception of the non-granted right to make derivative works) with proper attribution for non-commercial uses (licence
Creative Commons 4.0
). EKT/NHRF retains the worldwide right to reproduce, display, distribute, and use articles published in
Historein
in all formats and media, either separately or as part of collective works for the full term of copyright. This includes but is not limited to the right to publish articles in an issue of the Journal, copy and distribute individual reprints of the articles, authorize reproduction of articles in their entirety in another EKT/NHRF publication, and authorize reproduction and distribution of articles or abstracts thereof by means of computerized retrieval systems.
Downloads
Download data is not yet available.
References
[Editorial]. Pravo, 9 Oct 1872.
"Boboshevo (Dupnishko selo), 1 avgust 1872" [Boboshevo (a village in Dupnitsa district), 1 Aug 1872]. Pravo, 2 Oct 1872.
"Bukuresht, 11 noemvri 1877" [Bucharest, 11 Nov 1877]. Bŭlgarin, 12 Nov 1877.
"Dopiska na Moskovskie vedomosti" [Report by Moskovskie vedomosti]. Maritsa, 23 Jan 1879.
"Edrene, 3 septemvri" [Edirne, 3 Sept]. Turtsia, 19 Sept 1864.
"Memoar, otpraven do Velikite sili ot elinite v Plovdiv" [Memorandum sent to the Great Powers by the Greeks in Plovdiv]. Bŭlgarin, 6 May 1878.
"Narodonaselenieto na Plovdivskia sandzhak" [The population of the sancak of Plovdiv]. Letostruĭ 2 (1870): 70–78.
"Nastoiashti raboti" [Current affairs]. Napredŭk, 3 May 1876.
"Nezhelanieto na bŭlgarite da stanat voinitsi" [The Bulgarians' unwillingness to become soldiers]. Bŭlgarin, 22 Oct 1877.
"Novini" [News]. Vitosha, 13 Jun 1879.
"Odrin" [Adrianople]. Turtsia, 31 Oct 1870.
"Oriahovo, 10 noemvri" [Oriahovo, 10 Nov]. Iztochno vreme, 29 Nov 1875.
"Panagiurishte ili Kamengrad" [Panagiurishte or Kamengrad]. Iztochno vreme, 8 May 1876.
"Panagiurishte." Den, 1 May 1876.
"Panagiurishte." ХІХ vek, 1 May 1876.
"Pétition adressée aux représentants des grandes puissances à Constantinople par les habitants du district de Djoumaïa." Maritsa, 20 Oct 1878.
"Pismo ot Sofia" [Letter from Sofia]. Bŭlgarin, 18 Mar 1878.
"Proshenie, predadeno na Evropeiskata Kommissia ot edna deputatsia ot naselenieto na Koprivshtita, Panagiurishte, Klisura i okolnite v Sredna Gora sela" [Petition submitted to the European Commission by a delegation (of representatives) of the population of Koprivshitsa, Panagiurishte, Klisura and the surrounding villages in (Mount) Sredna Gora]. Maritsa, 24 Oct 1878.
"Provadiĭski sela, 10 iuli 1859" [Provadia villages, 10 Jul 1859]. Bŭlgaria, 25 Jul 1859.
"Razni novini" [Miscellaneous news]. Maritsa, 18 Aug 1878.
Benedict Anderson, Imagined Communities. London: Verso, 1991), 166.
Cholakov, Vasil. Opisanie na selo Panagiurishte [Description of the village of Panagiurishte]. Constantinople, 1866.
Confino, Alon. The Nation as a Local Metaphor: Württemberg, Imperial Germany, and national memory, 1871–1918. Chapel Hill: University of North Carolina Press, 1997.
Detrez, Raymond. "Relations between Greeks and Bulgarians in the pre-nationalist era: the Gudilas in Plovdiv." In Greece and the Balkans: identities, perceptions and cultural encounters since the enlightenment, ed. Dimitris Tziovas, 30–46. Burlington: Ashgate, 2003.
Grozdanova, Elena, and Asparuh Velkov. "Falshifikat li e letopisniat razkaz na pop Metodiĭ Draginov?" [Is the priest Metodi Draginov's chronicle a forgery?]. Istoricheski pregled 2 (1993): 146–57.
Istoria na Bŭlgaria [History of Bulgaria], vol. 6. Sofia: Bŭlgarska akademia na naukite, 1987.
Kisimov, Pandeli. "Vŭtreshnite nashi nepriateli" [Our inside enemies]. Bŭlgarin, 5 April 1878.
Koulouri, Christina. Dimensions idéologiques de l'historicité en Grèce (1834-1914) : Les manuels scolaires d'histoire et de géographie. Frankfurt: Peter Lang, 1992.
Kozarov, Alexandar. "Dve dumi kŭm bŭlgarskiĭ narod" [A couple of words to the Bulgarian people]. Bŭlgarin, 27 Jul 1878.
Lilova, Dessislava. "Novinarskata rodina: geografia na informatsionnia potok v bŭlgarskata presa (1842-1878)" [The homeland in the news: newsflow geography of the Bulgarian press (1842–1878)]. Kritika i Humanism 2 (2012): 93–113.
Lory, Bernard. "Letopisŭt na pop Metodiĭ Draginov kato literaturno proizvedenie ot XIX vek" [The priest Metodi Draginov's chronicle as a literary work of the 19th century"]. In Pomatsite – versii za proizhod i sŭvremenna identichnost [The Pomaks: versions regarding origin and contemporary identity], ed. Evguenia Ivanova, 117–34. Sofia: Nov bŭlgarski universitet, 2013.
Mitev, Plamen. "'Tsarigradski vestnik', Krimskata voina i bŭlgarite" [Tsarigradski vestnik, the Crimean war and the Bulgarians]. In Bŭlgarskata zhurnalistika – 160 godini. Minalo, nastoiashte, bŭdeshte [Bulgarian journalism, 160 years on: Past, present, future], eds. Zdravka Konstantinova, Milko Petrov and Maria Deenichina, 180–88. Sofia: Universitetsko izdatelstvo "Sveti Kliment Ohridski, 2006.
Morley, David. "What's 'home' got to do with it? Contradictory dynamics in the domestication of technology and the dislocation of domesticity." European Journal of Cultural Studies 6/4 (2003): 435–458.
Nordman, Daniel. "La géographie, œil de l'histoire." Espaces Temps 66–67/1 (1998): 44–55.
Pavlov, Simeon. "Edin pogled na pitanieto za srŭbsko-bŭlgarskite predeli" [A view on the question of Serb-Bulgarian borders]. Bŭlgarin, 24 May 1878.
Peckham, Robert Shannan. National histories, natural states: nationalism and the politics of place in Greece. London: IB Tauris, 2001.
Rantanen, Terhi. When news was new. Oxford: Wiley-Blackwell, 2009.
Slaveikov, Petko. "Svedenia za Trakia i osobeno za Odrinskata eparhia i Odrin" [Information about Thrace and particularly about the Adrianople eparchy and Adrianople]. Napredŭk, 7 Dec 1874.
Slavov, Gospodin. Statistichesko opisanie na kazata Eski-Zagra [A statistical description of the kaza of Eski-Zagra]. Constantinople: Printing house of the Tsarigradski vestnik newspaper, 1858.
Stefanov, Totiu. "Shipka-Balkan, 10 septemvri 1877" [Shipka-Balkan Range, 10 Sept 1877]. Bŭlgarin, 26 Oct 1877.
Todorov, Ilia. "Letopisniat razkaz na pop Metodi Draginov" [The priest Metodi Draginov's chronicle]. Starobŭlgarska literatura 16 (1984): 56–79.
Utin, Evgeny. Pis'ma iz Bolgarii v 1877 g. [Letters from Bulgaria in 1877]. Saint Petersburg: Tipografia Stasiulevicha, 1879.
Vazov, Ivan. "The Volunteers at Shipka." In Anthology of Bulgarian poetry, transl. Peter Tempest. Sofia: Sofia Press, 1980.
Voillery, Pierre. Mezhdu dva svyata. Bŭlgarite v Rumelia XVIII-XIX vek [Between two worlds: the Bulgarians in Rumelia in the 18th–19th centuries]. Sofia: Kama, 2005.
Vojvodić, Mihailo, Dragoljub Živojinović, Andrej Mitrović and Radovan Samardžić, eds. Srbija 1878. Dokumenti [Serbia 1878: Documents]. Belgrade: Srpska književna zadruga 1978.
Zahariev, Stefan. Geografiko-istoriko-statistichesko opisanie na tatarpazardzhishkata kaza [A geographico-historical-statistical description of the kaza of Tatar Pazardzhik]. Vienna: L. Sommer, 1870.