Narrating the story of a failed national transition: discourses on the Greek crisis, 2010–2014
---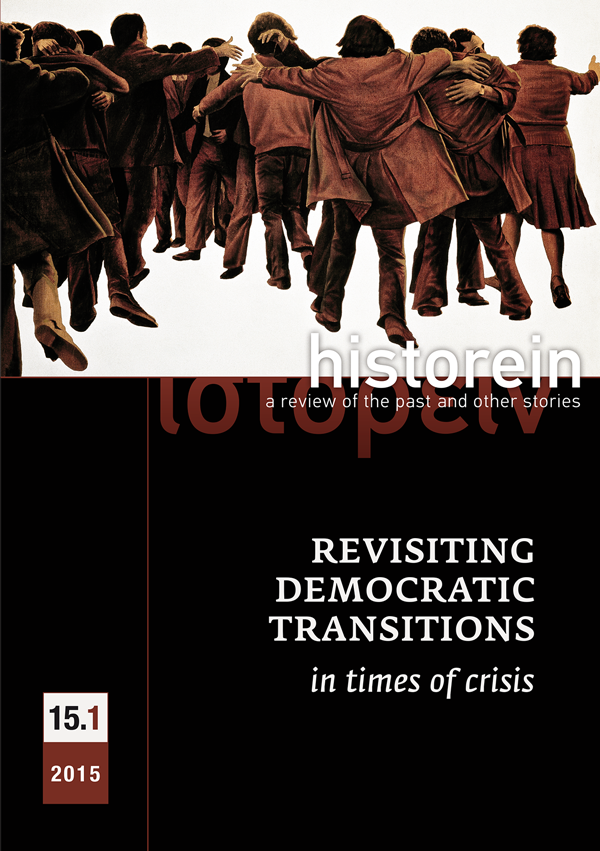 Published: Dec 3, 2015
Keywords:
Modernity Underdog culture Transition Crisis
Abstract
This article traces the construction of the dominant, promemorandum discourse that has been propagated by the political establishment and mainstream media in Greece interpreting the current crisis as a crisis of the national identity: Greece failed to reform where necessary due to the domination of the traditional political culture that is to be blamed for the failed transition since 1974 to postwar European modernity. This narrative is examined within broader narratives and discourses that have attempted in different periods to conceptualise and prescribe the transition to modernity followed not only by Greece, but by other societies the world over. This brief study enables us to think of this exceptional "failed transition" as a not so exceptional or failed transition, while at the same time to observe how societies in crisis turn to history so as to make sense of their present.
Article Details
How to Cite

Kouki, H., & Liakos, A. (2015). Narrating the story of a failed national transition: discourses on the Greek crisis, 2010–2014. Historein, 15(1), 49–61. https://doi.org/10.12681/historein.318
This work is licensed under a Creative Commons Attribution-NonCommercial-ShareAlike 4.0 International License.
The copyright for articles in this journal is retained by the author(s), with first publication rights granted to the journal. By virtue of their appearance in this open access journal, articles are free to use (with the exception of the non-granted right to make derivative works) with proper attribution for non-commercial uses (licence
Creative Commons 4.0
). EKT/NHRF retains the worldwide right to reproduce, display, distribute, and use articles published in
Historein
in all formats and media, either separately or as part of collective works for the full term of copyright. This includes but is not limited to the right to publish articles in an issue of the Journal, copy and distribute individual reprints of the articles, authorize reproduction of articles in their entirety in another EKT/NHRF publication, and authorize reproduction and distribution of articles or abstracts thereof by means of computerized retrieval systems.
Downloads
Download data is not yet available.
References
Almond, Gabriel A., and G. Bingham Powell, Comparative Politics: A Developmental Approach. Boston: Little, Brown, 1966.

Almond, Gabriel A., and Sidney Verba, Civic Culture: Political Attitudes and Democracy in Five Nations. Boston: Little, Brown, 1965.

Apter, David. The Politics of Modernization. University of Chicago Press, Chicago, 1965.

Athanasiou, Athena. Η Κρίση ως «Κατάσταση Έκτακτης Ανάγκης» [Crisis as a state of emergency: critiques and resistances]. Athens: Savvalas, 2012.

Benford, Robert D., and David A. Snow. "Framing Processes and Social Movements: An Overview and Assessment." Annual Review of Sociology 26/1 (2000): 611–639.

Black, Cyril Edwin. The Dynamics of Modernization. New York: Harper and Row, 1966.

Campbell, John K. Honour, Family, and Patronage: A Study of Institutions and Moral Values in a Greek Mountain Community. Oxford: Clarendon, 1964.

Chakrabarty, Dipesh. Provincializing Europe: Postcolonial Thought and Historical Difference. Princeton: Princeton University Press, 2000.

Crouch, Colin. Coping with Post-Democracy. London: Fabian Society, 2000.

Demertzis, Nicolas. "Greece." In European Political Cultures: Conflict or Convergence? edited by Roger Eatwell, 107–122. London: Routledge, 1997.

Dertilis, George. Κοινωνικός μετασχηματισμός και στρατιωτική επέμβαση. 1880–1909 [Social transformation and military intervention, 1880–1909]. Athens: Eksantas, 1977.

Diamandouros, P. Nikiforos. "Cultural Dualism and Political Change in Postauthoritarian Greece." Working Paper 1994/50, Centro de Estudios Avanzados en Ciencias Sociales, Madrid, 1994.

Kouki, Hara. "European Crisis Discourses: The Case of Greece." In Crisis Discourses in Europe: Media EU-phemisms and Alternative Narratives, edited by Tamsin Murray-Leach, 16–20. Background paper of the Civil Society and Human Security Research Unit of London School of Economics, 2014. Accessed 28 Jul. 2015. http://www.lse.ac.uk/internationalDevelopment/research/CSHS/pdfs/Crisis-Discourses-in-Europe.pdf.

Liakos, Antonis. "Modern Greek Historiography (1974–2000): The Era of Tradition from Dictatorship to Democracy." In (Re)Writing History. Historiography in Southeast Europe after Socialism, edited by Ulf Brunnbauer, 351–378. Münster: LIT, 2010.

Liakos, Antonis. "The Canon of European History and the Conceptual Framework of National Historiographies." In Transnational Challenges to National History Writing, edited by Matthias Middell and Lluís Roura i Aulinas, 315–342. Basingstoke: Palgrave, 2015.

Mazower, Mark. Governing the World: The History of an Idea. New York: Penguin, 2012.

Mouzelis, Nicos P. Politics in the Semi-Periphery: Early Parliamentarism and Late Industrialization in the Balkans and Latin America. London: Macmillan, 1986.

Stavrakakis, Yannis. "Religion and Populism: Reflections on the "Politicised" Discourse of the Greek Church." Discussion paper no 7. Hellenic Observatory, London School of Economics, 2002.

Triandafyllidou, Anna, Ruby Gropas and Hara Kouki. "Introduction: Is Greece a Modern European Country?" In The Greek Crisis and European Modernity, edited by Anna Triandafyllidou, Ruby Gropas and Hara Kouki, 1–24. New York: Palgrave, 2013.

Tsoukalas, Konstantinos. "Παράδοση και εκσυγχρονισμός: Μερικά γενικότερα ερωτήματα" [Tradition and modernisation: some general questions]. In Ελληνισμός και ελληνικότητα [Hellenism and Greekness], edited by Dimitris Tsaousis, 37–48. Athens: Hestia, 1983.

Tsoukalas, Konstantinos. Κοινωνική ανάπτυξη και κράτος: Η συγκρότηση του δημοσίου χώρου στην Ελλάδα [Social Development and State: The Construction of Public Space in Greece]. Athens: Themelio, 1981.

Tziovas, Dimitris. "Η Δυτική φαντασίωση του Ελληνικού και η αναζήτηση του υπερεθνικού" [The western fantasy of the Hellenic and the quest for the hyper-national]. In Έθνος–κράτος–εθνικισμός [Nation–state–nationalism], edited by Despo Solomou, 339–361. Athens: Moraitis School, 1995.

Verdery, Katherine. What was Socialism and What Comes Next? London: Routledge, 1996.