Review of Maria Zarimis', Darwin's Footprint: Cultural Perspectives on Evolution in Greece (1880-1930s)
---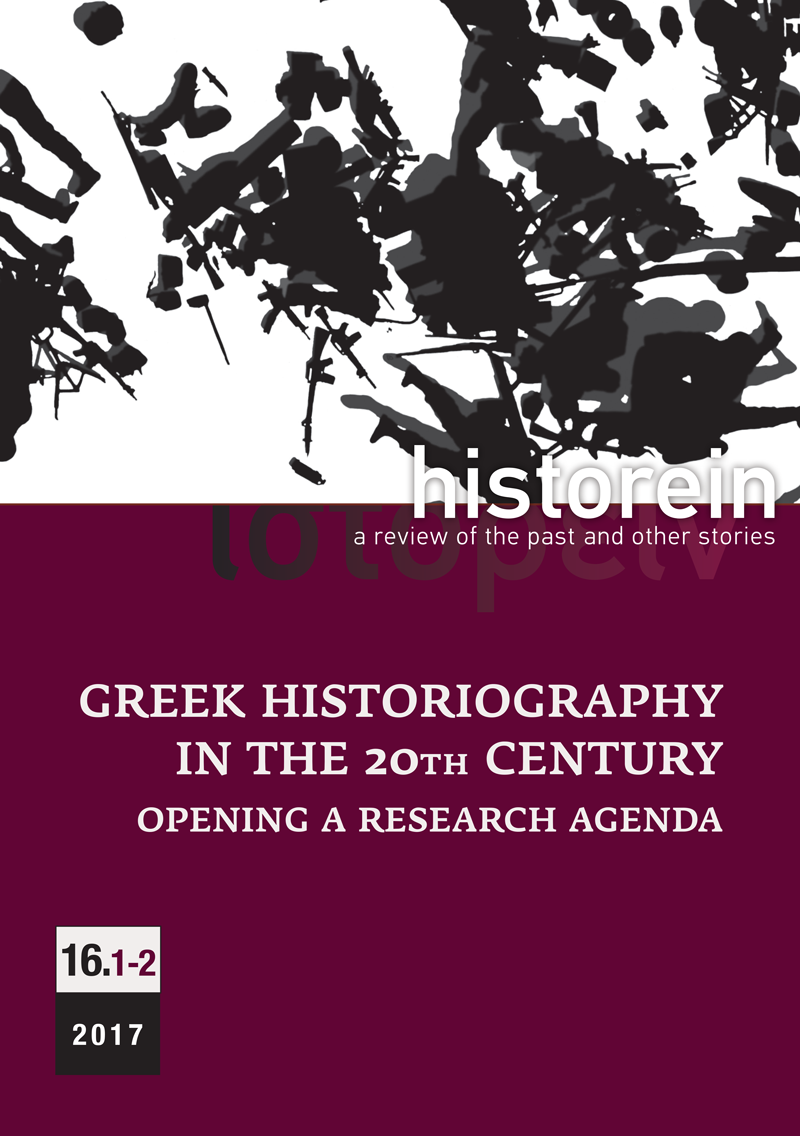 Published: Ιουν 30, 2017
Keywords:
Greece eugenics Darwinism Social Darwinism Modern Greek literature
Abstract
Maria Zarimis. Darwin's Footprint: Cultural Perspectives on Evolution in Greece (1880-1930s). Budapest & New York: CEU Press, 2015. 340 pp.
Article Details
How to Cite

Trubeta, S. (2017). Review of Maria Zarimis', Darwin's Footprint: Cultural Perspectives on Evolution in Greece (1880-1930s). Historein, 16(1-2), 167–173. https://doi.org/10.12681/historein.9082
This work is licensed under a Creative Commons Attribution-NonCommercial-ShareAlike 4.0 International License.
The copyright for articles in this journal is retained by the author(s), with first publication rights granted to the journal. By virtue of their appearance in this open access journal, articles are free to use (with the exception of the non-granted right to make derivative works) with proper attribution for non-commercial uses (licence
Creative Commons 4.0
). EKT/NHRF retains the worldwide right to reproduce, display, distribute, and use articles published in
Historein
in all formats and media, either separately or as part of collective works for the full term of copyright. This includes but is not limited to the right to publish articles in an issue of the Journal, copy and distribute individual reprints of the articles, authorize reproduction of articles in their entirety in another EKT/NHRF publication, and authorize reproduction and distribution of articles or abstracts thereof by means of computerized retrieval systems.
Downloads
Download data is not yet available.
References
Greek Society of Eugenics and Human Genetics. Συζητήσεις ενώπιον του κοινού (Debates before the public), 3rd vol. Athens, 1978.
Khair, Tabish, and Johan Höglund, eds. Transnational and postcolonial vampires: dark blood. Basingstoke: Palgrave Macmillan, 2013.
Papadiamantis, Alexandros. Η φόνισσα (The murderess), translated by Giorgos Aristinos. Athens: Ellinika Grammata, 2006.
Pick, Daniel. Faces of degeneration: a European disorder, c. 1848–c. 1918. Cambridge: Cambridge University Press, 1989.
Trubeta, Sevasti. Physical anthropology, race and eugenics in Greece, 1880s-1970s. Leiden: Brill, 2013.
Twine, Richard. "Physiognomy, phrenology and the temporality of the body." Body & Society 8/1 (2002): 67–88.