Review of Sevasti Trubeta (ed.), Special issue, Zeitschrift für Balkanologie 50/1 (2014)
---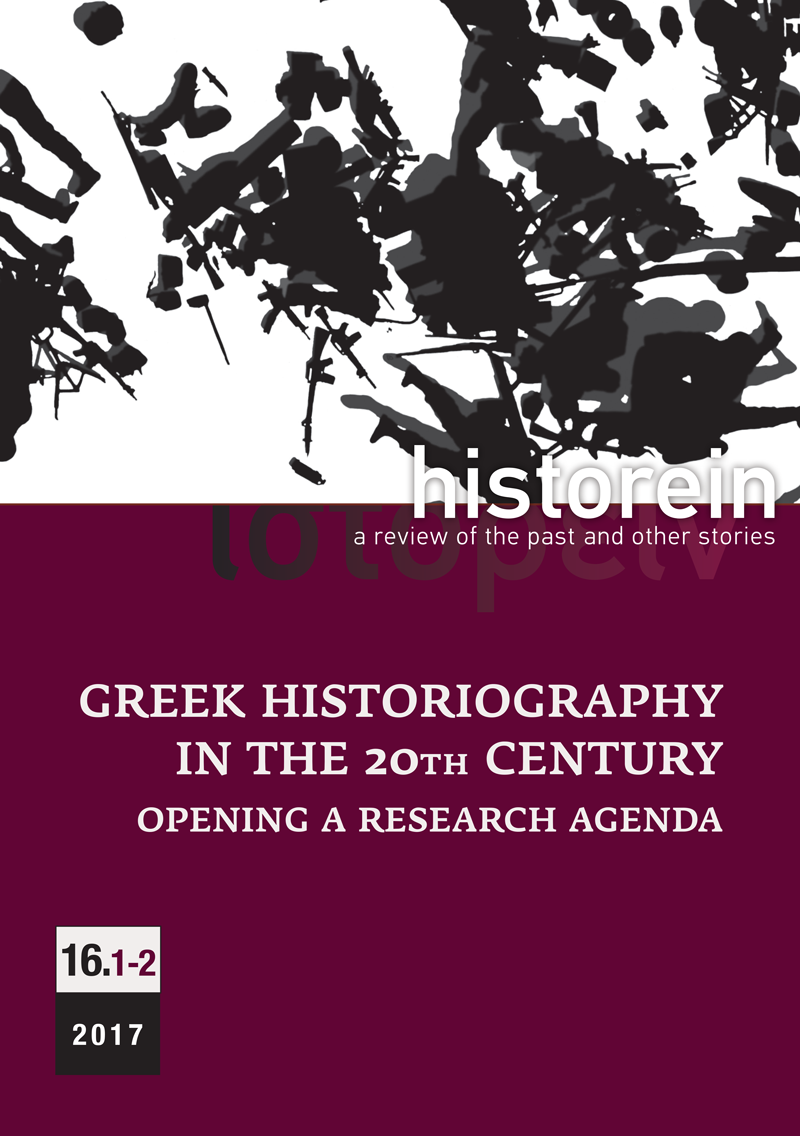 Published: Jun 30, 2017
Keywords:
Social networks Germany Greece Balkans Scientific networks
Abstract
Sevasti Trubeta (ed.). Special issue, Zeitschrift für Balkanologie 50/1 (2014)
Article Details
How to Cite

Mergoupi-Savaidou, E. (2017). Review of Sevasti Trubeta (ed.), Special issue, Zeitschrift für Balkanologie 50/1 (2014). Historein, 16(1-2), 163–166. https://doi.org/10.12681/historein.9962
This work is licensed under a Creative Commons Attribution-NonCommercial-ShareAlike 4.0 International License.
The copyright for articles in this journal is retained by the author(s), with first publication rights granted to the journal. By virtue of their appearance in this open access journal, articles are free to use (with the exception of the non-granted right to make derivative works) with proper attribution for non-commercial uses (licence
Creative Commons 4.0
). EKT/NHRF retains the worldwide right to reproduce, display, distribute, and use articles published in
Historein
in all formats and media, either separately or as part of collective works for the full term of copyright. This includes but is not limited to the right to publish articles in an issue of the Journal, copy and distribute individual reprints of the articles, authorize reproduction of articles in their entirety in another EKT/NHRF publication, and authorize reproduction and distribution of articles or abstracts thereof by means of computerized retrieval systems.
Downloads
Download data is not yet available.
References
Cahan, David. "Institutions and Communities." In From Natural Philosophy to the Sciences: Writing the History of Nineteenth-Century Science, ed David Cahan, 291–328. Chicago: University of Chicago Press, 2003.
Castells, Manuel. The Information Age: Economy, Society and Culture. Vol. 1: The Rise of the Network Society. Oxford: Blackwell, 1996.
Gavroglu, Kostas, et al. "Science and Technology in the European Periphery: Some Historiographical Reflections." History of Science 46 (2008): 153–176.
Light, Jennifer S. "When Computers were Women." Technology and Culture 40/3 (1999): 455-483.
Lyberatos, Andreas, ed. Social Transformation and Mass Mobilization in the Balkan and Eastern Mediterranean Cities (1900–1923). Iraklio: Crete University Press, 2013.
Rayward W. Boyd, ed. Information beyond Borders: International Cultural and Intellectual Exchange in the Belle Époque. Farnham: Ashgate, 2014.
Weingart, Peter. "German Eugenics between Science and Politics." Osiris, 2nd ser., 5 (1989): 260–282.