Theatre and Performance Go Massively Online During the COVID-19 Pandemic: Implications and Side Effects
---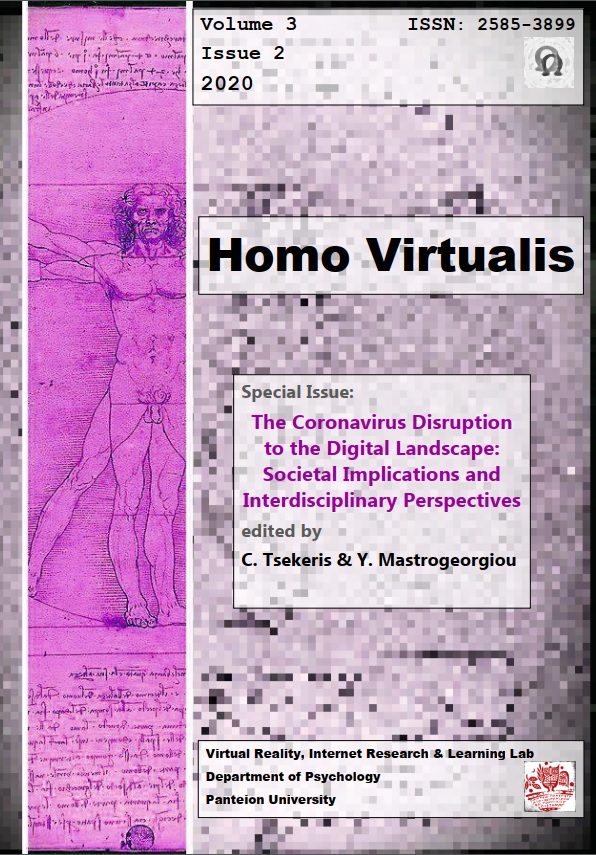 Published: Dec 2, 2020
Keywords:
theatre performance COVID-19 pandemic online content intermediality
Abstract
During the COVID-19 pandemic, theatre groups and companies started massively providing online (filmed) versions of their productions. Theatre performances, live-streamed or recorded, have been shown online before, but mostly as a supplementary strategy, assisting the promotion of a live performance, not as a cultural trend per se, nor to the massive extend it has been happening during the pandemic. However, the consumption of this sort of online content, as this is literally what becomes anything posted on the web's hypertextual multimedial selves, cannot occur without consideration of the potential implications and side effects. What exactly is it we are watching on our screens, why is it marketed as theatre and performance, and why do we consume it as such? In the paper, the Phelan/Auslander debate is revisited, as this eradication of the distinction between the live and the mediatized may indicate performance's crucial shift away from independence towards technological, economical and linguistic dependence from mass reproduction. However, before lightheartedly welcoming this hybridity of massively experiencing online performances, which springs out from the collision between live performance (art) and web content (creativity), it is worth considering welcoming first digital performance hybrids emerging within and in between the medial restrictions imposed by the pandemic. These bold, experimental, participatory, 'transparent' intermedial forms of expression may prove out to be a source of strength in times of crisis.
Article Details
How to Cite

Timplalexi, E. (2020). Theatre and Performance Go Massively Online During the COVID-19 Pandemic: Implications and Side Effects. Homo Virtualis, 3(2), 43–54. https://doi.org/10.12681/homvir.25448
Authors who publish with this journal agree to the following terms:
· Authors retain copyright and grant the journal right of first publication with the work simultaneously licensed under a Creative Commons Attribution License that allows others to share the work with an acknowledgement of the work's authorship and initial publication in this journal.
· Authors are able to enter into separate, additional contractual arrangements for the non-exclusive distribution of the journal's published version of the work (e.g. post it to an institutional repository or publish it in a book), with an acknowledgement of its initial publication in this journal.
· Authors are permitted and encouraged to post their work online (preferably in institutional repositories or on their website) prior to and during the submission process, as it can lead to productive exchanges, as well as earlier and greater citation of published work.
Downloads
Download data is not yet available.
References
Aebischer, P., Greenhalgh, S. & Osborne, L. (2018). Shakespeare and the 'Live' Theatre Broadcast Experience. London, UK: Bloomsbury Publishing.
Auslander, P. (1999). Liveness: Performance in a Mediatized Culture. London, UK & New York, NY: Routledge.
Baudrillard, J. (1994). Simulacra and Simulations. Ann Arbor, MI: University of Michigan Press.
Benjamin, W. (1968). Illuminations: Essays and Reflections. New York, NY: Schocken Books.
Bolter, D. J. & Grusin, R. (1999). Remediation. Cambridge, MA: MIT Press.
Dixon, S. (2007). Digital Performance: A History of New media in Theater, Dance, Performance Art, and Installation. Cambridge, MA: MIT Press.
Elleström, L. (Ed.). (2010). Media Borders, Multimodality and Intermediality. Basingstoke, UK: Palgrave MacMillan.
Leeker, M., Schipper, I., & Beyes, T. (Eds.). (2017). Performing the Digital: Performativity and Performance Studies in Digital Cultures. Bielefeld, Germany: Transcript Verlag.
Phelan, P. (1993). Unmarked: The Politics of Performance. London, UK and New York, NY: Routledge.
Suhr, H. C. (Ed.). (2014). Online Evaluation of Creativity and the Arts. New York, NY: Routledge.
Toffler, A. (1980). The Third Wave. New York, NY: William Morrow.