Online Counseling: Advantages, Disadvantages and Ethical Issues
---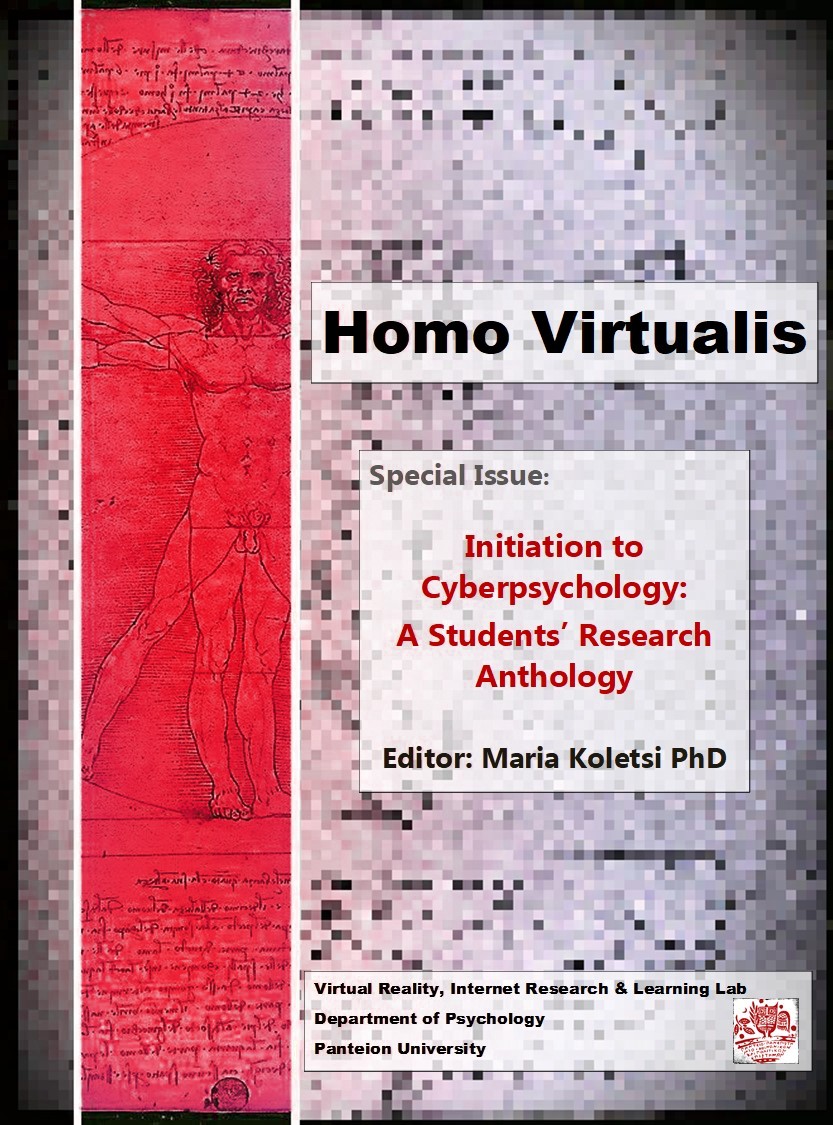 Published: May 17, 2022
Keywords:
online couseling effectiveness ethical issues covid 19
Abstract
The present research aims to study some aspects of online counseling. More specifically, the possibilities, the difficulties, the effectiveness, as well as issues of ethics, which are raised through the internet practice, are being explored in the light of the mental health specialists that provide it. In addition, it is being examined the way in which covid-19 pandemic affected its demand. In order to conduct the research, a questionnaire was completed by 25 Greek experts who provide online counseling services. Then, their answers were quantified and compared with the data of the existing bibliography. The findings are in accordance with it on pros, cons, demand during the pandemic, and the effectiveness of online counseling compared to the in person one. However, a differentiation was observed, concerning the most prevailing way of conducting online counseling and the counselors' perception of protection of their personal data. Restrictions such as the type of the sampling and the online giving of the questionnaire could affect the results of the research. Future studies could lead to further conclusions, by taking into account the findings and the limitations.
Article Details
How to Cite

Kiriakaki, S. ., Tzovanou, M. ., Sotiriou, A. ., Lampou, M. ., & Varsamidou, E. . (2022). Online Counseling: Advantages, Disadvantages and Ethical Issues. Homo Virtualis, 5(1), 32–59. https://doi.org/10.12681/homvir.30316
This work is licensed under a Creative Commons Attribution 4.0 International License.
Authors who publish with this journal agree to the following terms:
· Authors retain copyright and grant the journal right of first publication with the work simultaneously licensed under a Creative Commons Attribution License that allows others to share the work with an acknowledgement of the work's authorship and initial publication in this journal.
· Authors are able to enter into separate, additional contractual arrangements for the non-exclusive distribution of the journal's published version of the work (e.g. post it to an institutional repository or publish it in a book), with an acknowledgement of its initial publication in this journal.
· Authors are permitted and encouraged to post their work online (preferably in institutional repositories or on their website) prior to and during the submission process, as it can lead to productive exchanges, as well as earlier and greater citation of published work.
Downloads
Download data is not yet available.