Digital Radio Broadcast: New technological resources to produce educational programs online
---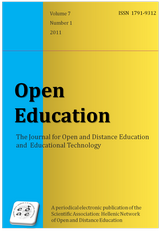 Δημοσιευμένα: Jan 1, 2011
Λέξεις-κλειδιά:
Radio Web E-Learning Collaboration Multimedia Sharing Interactivity
Περίληψη
The radio as a vehicle of mass communication has undergone many changes over the years through the development of informatics and cybernetics. The process of digitization suffered by conventional broadcasters and the availability of its content on the Internet, produced the latest step in the recent history of media - the Web Radio. In turn, the education has been used in the new technological resources to produce educational programs multidisciplinary in several areas of knowledge and in different parts of the world. Therefore, the present educational-communicative paradigm requires a new way of thought about the pedagogic models and new intervention strategies in society, which are able to respond to contemporary educational and intervenient processes. In this sense, the radio has been a great ally for Education for over one hundred and fifty years, taking the information and knowledge to the most inhospitable places. Nowadays, with a web format, the radio makes available, in virtual space, an ample group of technological interfaces with an alternative and complementary environment of teaching-learning. Appears, therefore, learning through the Internet radio, providing the virtual space and a set of interfaces for technology that teachers can disseminate their scientific work, suggest readings, stimulate debate on issues related to discipline (forums discussion), information notes, reviews, interviews with local experts and invited, promotion of academic events (congresses, seminars, lectures, conferences or meetings), lessons in podcast, beyond the possibility of synchronous communication with the network, through email, blog, facebook, forum, messenger, chat, myspace, twitter and others. In this communication, we will make a reflection about the web radio, showing its present panorama as an educational-communicative media and highlighting the case study of the Rádio Universitária do Minho (RUM).
Λεπτομέρειες άρθρου
Πώς να δημιουργήσετε Αναφορές
Ενότητα
Μέρος πρώτο / Section 1
Οι συγγραφείς των άρθρων που δημοσιεύονται στο περιοδικό διατηρούν τα δικαιώματα πνευματικής ιδιοκτησίας επί των άρθρων τους, δίνοντας στο περιοδικό το δικαίωμα της πρώτης δημοσίευσης. Άρθρα που δημοσιεύονται στο περιοδικό διατίθενται με άδεια Creative Commons 4.0 και σύμφωνα με την άδεια μπορούν να χρησιμοποιούνται ελεύθερα, με αναφορά στο/στη συγγραφέα και στην πρώτη δημοσίευση για μη κερδοσκοπικούς σκοπούς και με δικαίωμα τροποποίησης μόνον με παρόμοια διανομή (αν αναμείξετε, τροποποιήσετε, ή δημιουργήσετε πάνω στο υλικό, πρέπει να διανείμετε τις δικές σας συνεισφορές υπό την ίδια άδεια όπως και το πρωτότυπο).
Λήψεις
Τα δεδομένα λήψης δεν είναι ακόμη διαθέσιμα.