The Moral Status of Slavery in Aristotle's Politics
---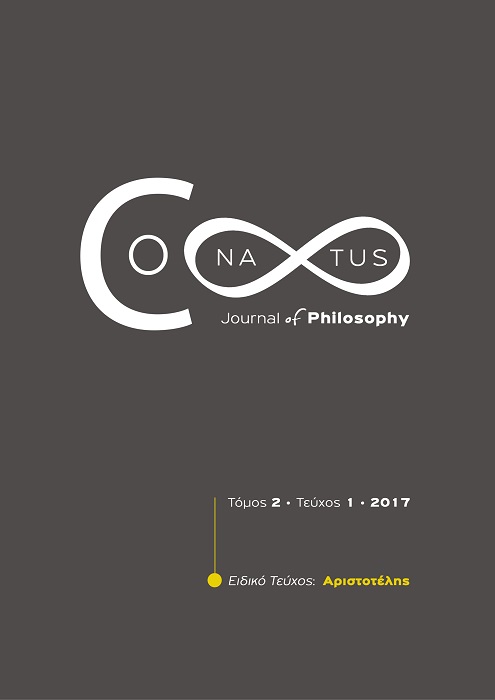 Published: Jun 18, 2018
Keywords:
slavery democracy rights economy Aristotle
Abstract
In this article I will set out to discuss Aristotle's views on slavery. It is true that Aristotle is the first philosopher to claim in his Politics that some individuals are born slaves by virtue of their nature, therefore he has been accused as being an advocate of slavery, but also of hierarchical discrimination among humans. Against these views I will argue that Aristotle's thought moves on to the "archetype", thus formulating his view of the particular institution on which he builds his teleological perception of the world.
Article Details
How to Cite

Kosmadakis, N. (2018). The Moral Status of Slavery in Aristotle's Politics. Conatus - Journal of Philosophy, 2(1), 45–56. https://doi.org/10.12681/conatus.16033
This work is licensed under a Creative Commons Attribution-NonCommercial 4.0 International License.
Authors who publish with this journal agree to the following terms:
Authors retain copyright and grant the journal right of first publication with the work simultaneously licensed under a Creative Commons Attribution Non-Commercial International License (CC BY-NC 4.0) that allows others to share the work with an acknowledgement of the work's authorship and initial publication in this journal.
Authors are able to enter into separate, additional contractual arrangements for the non-exclusive distribution of the journal's published version of the work (e.g. post it to an institutional repository or publish it in a book), with an acknowledgement of its initial publication in this journal.
Authors are permitted and encouraged to post their work online (preferably in institutional repositories or on their website) prior to and during the submission process, as it can lead to productive exchanges, as well as earlier and greater citation of published work.
Downloads
Download data is not yet available.
References
Aristotle. Nicomachean Ethics. Athens: Kaktos, 1993.
Aristotle. Politics. Athens: Kaktos, 1993.
Austin, M. M, και P. Vidal-Naquet. Economy and Society in Ancient Greece. Translated by Tasos Koukoulios. Athens: Dedalus-I. Zacharopoulos, 1998.
Bayonas, Augustos. Freedom and Slavery in Aristotle's Thought. Thessaloniki: Zitros, 2003.
Coleman, J. A History of Political Thought. Translated by G. Christidis. Athens: Kritiki, 2004.
Koufopoulou, P. "Political Equity and Justice according to Aristotle; and the Issues of Contemporary Societies." In Proceedings of the 3rd International Conference on Aristotelian Philosophy. Athens: Society for Aristotelian Studies 'Lyceum,' 2000.
Papa, Irini. "Aristotle's View on Slavery as an Institution." In Aristotle: A Tribute to J. P. Anton (Fifty-Three Concentric Studies), edited by Dimitrios Andriopoulos. Thessaloniki, 2003.
Papadis, Dimitrios. "The Issue of Natural Slaves in Aristotle's Politics." Defkalion 19, no. 2 (2001): 173-202.