Aristotelian Ethics and Politics: A Solution for Today
---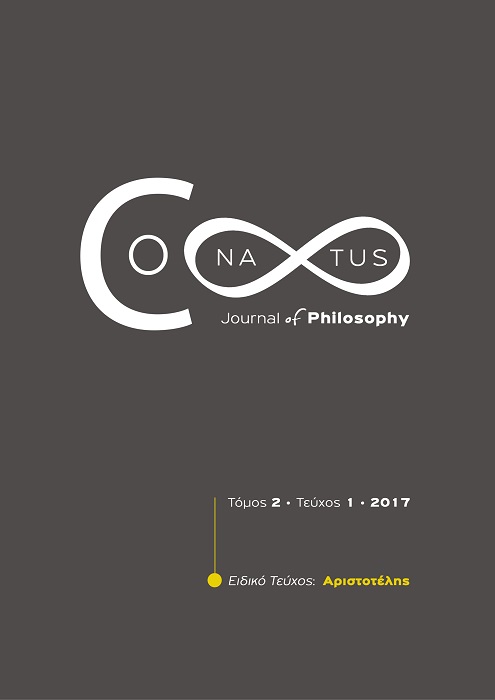 Published: Jun 18, 2018
Keywords:
Aristotle ethics soul wisdom mind
Abstract
Aristotle famously classified virtue as cognitive and moral, deriving from any human being's scientific and calculative part of the soul respectively; any person that achieves both will definitely experience eudemonia. In this paper I will advocate Aristotle's view, and I will assume that the reason why there is widespread lack of eudemonia today is that modern man has systematically been neglecting moral virtues.
Article Details
How to Cite

Massias, G. (2018). Aristotelian Ethics and Politics: A Solution for Today. Conatus - Journal of Philosophy, 2(1), 91–98. https://doi.org/10.12681/conatus.16037
This work is licensed under a Creative Commons Attribution-NonCommercial 4.0 International License.
Authors who publish with this journal agree to the following terms:
Authors retain copyright and grant the journal right of first publication with the work simultaneously licensed under a Creative Commons Attribution Non-Commercial International License (CC BY-NC 4.0) that allows others to share the work with an acknowledgement of the work's authorship and initial publication in this journal.
Authors are able to enter into separate, additional contractual arrangements for the non-exclusive distribution of the journal's published version of the work (e.g. post it to an institutional repository or publish it in a book), with an acknowledgement of its initial publication in this journal.
Authors are permitted and encouraged to post their work online (preferably in institutional repositories or on their website) prior to and during the submission process, as it can lead to productive exchanges, as well as earlier and greater citation of published work.
Downloads
Download data is not yet available.
References
Aristotle. Nicomachean Ethics A-D. Translated by D. Lipourlis. Thessaloniki: Zitros, 2006.
Düring, Ingemar. Aristotle. Athens: ΜΙΕΤ, 1999.
Foucault, Michel. The Eye of Power. Translated by Tasos Betzelos. Athens: Vanias, 2008.
Giannaras, Christos. The Modern Greek Identity. Athens: Grigoris, 1978.
Ziegler, Jean. Turn the Guns Around. Translated by Vasilis Papavasiliou. Athens: Malliaris Paideia, 1983.