The Holocaust, the Human Corpse and the Pursuit of Utter Oblivion
---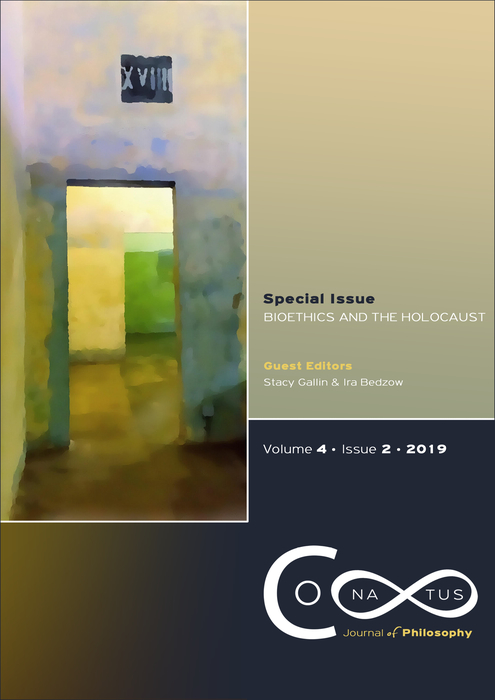 Published: Dec 31, 2019
Keywords:
Holocaust utter oblivion human corpse living bones incineration pulverizing decomposition annihilation ugliness tragedy sublime
Abstract
The purpose of this article is to show that the current incineration techniques of corpses are directly related to the Holocaust itself and its purposes. It is the same technique which, in the inhuman years of Nazi atrocities, was developed to be applied massively against the Jewish people and the other groups, because as a method it served and expressed both politically and ideologically the plan of a "final solution:" the final "dis-solution," the disappearance of the human body even as a residue, because the human body, even as a corpse, still retains identity and value. The findings of this study suggest a different analysis of the Nazis' choice to eliminate the corpses of the Jews, while, at the same time, exploring the original approach offered here helps to understand better the value that the human corpse retains. Many social and religious groups that currently refuse to accept this way of managing human corpses become more understandable in their choice not to accept what nature itself denies but modern technique imposes, namely perfect oblivion, extinction of the corpse. Initially, it is presented in historical and intercultural terms in which ways human societies mainly behave towards the human corpse along with the most prevalent funeral burial customs. Subsequently, the semiology of the human corpse is evaluated in terms of philosophical aesthetics and is included in the corresponding aesthetic categories. Finally, this work airs and analyzes new bioethical issues which arise considering this ever-increasing tendency towards the practice of those responsible for the Holocaust, namely the disappearance of the human corpse.
Article Details
How to Cite

Maroudas, F.-F. (2019). The Holocaust, the Human Corpse and the Pursuit of Utter Oblivion. Conatus - Journal of Philosophy, 4(2), 105–123. https://doi.org/10.12681/cjp.21088
Authors who publish with this journal agree to the following terms:
Authors retain copyright and grant the journal right of first publication with the work simultaneously licensed under a Creative Commons Attribution Non-Commercial International License (CC BY-NC 4.0) that allows others to share the work with an acknowledgement of the work's authorship and initial publication in this journal.
Authors are able to enter into separate, additional contractual arrangements for the non-exclusive distribution of the journal's published version of the work (e.g. post it to an institutional repository or publish it in a book), with an acknowledgement of its initial publication in this journal.
Authors are permitted and encouraged to post their work online (preferably in institutional repositories or on their website) prior to and during the submission process, as it can lead to productive exchanges, as well as earlier and greater citation of published work.
Downloads
Download data is not yet available.
References
Antourakis, Georgios. Burial, Burning and Resurrection of the Dead: Messages from Tradition and Art. Athens, 1981.
Anusaranasasanakiarti, Phra Khrû, and Charles F. Keyes. "Funerary Rites and the Buddhist Meaning of Death: An Interpretative Text from Northern Thailand." Journal of the Siam Society 68, no. 1 (1980): 1-28.
Arnold, David. "Burning Issues: Cremation and Incineration in Modern India." NTM Zeitschrift für Geschichte der Wissenschaften, Technik und Medizin 24, no. 4 (2016): 393-419.
Beauchamp, Tom L., and James F. Childress. Principles of Biomedical Ethics. New York: Oxford University Press, 1979.
Berndorf, Franz von. Beerdigung oder Verbrennung der Leichen? Berlin, 1892.
Brady, Emily. "Ugliness and Nature." Enrahonar 45 (2010): 27-40.
Cannon, Sue. "Reflections on Fieldwork in Stressful Situations." In Studies in Qualitative Methodology, vol. 3: Learning about Fieldwork, edited by Robert G. Burgess, 147-182. Greenwich, CT: JAI Press, 1992.
Caplan, Arthur L. "The Stain of Silence: Nazi Ethics and Bioethics." In Medicine after the Holocaust: From the Master Race to the Human Genome and Beyond, edited by Sh. Rubenfeld, 83-92. London – New York: Palgrave Macmillan, 2010.
Cohen, Glenn I., and Holly Fernandez Lynch. "Introduction." In Human Subjects Research Regulation: Perspectives on the Future, edited by Glenn I. Cohen, and Holly Fernandez Lynch, 1-8. Cambridge, MA: MIT Press, 2014.
Datta, B. N. "Vedic Funeral Customs and Indus Valley Culture." Man in India XVI (1936): 223-307.
Dirnhofer, Richard. "VIRTOPSY – Auf dem Weg zur minimal-invasiven Autopsie." In Tot und toter Körper, edited by Dominik Groß, Andrea Esser, Hubert Knoblauch, and Brigitte Tag, 147-150. Kassel: Kassel University Press, 2007.
Dragona-Monachou, Myrto. " Ethics and Bioethics." Epistimi kai Kinonia 8-9 (2002): 1-26.
Drinan, Robert F. "The Nuremberg Principles in International Law." In The Nazi Doctors and the Nuremberg Code: Human Rights in Human Experimentation, edited by George J. Annas, and Michael A. Grodin, 174-182. Oxford: Oxford University Press, 1992.
Facing History and Ourselves. Holocaust and Human Behavior. Brooklyn, MA: 2017.
Fahlander, Fredrik, and Terje Oestigaard. The Materiality of Death Bodies, Burials, Beliefs. Oxford: Archaeopress, 2008.
Fischer, Norbert. "Körper – Asche – Natur: Über Transformationen des Leichnams durch Krematoriumsbau und Feuerbestattung vom späten 19. Jahrhundert bis zur Gegenwart." EthnoScripts 19, no. 1 (2017): 81-98.
Gallin, Stacy, and Ira Bedzow. "Holocaust as an Inflection Point in the Development of Bioethics and Research Ethics." In Handbook of Research Ethics and Scientific Integrity, edited by R. Iphoven, 1-20. Dordrecht: Springer, 2019.
Grimm, Jakob. Über das Verbrennen der Leichen. Berlin: F. Dümmler, 1850.
Gupta, Rashmi. "Death Beliefs and Practices from an Asian Indian American Hindu Perspective." Death Studies 35, no. 3 (2011): 244-246.
Hammersley, Martyn. "Ethics of Ethnography." In Handbook of Research Ethics and Scientific Integrity, edited by R. Iphofen, 1-13. Dordrecht: Springer, 2019.
Hünewinkel, Sigrid. "Spätbronzezeitliche Brandbestattungen im ägäischen Raum." PhD diss., Albert-Ludwigs-Universität Freiburg im Breisgau, 2007.
Knoblauch, Hubert. "Der Tod der Moderne, die neue 'Kultur des Todes' und die Sektion." In Tot und toter Körper, edited by Dominik Groß, Andrea Esser, Hubert Knoblauch, and Brigitte Tag, 189-200. Kassel: Kassel University Press, 2007.
Kohn, Jakob. "Die Erd- und Feuerbestattung." Jüdisches Literatur-Blatt 15-16 (1886): 181-208.
Koumantos, Georgios. "The Gray Zones of Life." Kathimerini, June 2, 2002.
Koumarianou, Maria. The Concept of Death through a Semiotic and Anthropological Approach of Urban Burial Ground. PhD diss., National Technical University of Greece, 2007.
Maharjan, Rijan. "A Brief Introduction of Funeral Rites and Rituals in Theravada Buddhist Countries (Sri Lanka, Thailand, Cambodia, Myanmar)." Academic Journal of Buddhist Studies 1 (2018): 458-465.
Maroudas, Filotheos-Fotios. Aesthetics of the Holy Prayer Rooms of the Abraham Religions: Synagogue – Mosque – Church. University Lectures, Athens, 2018/2019.
Mays, S., R. Fryer, A. W. G. Pike, M. J. Cooper, and P. Marshall. "A Multidisciplinary Study of a Burnt and Mutilated Assemblage of Human Remains from a Deserted Mediaeval Village in England." Journal of Archaeological Science: Reports 16 (2017): 441-455.
Michailidis, Melanie Dawn. Landmarks of the Persian Renaissance: Monumental Funerary Architecture in Iran and Central Asia in the Tenth and Eleventh Centuries. PhD diss., Massachusetts Institute of Technology, 2007.
Mißfeldt, Matthias. "Vergehende Zeichen. Der tote Leib und die trauernde Erinnerung." In Tot und toter Körper, edited by Dominik Groß, Andrea Esser, Hubert Knoblauch, and Brigitte Tag, 179-186. Kassel: Kassel University Press, 2007.
Oestigaard, Terje. "Death and Ambivalent Materiality – Human Flesh as Culture and Cosmology." In Combining the Past and the Present: Archaeological Perspectives on Society, edited by T. Oestigaard, N. Anfinset, and T. Saetersdal, 23-30. Oxford: Archaeopress, 2004.
Oikonomou, Stavroula. Burials of War Victims. Mass Graves, Empty Graves, and Monuments. PhD diss., University of Crete, 2012.
Papanoutsos, Evangelos. Aesthetics: The Spiritual World. Athens, 1969.
Parry, Jonathan. Death in Benares. Cambridge: Cambridge University Press, 1994.
Protopapadakis, Evangelos D. "'Death is Nothing to Us:' A Critical Analysis of the Epicurean Views Concerning the Dread of Death." Antiquity and Modern World: Interpretations of Antiquity 8 (2014): 316-323.
Protopapadakis, Evangelos D. Euthanasia and Modern Bioethics. Athens: Sakkoulas, 2003.
Protopapadakis, Evangelos D. From Dawn till Dusk. Bioethical Insights into the Beginning and the End of Life. Berlin: Logos Verlag, 2019.
Sanal, Aslihan. "Flesh Yours, Bones Mine. The Making of the Biomedical Subject in Turkey." PhD Diss., Massachusetts Institute of Technology, 2005.
Sørensen, Flohr Tim, and Mikkel Bille. "Flames of Transformation: The Role of Fire in Cremation Practices." World Archaeology 40, no. 2 (2008): 253-267.
Taguieff, Pierre-André. Antisemitism. Translated by G. Sideris. Athens: Agra, 2019.
Varitimiadis, Dimitrios N. The Cremation of the Dead. Master's Thesis, Aristotle University of Thessaloniki, 2015.