Η «Εικονοκλαστική» ΝΟΤΙΤΙΑ 3 και το λατινικό της πρότυπο
---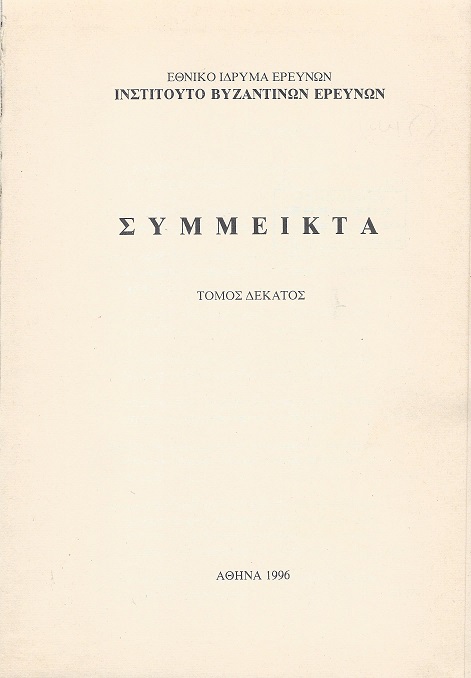 Published: Sep 29, 1996
Keywords:
επισκοπικοί κατάλογοι βυζαντινή Εκκλησία
Abstract
Eleonora Kountoura-Galaki
The «iconoclastic» Notitia 3 and its latin origins
A well known passage in Theophanes' Chronographia mentions the annexation of Illyricum to the jurisdiction of the Patriarchate of Constantinople by the iconoclast emperor Leo III. New metropolitan sees and bishoprics were then incorporated into the byzantine ecclesiastical hierarchy and this new status can be traced in the «iconoclastic» Notitia 3. The names of the new metropoleis and bishoprics from the Illyricum area are unusual, but the origins of these strange names is unknown. By examining the scribal hand in latin manuscript sources and the sigillographie trends of the seventh century, especially in the case of the letters A, H and R, I have attempted to show that behind this Notitia lies a text originally written in Latin.
Article Details
How to Cite

ΚΟΥΝΤΟΥΡΑ-ΓΑΛΑΚΗ Ε. (1996). Η «Εικονοκλαστική» ΝΟΤΙΤΙΑ 3 και το λατινικό της πρότυπο. Byzantina Symmeikta, 10, 35–73. https://doi.org/10.12681/byzsym.806
Copyright: The copyright for articles in this journal is retained by the author(s), with first publication rights granted to the journal. By virtue of their appearance in this open access journal, articles are free to use (with the exception of the non-granted right to make derivative works) with proper attribution for non-commercial uses (licence Creative Commons 4.0). NHRF retains the worldwide right to reproduce, display, distribute, and use articles published in BYZANTINA SYMMEIKTA in all formats and media, either separately or as part of collective works for the full term of copyright. This includes but is not limited to the right to publish articles in an issue of the Journal, copy and distribute individual reprints of the articles, authorize reproduction of articles in their entirety in another NHRF publication, and authorize reproduction and distribution of articles or abstracts thereof by means of computerized retrieval systems.
Downloads
Download data is not yet available.