Ὁ μάγιστρος Θεόκτιστος καί ὁ Θεόδωρος Στουδίτης. Μοναστηριακός Βίος καί Πολιτική
---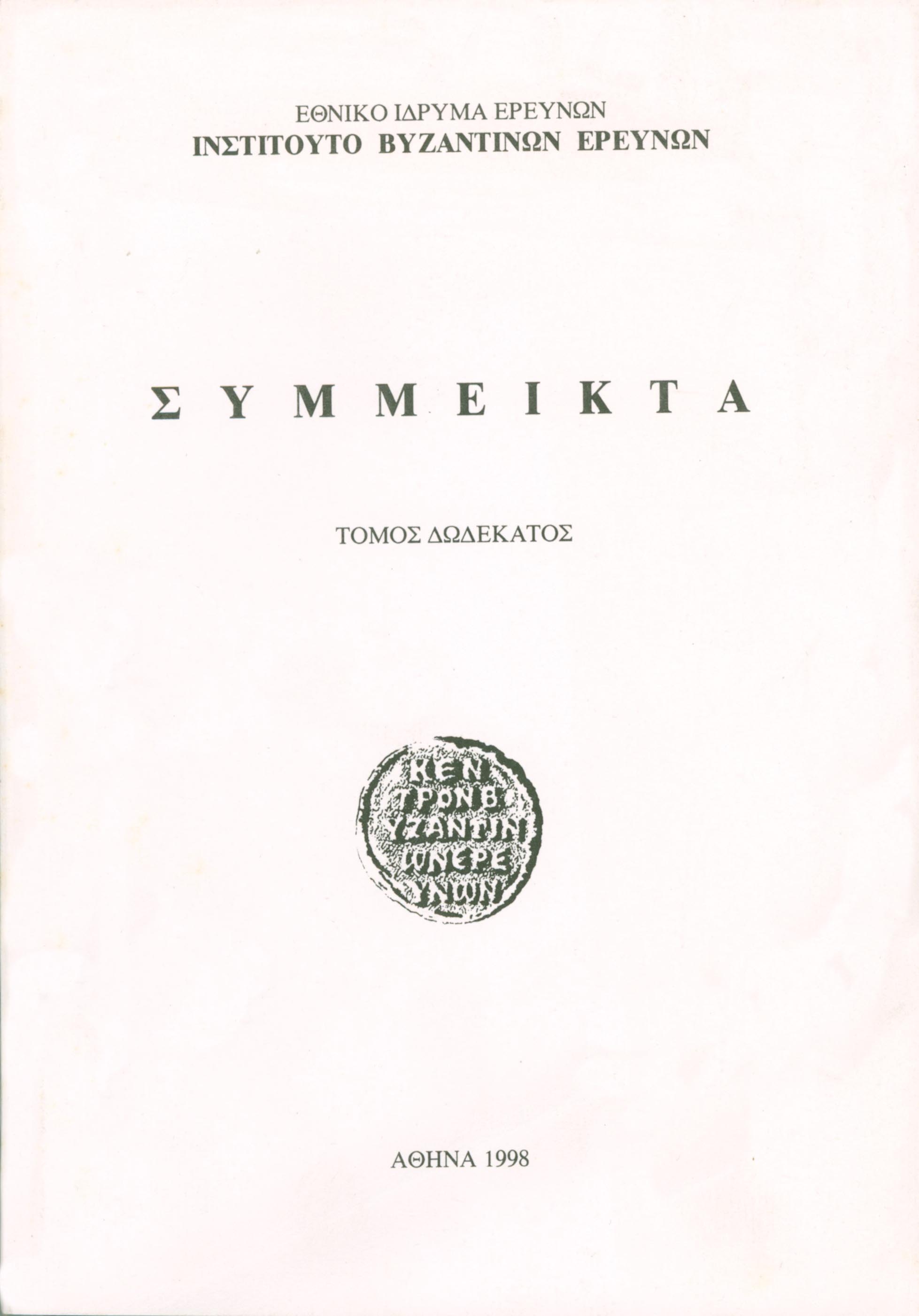 Published: Sep 29, 1998
Keywords:
μοναχισμός Κωνσταντινούπολης πολιτική διοίκηση αυτοκράτορες Προσωπογραφία κοινωνικές ομάδες
Abstract
Eleonora Kountoura-Galaki
The magister Theoktistos and Theodore the Studite: Monastic Life and Policy.
The quaestor Theoktistos was among the leading officials who took part in the conspiracy of the logothete Nicephorus against the empress Irene (802). He was identical with the magister Theoktistos who, as a supreme member of the Senate, received in 808 the letter No. 24 by Theodore the Studite. With this letter Theodore hoped that he could persuade magister Theoktistos to intervene to the emperor Nicephorus I, in order to avoid banishment. The magister, however, did not play a prominent role under the reign of Nicephorus and Theodore was forced to abandon the City.
During the brief reign of Michael I, where we can observe the weakening of the imperial institution and the simultaneous uprise of the senatorial power as well as the rise of the fanatic monks (the monastery of Studion experienced a significant prosperity at that time) magister Theoktistos and Theodore the Studite had then powerfully participated in political life and had played a crucial role in it.
Probably the same Theoktistos received one more letter (No 123) by Theodore the Studite after the accession of Leo V.
Article Details
How to Cite

ΚΟΥΝΤΟΥΡΑ-ΓΑΛΑΚΗ Ε. (1998). Ὁ μάγιστρος Θεόκτιστος καί ὁ Θεόδωρος Στουδίτης. Μοναστηριακός Βίος καί Πολιτική. Byzantina Symmeikta, 12, 43–55. https://doi.org/10.12681/byzsym.845
Copyright: The copyright for articles in this journal is retained by the author(s), with first publication rights granted to the journal. By virtue of their appearance in this open access journal, articles are free to use (with the exception of the non-granted right to make derivative works) with proper attribution for non-commercial uses (licence Creative Commons 4.0). NHRF retains the worldwide right to reproduce, display, distribute, and use articles published in BYZANTINA SYMMEIKTA in all formats and media, either separately or as part of collective works for the full term of copyright. This includes but is not limited to the right to publish articles in an issue of the Journal, copy and distribute individual reprints of the articles, authorize reproduction of articles in their entirety in another NHRF publication, and authorize reproduction and distribution of articles or abstracts thereof by means of computerized retrieval systems.
Downloads
Download data is not yet available.