Βουργάρο και Παραδείσι: Δυο Ανδριώτικα μετόχια στην Αλώνη
---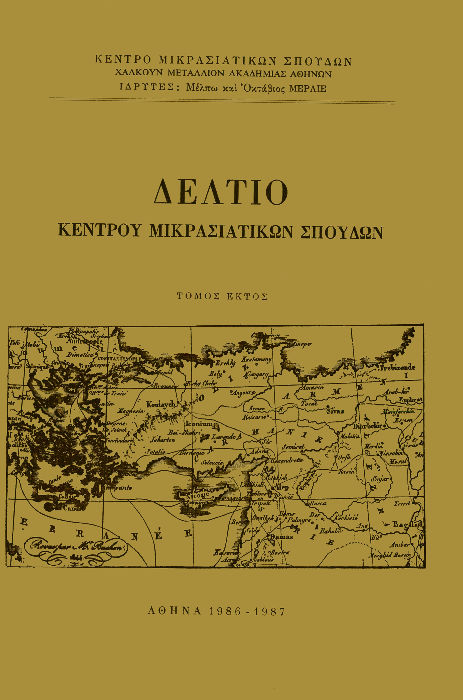 Δημοσιευμένα: Jan 1, 1986
Περίληψη
In the small island of Halone (now Pa§a Liman Adasr) in the Sea of
Marmara there were to be found several properties belonging to large
monasteries of Greece proper which had been administered in the traditional
manner as metochia. The paper concerns two such metochia. comprising
of several properties each, that since the 18th century had been
linked with the monastery of St. Nicholas in the island of Andros.
The first such property -no more than a small field- we hear of was
dedicated to the monastery in 1723, and in the course of the following
years other properties were added to it so that by 1767 they were all
grouped to form the metochion of Voulgaron. These little plots of land
were mostly vineyards, wine being the main produce of Halone.
In the meantime the local monastery of St. Parasceve at Paradeisi, the
most important on the island, came to be faced with serious financial
difficulties and was in heavy debts. Eventually it was felt that it could
hardly survive independently, and in 1790 the local community of the
whole island (which incidentally was inhabited almost entirely by Greeks)
and the Metropolitan of Proikonnesos, who had then his residence on the
island, came into an agreement with Neilos Palaiologos (a monk of St.
Nicholas in charge of the metochion of Voulgaron) as a result of which
St. Parasceve became also a metochion of St. Nicholas. Thus the larger
monastery of Andros undertook to repay the debts, to administer the
smaller monastery and its properties at Halone and also to provide badly
needed monks for this administration.
This state of affairs continued up to 1922 when all Christian population
of Halone was compelled to emigrate. At periods the relationship between
the monks of St. Nicholas and the people of Halone was difficult
and was especially so after the middle of the 19th century when monasticism
in Greece proper was undergoing a period of decline. Destructive
disease of the local vineyards also contributed to the sad state of affairs. 
Arbitrary seizures of land, litigations and appeals to the Patriarchate of
Constantinople are constant features of this period.
A rather extensive collection of archival material is preserved in the
monastery of St. Nicholas, and out of these 70 relevant documents are
published. This rich documentation not only illustrates the history of the
two metochia but also provides information on the conditions on the island
and in general serves as source material for customs, place-names,
names of persons etc. which is valuable in view of the fact that other
archival material on Halone may not be in existence elsewhere.
Λεπτομέρειες άρθρου
Πώς να δημιουργήσετε Αναφορές

Πολέμης Δ. I. (1986). Βουργάρο και Παραδείσι: Δυο Ανδριώτικα μετόχια στην Αλώνη. Δελτίο Κέντρου Μικρασιατικών Σπουδών, 6, 31–154. https://doi.org/10.12681/deltiokms.109
Οι συγγραφείς των άρθρων που δημοσιεύονται στο Δελτίο
 διατηρούν τα δικαιώματα πνευματικής ιδιοκτησίας επί των άρθρων τους, δίνοντας στο περιοδικό το δικαίωμα της πρώτης δημοσίευσης. Άρθρα που δημοσιεύονται στο 
Δελτίο 
διατίθενται με άδεια 
Creative Commons 4.0
 και σύμφωνα με την άδεια μπορούν να χρησιμοποιούνται ελεύθερα, με αναφορά στο/στη συγγραφέα και στην πρώτη δημοσίευση για μη κερδοσκοπικούς σκοπούς και με δικαίωμα τροποποίησης μόνον με παρόμοια διανομή (αν αναμείξετε, τροποποιήσετε, ή δημιουργήσετε πάνω στο υλικό, πρέπει να διανείμετε τις δικές σας συνεισφορές υπό την ίδια άδεια όπως και το πρωτότυπο).
Λήψεις
Τα δεδομένα λήψης δεν είναι ακόμη διαθέσιμα.