Dominance and Frequency of Coleoptera Found on Stored Cereals and Cereal Products in Central Greece
---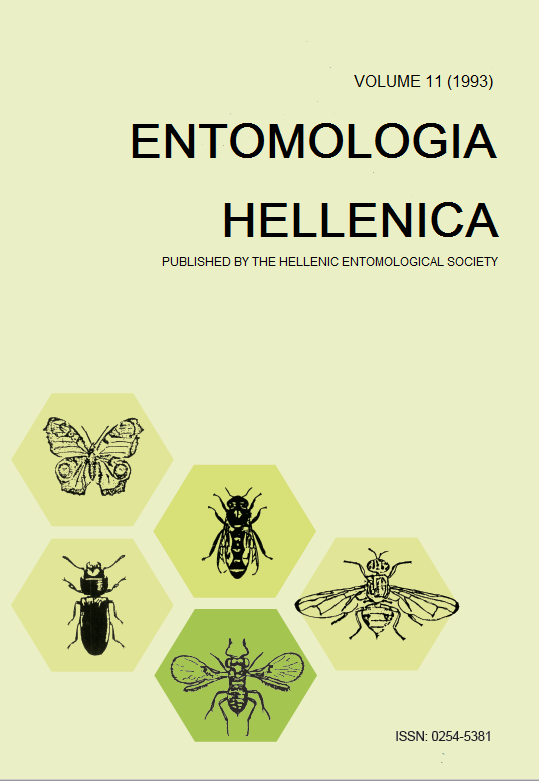 Published: Jan 7, 1993
Keywords:
Insecta Coleoptera stored cereals survey dominance frequency
Abstract
Thirty Coleoptera taxa belonging to 14 families were found during samplings conducted in 4 different storage facilities at Farsala district, Central Greece, from January 1991 to February 1992. Among the most frequently found, Sitophilus oryzae, S. granarius and Rhysopertha dominica were more numerous on grain, Tribolium confusum, T castaneum and Cryptolestes ferrugineus on flour, while Oryzaephilus surinamensis and O. inercator showed no significant preference to any commodity. An analysis of the results was performed, based on the dominance and frequency criteria. The population fluctuation of the 8 most significant species is given in graphs.
Article Details
How to Cite

Buchelos C. Τ., & Athanassiou, C. G. (1993). Dominance and Frequency of Coleoptera Found on Stored Cereals and Cereal Products in Central Greece. ENTOMOLOGIA HELLENICA, 11, 17–22. https://doi.org/10.12681/eh.14007
Authors who publish with this journal agree to the following terms:
Authors retain copyright and grant the journal right of first publication with the work simultaneously licensed under a Creative Commons 4.0 license.
Authors are able to enter into separate, additional contractual arrangements for the non-exclusive distribution of the journal's published version of the work (e.g. post it to an institutional repository or publish it in a book), with an acknowledgement of its initial publication in this journal. Authors are permitted and encouraged to post their work online (preferably in institutional repositories or on their website) prior to and during the submission process, as it can lead to productive exchanges, as well as earlier and greater citation of published work.
Downloads
Download data is not yet available.
References
Aitken. A.D. 1975. Insect Travellers. I: Coleoptera. Techn. Bull. 31. H.M.S.O. London, pp. 191.
Bishop. G.W. 1959. The comparative bionomics of American Cryptolestes (Col. Cucujidae) that infest stored grain. Ann. Ent. Soc. Amer. 52: 657-665.
Breese, M.H. 1962. Studies on the oviposition of Rhyzopertha dominica (F.) in rice and paddy. Bull. ent. Res. 53: 621-637.
Buchelos. CT., 1981. Coleoptera populations at flour mills and related areas. Annls. Inst. Phytopath. Benaki, (N.S.), 13 : 6-29.
Buchelos, CT., 1985. The Greek insect fauna of stored products: Biologia Gallo-Hellcnica. Vol. 10 : 221-227.
Cotton. R.T., 1960. Pests of Stored Grain and Grain Products. Burgess Publishing Co., Minneapolis, U.S.A. pp 306.
Curry, J.P. 1973. The arthropods associated with the decomposition of some common grass and weed species in the soil. Soil Biol. Biochem. 5 : 645-657.
Halstead. D.G.H. 1967. Biological studies on species of Palorus and Coelopalonts with comparative notes on Tribolium and l.atbetieus (Col. Tencbrionidae). J. stored Prod. Res. 2 : 273-313.
Howe. R.N., 1950. The development of Rhyzopertha dominica (F.) (Col. Bostrychidae) under constant conditions. Entomol. mon. Mag. 86 : 1-5.
Howe, R.N. 1956. The biology of the two common storage species of Oryzaephilus (Col. Cucujidae). Ann. appi. Biol. 44: 341-355.
Howe, R.N., 1957. A laboratory study of the cigarette beetle. Lasioderma serricorne (F.) (Col. Anobiidae) with a critical review of the literature on its biology. Bull. ent. Res. 48: 9-56.
Lefkovich. L.P. 1962. The biology of Cryptolestes turcicus (Grouvelle) (Col. Cucujidae), a pest of stored and processed cereals. Proc. Zool. Soc. Lond. 138: 23-35.
Malus, A. 1982. Handbook of Pest Control. Franzak and Foster Co., Cleveland, Ohio. Sixth edition, pp 1101.
Sinha, R.N. and Watters, FL., 1985. Insect Pests of Flour Mills, Grain Elevators and Feed Mills and Their Control, Research. Branch Agric. Canada: pp 290.