Definition of inferred faults using 3D geological modeling techniques: A case study in Tympaki Basin in Crete, Greece
---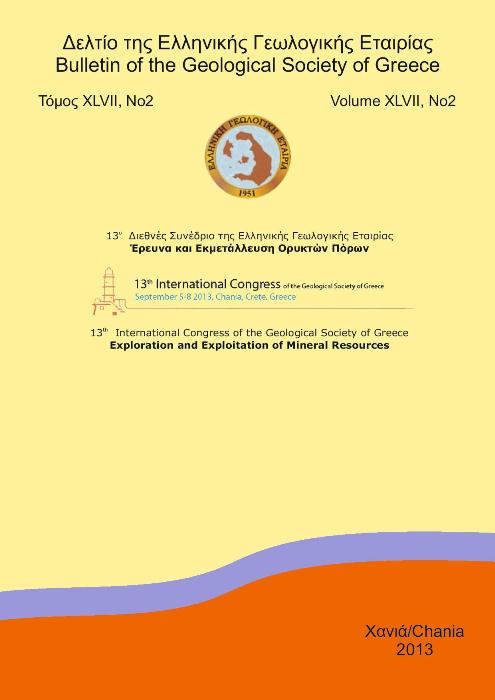 Published: Jan 24, 2013
Keywords:
geological structure 3D geological modelling technique inferred faults
Abstract
The purpose of this paper is to recognize inferred faults in Tympaki basin (Crete island) which cannot be observed on the surface, as the area is covered by recent deposits. The identification of the faults is crucial for the study of the sea-water intrusion in Tympaki basin that has been observed during the last years. 3D geological modelling techniques were used for reaching the aforementioned goal. The data used include the digital elevation model (DEM) of the area, the boundary surface between geologic formations and the litho - stratigraphic logs of thirty nine (39) wells. Initially a 3D stratigraphic model was set-up depicting the spatial extension of Plio-Quaternary and Neogene deposits. Next, with emphasis on the litho - stratigraphic logs of the wells, the boundary between the geological formations was defined in a 3D space. The regional unconformity between the Plio-Quaternary and Neogene formations is possibly the result of tectonic activity of inferred faults. The traces of the inferred faults were drawn and they were compared with the faults suggested by previous studies.
Article Details
How to Cite

Panagopoulos, G., Giannakakos, E., Manoutsoglou, E., Steiakakis, E., Soupios, P., & Vafidis, A. (2013). Definition of inferred faults using 3D geological modeling techniques: A case study in Tympaki Basin in Crete, Greece. Bulletin of the Geological Society of Greece, 47(2), 605–615. https://doi.org/10.12681/bgsg.11087
Section
Tectonics and Geodynamics
Authors who publish with this journal agree to the following terms:
Authors retain copyright and grant the journal right of first publication with the work simultaneously licensed under a Creative Commons Attribution Non-Commercial License that allows others to share the work with an acknowledgement of the work's authorship and initial publication in this journal.
Authors are able to enter into separate, additional contractual arrangements for the non-exclusive distribution of the journal's published version of the work (e.g. post it to an institutional repository or publish it in a book), with an acknowledgement of its initial publication in this journal. Authors are permitted and encouraged to post their work online (preferably in institutional repositories or on their website) prior to and during the submission process, as it can lead to productive exchanges, as well as earlier and greater citation of published work.
Downloads
Download data is not yet available.