Maturity of dispersed organic matter in bituminous formations of the Ionian Zone (Epirus region, NW Greece)
---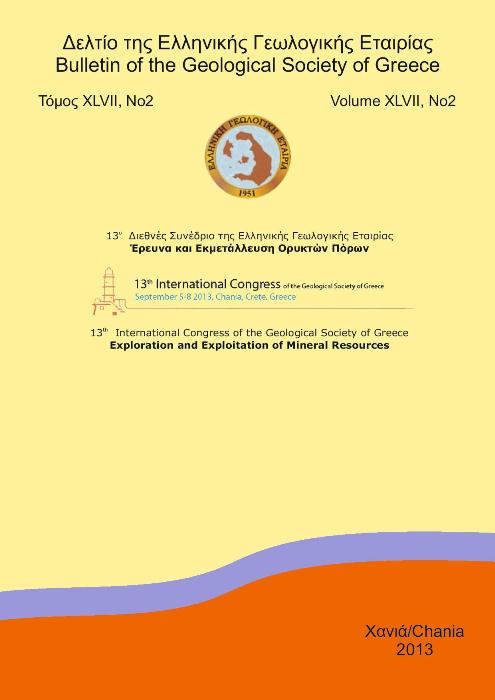 Published: Jan 24, 2013
Keywords:
Posidonia Shale Organic Petrology vitrinite reflectance
Abstract
The main objective of this paper is to study by means of Organic Petrology techniques, the maturity of the dispersed organic matter from certain sedimentary formations of the Ionian Zone, such as the Bituminous Shale, the Upper Siliceous Vigla Formation and the Bituminous Sandstone. The samples were collected from outcropping sites located in the region of Epirus. Initially they were treated with acids (HCl-HF) to remove most of the carbonate and silicate minerals. Then a ZnCl2 solution was used to concentrate the organic-rich fraction. Total Organic Carbon (TOC) content was determined applying dichromate oxidation. Polished blocks were prepared from the concentrated organic matter mounted in epoxy resin and examined under the coal-petrography microscope. Emphasis was given to maceral identification and vitrinite reflectance (R) measurements, which provide information regarding the quality and the maturity of the organic matter respectively, with implications for the petroleum generation potential regardless the level of alteration. The TOC and Rr values (4.74% and 0.68%, respectively) confirm to the oil potential of the Lower Jurassic Posidonia Shale. Nevertheless, it is suggested that detailed and higher resolution sampling focusing on the Lower Posidonia Shale, as well as organic petrography analyses coupled with Rock-Eval pyrolysis should be carried out in order to accurately determine its quality as petroleum source rocks.
Article Details
How to Cite

Rallakis, D., Siavalas, G., Oskay, G., Tsimiklis, D., & Christanis, K. (2013). Maturity of dispersed organic matter in bituminous formations of the Ionian Zone (Epirus region, NW Greece). Bulletin of the Geological Society of Greece, 47(2), 880–889. https://doi.org/10.12681/bgsg.11127
Section
Geochemistry and Biogeochemistry
Authors who publish with this journal agree to the following terms:
Authors retain copyright and grant the journal right of first publication with the work simultaneously licensed under a Creative Commons Attribution Non-Commercial License that allows others to share the work with an acknowledgement of the work's authorship and initial publication in this journal.
Authors are able to enter into separate, additional contractual arrangements for the non-exclusive distribution of the journal's published version of the work (e.g. post it to an institutional repository or publish it in a book), with an acknowledgement of its initial publication in this journal. Authors are permitted and encouraged to post their work online (preferably in institutional repositories or on their website) prior to and during the submission process, as it can lead to productive exchanges, as well as earlier and greater citation of published work.
Downloads
Download data is not yet available.